Orna Levy is a fourth generation Jerusalemite whose family has been in the jewelry-making business for the past 100 years. Originally from Bukhara, in what is today Uzbekistan, Orna's family immigrated to Jerusalem in the late nineteenth century. The family's patriarch, Shlomo Moussaieff, a successful pearl merchant and rabbi, helped establish the Bukharim neighborhood in Jerusalem in 1891, while his sons became international traders in pearls and precious stones.
Orna's mother, Hannah, the oldest of 12 children, followed her family's path and established a jewelry store at the King David Hotel, where she sold her own jewelry designs for 40 years.
But her youngest daughter did not want to follow in her footsteps.
"I couldn't stand jewelry," says Orna, "I felt that my mother paid more attention to jewelry than to me while I was growing up."
After completing her service in the IDF, Orna debated what direction she should take.
"I started off thinking that I would teach, but then I met my husband, Itzik, who wanted to learn the craft of jewelry. Suddenly my life was back to the jewelry business," Orna told me.
"All I knew was how to string pearls. My husband and I would string pearls on the porch of our apartment in Jerusalem," says Orna. "We started off selling our designs to the Padani jewelry company in Tel Aviv."
Once Orna and her husband Itzik Levy created the Yvel company in 1986, their jewelry line -- featuring pearls, sapphires, diamonds and other gems -- became internationally known. Today, Yvel (Levy spelled backwards) manufactures its jewelry in Israel and exports to 650 retail outlets on five continents, including the luxury retail department store, Neiman Marcus. Celebrities from the likes of Katy Perry, Rihanna, Maria Sharapova, Scarlett Johansson and Isla Fisher have appeared with Yvel-designed jewelry at the Golden Globes and other celebrity functions, and on magazine covers.
But for the immigrant community in Israel, Yvel is known for something other than its luxury jewelry. The company's employees are mostly immigrants who have come to Israel from countries all over the world including Syria, Iraq the United States and Ethiopia. The Levys' business philosophy is firmly rooted in social responsibility and philanthropy, as Itzik, who immigrated to Israel from Argentina when he was four, still recalls his family's difficult immigration process.
"Itzik's father lost all of his family's savings in a bad business deal upon arriving to Israel, which left him broke -- both in spirit and financially," explains Orna. "Itzik has never forgotten this and has always aimed to strengthen weaker immigrant populations in Israel."
It is why Itzik and Orna celebrated Yvel's 25th anniversary by establishing the Megemeria School of Jewelry and Art in 2010, which offers professional training in jewelry crafting and design to new Ethiopian immigrants.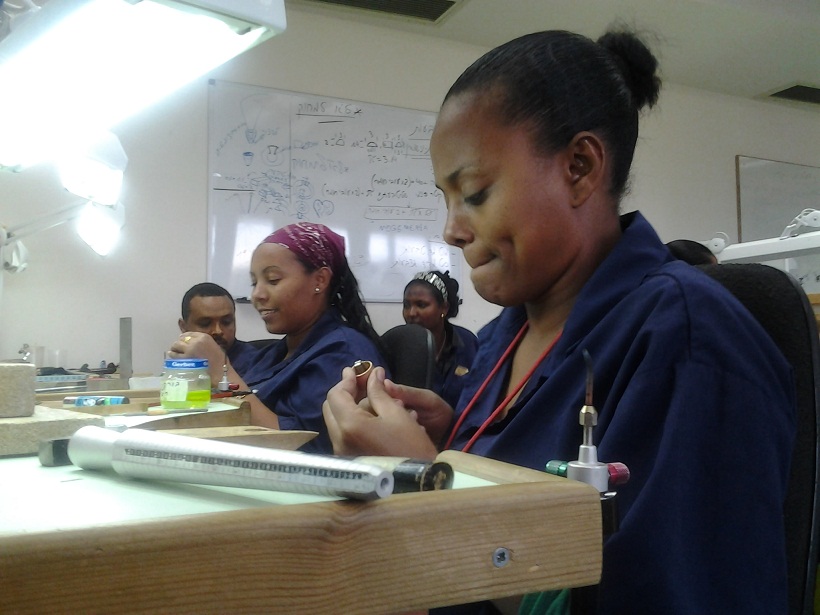 Photo: Tazpit News Agency / Description: Ethiopian students learning at Yvel's Megemeria School of Jewelry and Art.
Partnering with YEDID, The Association for Community Empowerment, which assists Israelis in becoming self-sufficient members of society, the Levy couple opened the school within the Yvel complex, located outside of Jerusalem. The school gives the students, who are all recent immigrants from Ethiopia, not only jewelry-making training but also employment opportunities in the Yvel factory once they complete the program.
While learning the jewelry trade, including gem-setting, gold and silver-smithing, and the design process, the students also receive Hebrew lessons, family budget and management training, math courses, and Israeli cultural lessons. For many of the Ethiopian students, who had little if no formal education back in Ethiopia, these supplementary courses are critical for a better integration into Israeli society and finding employment.

Yedid's executive director Sari Revkin says that the first graduating class of Megemeria has produced a special collection which was inspired by the immigrants' personal and collective journey from Ethiopia to Israel. "Many of the jewelry designs feature words from the students' native Amharic language. This is a very unique social enterprise," Revkin explains.
Once the students graduate and take the Israeli Ministry of Industry, Trade and Labor certification exam, they can begin working at Yvel's Design Center either in jewelry design or in sales and administration. For the graduating class this year, eight will continue on with Yvel, making and selling jewelry, with profits helping to cover their salaries and the costs of the school.
For Abbito Einalem, an Ethiopian student who came with no background in crafting jewelry, she now looks on proudly at a pendant she has created inscribed with the Amharic word, desta, which means happiness. "I want to continue in this profession in the future," she says. "It has given me so much already."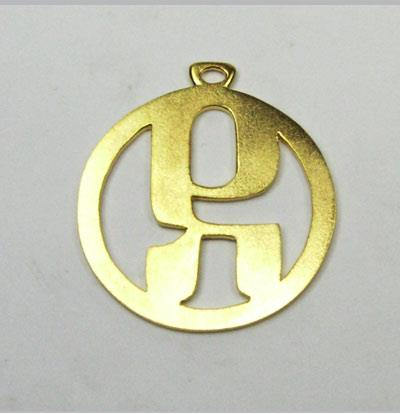 Photo Courtesy: Yvel's Megemeria School of Jewelry and Art