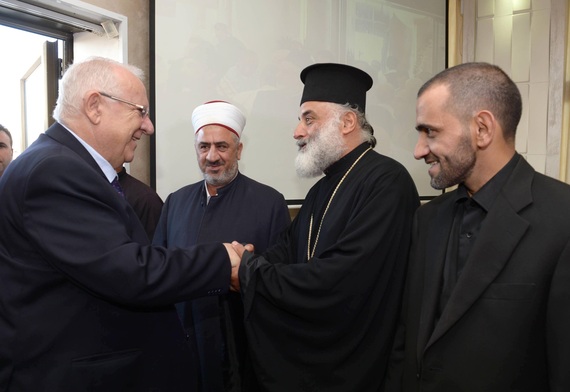 Photo: Israel's President, Reuven Rivlin meeting with Muslim and Christian leaders in Kfar Yasif last week. Credit: Mark Neyman/GPO
KFAR YASIF - Israel's President Reuven Rivlin made a festive visit last week to the northern Israeli town of Kfar Yasif near Acre, in honor of the Muslim Feast of the Sacrifice, Eid al-Adha, which coincided with Yom Kippur this year. Rivlin took part in an event that brought together hundreds of participants, among them local Arab mayors, religious and community leaders, judges, and academics.
Commenting on his father's work in bringing different cultures together, Rivlin,75, spoke personally with the participants about building bridges during his visit to the Arab village made up of Druze, Muslims, and Christians.
"The education I received from my father, taught me that the keys to partnership between us, Jews, Muslims, Druze, and Christians, are not floating somewhere above us, but right here, waiting for us to seize them. These keys are not only in the hands of the political echelons, or of law enforcement officials, they are in our hands, the hands of each and every one of us," said the President of Israel.
Rivlin also talked about his optimism regarding current efforts underway to better relations between Jews and Arabs. "I am starting to see a little light, after the difficult and painful summer we have endured, and perhaps precisely resulting from the sense of urgency that prevailed."
"In recent days I have read, heard, and learned that in Lod, Ramle, Haifa, Jaffa, Akko, and other places, residents along with community leaders and mayors, local religious leaders, social activists, Jews and Arabs of different beliefs and from different ends of the spectrum, are trying to come together to find a common path," he emphasized.
"Within this festival today, there are symbols and principles that connect us as the children of Abraham, alongside symbols that express the uniqueness of each religious community. For example, the biblical Binding of Isaac, a story of standing before God, a story about the struggle between sacrifice and the sanctity of life, a story that is a seminal one for Jews, Christians, and Muslims," he added.
Eid al-Adha is one of the two most important Muslim holidays, which marks biblical Abraham's sacrifice of his son in a test of faith.
The Israeli President concluded by offering blessings in both Hebrew and Arabic, saying "I wish that you all will be proscribed for a good year, and have a Chag Sameach and Eid-Mubarak, during which we will all act with kindness and charity. And that we will end the last year and its setbacks, and begin a new year of blessings."
The festive event was hosted with the participation of the Interior Minister, Gidon Sa'ar, who pointed out that, "This year, two important festivals are taking place, both for Judaism and Islam. My request from the local municipal leaders, religious leaders, and from the general leadership, is to call upon all the citizens of Israel to behave with mutual respect, and to be tolerant of the faith, beliefs, and customs of others. I also want to extend festive greetings to all the Jewish, Muslim, Druze, and Christian citizens of Israel."