While Jerusalem remained in lockdown over the past weekend, as 50 centimeters of snow and power outages took over the city, Hadassah Medical Center in Jerusalem worked over time to meet the needs of 80 women -- Jewish and Arab -- who gave birth during the historic snowstorm.
Professor Simcha Yagel, the head of the Division of Obstetrics and Gynecology at Hadassah Medical Center told Tazpit News Agency that hospital staff and technicians both at Hadassah's Ein Karem and Mount Scopus hospitals had prepared earlier for the snowstorm. "The administration worked out how many doctors and nurses would be working at each hospital," explained Yagel. "Food and medical supplies were also taken of beforehand."
"The stress level was high -- I don't remember such a time at the hospital," said Yagel, who had just finished performing five caesarian sections on Sunday before the interview. "The weather presented us many challenges."
"There were nurses who worked 16-hour shifts because the blocked roads prevented other nurses from coming in. We also had a doctor who came in on Thursday and stayed through Sunday," Yagel told Tazpit.
Yagel recounts how one ambulance transported two expectant mothers to Hadassah -- not typical protocol. In another case, rescue teams were able to transport an expectant mother to the hospital after Route 443 on Thursday evening was blocked by snow and cars remained stuck. "Her water could have broken in the middle of the highway in the traffic jam, but thanks to rescue efforts, the mother was transported safely to the hospital."
According to Magen David Adom (MDA), over 200 pregnant women were transported by Israel's largest ambulance service during the stormy weather since Thursday night, December 12, with 186 from the Jerusalem area and 15 from Safed.
Imad Salman, a Magen David Adom ambulance volunteer, received a call at 4:00 am in the morning notifying that a 34-year-old pregnant woman from Beitar Illit in Gush Etzion needed medical attention.
"We contacted local authorities telling them to clear the way for us, because we knew the roads were blocked by snow," recalled Salman. "We were able to reach her and have her transferred to the ambulance. However, at the moment that we were about to leave Beitar Illit, we got another call; another 25-year-old woman was giving birth in her home."
"We notified a local on-call doctor who arrived to help the young mother give birth. In order to get to the hospital as fast as possible, we took the new mother and her small baby with us in the ambulance together with the other mother in labor," described Salman.
The ride back from the Judean Hills to Jerusalem was extremely difficult due to the heavy snowfall. At some point, the women had to be transferred into a 4x4 ambulance and safely transferred to Hadassah. Similar stories also took place in northern Israel's Safed.
An IAF aircraft also assisted an Israeli woman in labor from the Yitzhar community, delivering her safely to Rabin Medical Center in Petah Tikva where she gave birth.
"Everyone functioned at their best despite all the challenges of the snowstorm, including rescue crews, MDA and the hospital staff," said Professor Yagel. "There is nothing to complain about here, except for the snow," the physician concluded. "We'll all be happy when it melts away."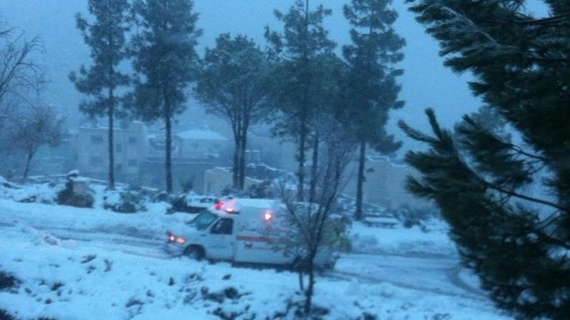 Photo Credit: Magen David Adom / Description: A Magen David Adom (MDA) ambulance braving the snowstorm that hit Israel over the weekend.