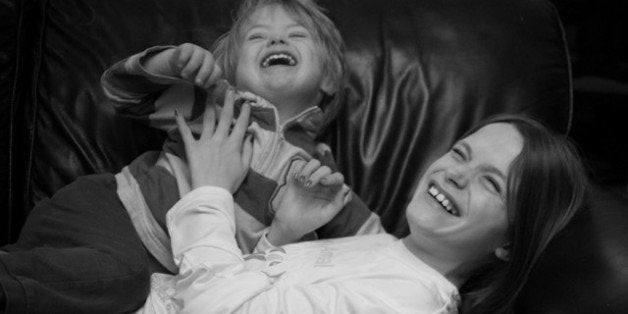 I was raised to achieve things.
I was a third-generation valedictorian of my high school class, like my mother before me and her mother before her. Both of my parents have master's degrees. Growing up, I was The Smart Kid, voted Most Likely to Succeed. I went to college, earned a bachelor's degree in electrical engineering, started climbing the corporate ladder, and went back for an MBA.
Then my daughter, Sarah Kate, was born.
She was premature, small even for her gestational age, and fragile. But she survived and today she is a healthy 10-year-old -- with cerebral palsy. The diagnosis was a blow, and as much as I love being her mom, in the beginning I felt cheated. I had done everything right, I thought -- I followed the rules, made good grades, worked hard, and took care of my body. Overnight, my career was derailed, my two degrees seemed worthless, and my dreams of soccer games were crushed.
I struggled with the unfairness of it all. I didn't want my daughter to have to struggle; I didn't want to be the odd man out at playdates and birthday parties; I didn't want us to stand out like a sore thumb and field questions about what was "wrong" with her everywhere we went.
When I was able to be grateful, however, I was thankful for the one thing I had hoped and prayed for before she was born: she was smart. When I thought about how Sarah Kate will always struggle with actions most people take for granted, like running and jumping, I reassured myself that she might never earn a sports scholarship, but she'd be sure to earn an academic one. When she was only 4, at an evaluation to determine whether or not her developmental delays would qualify her for services, the special education administrator noted that she thought Sarah Kate was probably gifted. I was proud that my daughter would also be The Smart Kid.
Then my son, Nathan, was born.
We enjoyed a few moments of ignorant bliss after his birth before we learned what the doctors suspected -- he had Down syndrome. As with Sarah Kate's diagnosis of cerebral palsy, Nathan's diagnosis of Down syndrome was a blow. I couldn't understand why God would send us not one, but two, children with disabilities. It seemed almost a cruel joke on me, because the one thing I was certain Nathan would never be was smart.
It took four decades for me to accept that success and achievement in the way our society views them are not only not essential, but also not important. My daughter isn't a star athlete, but she does participate in sports -- softball and swim team -- and I've seen firsthand the impact she has on others simply by showing up. My son spreads joy and sunshine everywhere he goes. They know him by name and give him free baked goods at our local supermarket. It's amazing to me how often I hear other people exclaim, "I love that little guy!"
When I became a mom, I thought my job was to mold and shape my children into their best selves. To my surprise, my children have molded and shaped me. I no longer am afraid to speak up in defense of others, and my lifelong struggle with perfectionism is (mostly) a thing of the past. I value virtues like compassion and patience more than success and achievement. My children's disabilities challenged my thinking and reordered my values.
Simply put, my children molded and shaped me into a better -- more perfectly human -- version of myself.
This story appears in Issue 73 of our weekly iPad magazine, Huffington, available Friday, Nov. 1in the iTunes App store.