Free Online Learning Sites Offer Everything from Guitar Lessons to Ivy League Courses--and the Industry Is Hot

Co-authored by Jonathan Cooper
Aside from quitting smoking, losing weight and managing stress, USA.gov reports that Americans are looking to expand their educations in 2015.
The College Board -- yes, the same folks behind the dreaded SAT exam all college-bound high school students must take with a No. 2 pencil -- estimates the average costs of tuition and fees for a private college in 2013-14 topped $30,000.
As college fees become prohibitively pricey for some would-be learners, a revolutionary solution has emerged. Popular video sharing sites like YouTube offer video-based lessons on everything from the proper grammatical usage of causative verbs to making cheese. Apple's iTunes U boasts more than 750,000 "individual learning materials" from nearly 70 countries.
Today, if you have access to the Internet, you can learn: you just have to know where to look. All this is giving successful digital learning companies a proven business model.
Lynda.com, a pioneer in this space, knows this well. The online video education provider raised $186 million in financing last year. Founded in 1995 as a training program for web design, the company offers 5,700 online courses spanning linguistics, business, to photography. And with deep pockets, big players like Lynda are acquiring reputable online learning providers.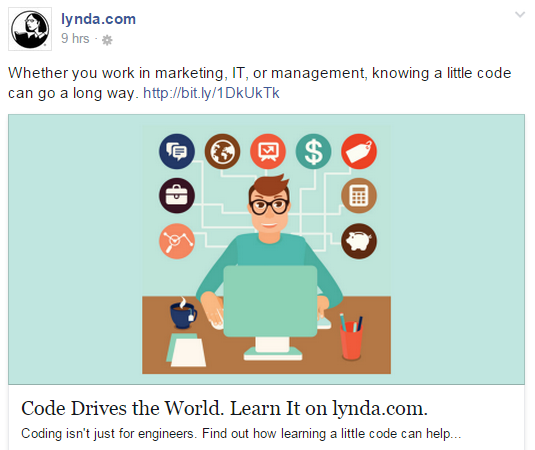 Characteristics of the Best Online Education Providers
Online providers succeeding in terms of completion rates, student feedback, and highest growth, have some of the following characteristics.
According to the University of Illinois' Online Network group (ION), an online instructor must be able to compensate for lack of physical presence by creating a supportive environment in the virtual classroom where all students feel comfortable participating and especially where students know that their instructor is accessible.
Top online courses tend to provide first-class support so that students never feel lost or alone during the e-learning process .
A study by the Association of American Colleges and Universities (AACU) found students value online technologies that personalized the instructor, allowing the student to see the instructor's image and hear the instructor's voice.
The most effective computer programming courses provide access to short cuts, explanations, and context from an instructor, according to WiseGeek.
Group-based project work, where teams are provided with separate collaboration portals, forces students to interact with one another and talk about our projects.
The degree of learning in online courses that include substantial testing and retesting, as well as writing and reading, is far greater than the traditional lecture with midterm and final exams.
ION also concludes, that traditional classroom lectures have no place in a successful online program. "Education of the highest quality can and will occur in an online program provided that the curriculum has been developed or converted to meet the needs of the online medium."
Online Education Providers to Watch
Here's some leading online learning providers to watch.
Udemy.com
Log on to Udemy.com's site and you're asked, "What do you want to learn today?"
While most of the site's over 20,000 online courses carry fees - just $10 per course right now - there are also more than 1,300 free lessons available that include starter courses in WordPress and HTML basics, a primer on CPR and multiple lessons on how to get started building your own app. If you're not into tech or life-giving first aid, Udemy has classes about subjects like saving money at Target, and even a few courses on 'happiness.'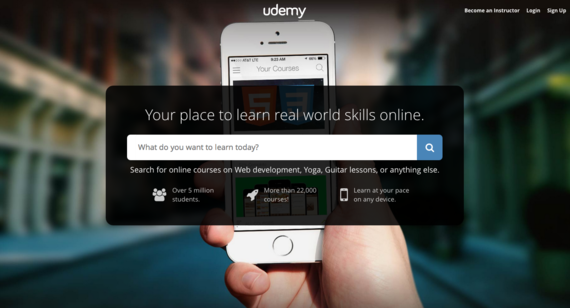 While Udemy offers users the ability to learn for free, the site also offers those who teach the ability to earn. The course list is created by users, for users. The top 10 course instructors have earned over $10 million teaching on Udemy, according to the company's press team.
Courses are primarily video-based - video makes up about 60% of each lesson - and they are structured to deliver clear, simple learning objectives.
Thinkful.com
Thinkful simplifies your path to career success to five steps: Find your courses, select a mentor, learn by project-based curriculum, work with peers and your mentor along the way, then graduate. The company recently raised a $4.25 million in a Series A funding round to build what some are calling a "virtual tech trade school."

What makes Thinkful's platform unique is its commitment to, and inclusion of seasoned industry mentors. "Thinkful's rapid growth can be attributed to the power of their mentor network and the acknowledgement that people are just as important in teaching as the content," remarks Miura-Ko, an early investor in TaskTabbit and Lyft.
Udacity.com
Udacity is an e-learning startup founded by Sebastian Thrun, the mind behind Google Glass and Google's driverless car.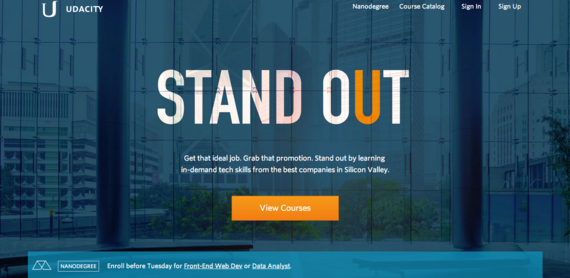 Udacity's course catalog generally includes fees per subject, but the site offers a try-it-before-you-buy-it free trial for many of its courses. Udacity has built a digitally-focused course library that includes a nanodegree program - certifications in web development, data analysis, iOS development and more - that were built in collaboration with partners like AT&T, Google, Salesforce, Twitter and GitHub.
"We're taking specific jobs and reverse-engineering them to teach what's required and then certifying a person in that area," founder Thrun told the Wall Street Journal when the company announced a raise of $35 million to back its nanodegree strategy.
CodeAvengers.com
Codeavengers gamifies the educational experience, bringing social, incentives, and leaderboards to personal development. The platform is solely focused on IT engineering. "It is estimated that by the year 2020 4.3 million jobs will be available for coders," the site reveals.
Regularly noted in lists of top coding platforms, Codeavengers merges simplified UI, with the latest emulation and development technologies. The system navigates users through software development tasks, as their output is rendedred on a mini phone simulator, for example.
I just earned the Code#Avengers 'Intro to Game Development' badge learning #JavaScript http://t.co/ivSc08VR7a via @CodeAvengers

— Belal Sayed (@belalthecoolboy) January 28, 2015
The "anyone can do it and love it" mantra is very much an imperative for this company. In fact, the platform offers a set of modules for journalists. Code Avengers provides 30 hours of interactive tutorials for HTML and CSS in an interactive module with a superhero theme. The program starts from the absolute basics and works from there, providing a real-time onscreen visualizer so you always know how your code looks online. It also builds from each previous lesson, so there's no code wasted.
Khan Academy
Whether you have a burning desire to test your trigonometry skills or a penchant for increasing your knowledge of Paleolithic art, Khan Academy is your home base. Launched with the mission "to provide a free, world-class education for anyone, anywhere," Khan Academy is backed by the Bill & Melinda Gates Foundation, Fundación Carlos Slim, Comcast and Bank of America.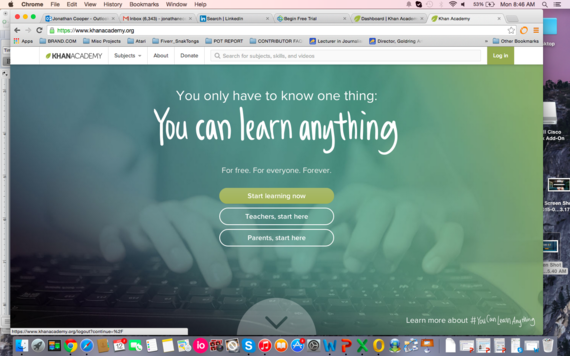 With more than 3,000 videos, Khan Academy is not focused on degrees but rather on knowledge. Founder Sal Khan's model of learning is akin to Nike's "Just Do It" campaign concept: need another line in here about how the two compare. "The transcript coming out of engineering school should essentially be what you've created," Khan said in December at Navigate, The Atlantic's tech conference.
The Khan Academy also offers enlightening videos of conversations between Khan and Elon Musk of Tesla Motors and Space X, and Reid Hoffman of LinkedIn fame.
TeamTreeHouse.com
Online training provider TeamTreeHouse is partnering up with civic and global organizations to market its services. Last yeart, the company partnered with the Clinton Global Initiative America 2014 (CGI America), to launch a national Code-to-Work initiative to train 150,000 U.S. workers for rewarding, in-demand coding careers by the year 2018.
And to close the technical skills gap of Oregon residents, and prepare them with coding skills, Treehouse teamed up with Worksystems, the workforce investment board for the City of Portland, Multnomah and Washington Counties, to build the region's future technology workforce through Code Oregon.
The Mayor of Portland @MayorPDX came to the @treehouse office to talk about @CodeOregon. Exciting! pic.twitter.com/zYZEXJKpGG

— Ryan Carson (@ryancarson) October 31, 2014
Go Ivy League And Beyond
Didn't have the grades or the capital to make it to Yale or M.I.T.? Well, now you can take a few courses at some of the best schools in the country -- for free.
M.I.T.'s Open CourseWare includes over 2,100 free programs, including intro courses like How To Stage A Revolution, which "explores fundamental questions about the causes and nature of revolutions by looking at how people overthrow their rulers and establish new governments." M.I.T.'s OCW also offers a more traditional course catalog with courses on subjects like linear algebra and artificial intelligence.
If you simply must go Ivy, both Yale and Harvard offer Open Yale Courses and Harvard Open Courses respectively. The courses are free and do not require admission to the school for attendance, but they are still taught by the same professors who teach in New Haven and Cambridge.
You don't have to rack up student loans to increase your knowledge this year. There are multiple ways to learn a little more, all you need to invest is some of your time.