As thousands of legally married same-sex couples across the U.S. start to receive federal marriage benefits thanks to the Supreme Court's decision to topple a key provision of the Defense of Marriage Act (DOMA), Michael Kaiser, the president of the Kennedy Center, made history by getting married at the center he presides over, and by a Supreme Court justice, no less.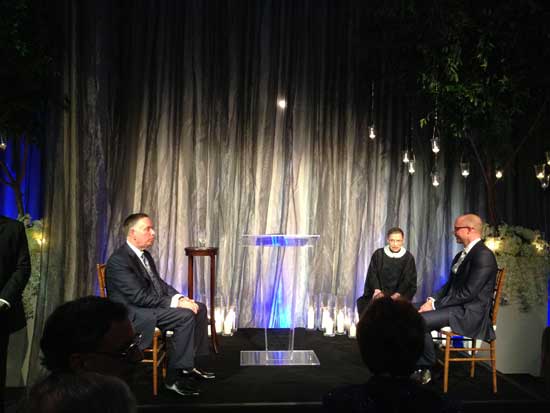 Michael Kaiser, Supreme Court Justice Ruth Bader Ginsburg, and John Roberts (photo by André von Ah)
I was there. I saw it. Supreme Court Justice Ruth Bader Ginsburg's speech was not only a matter of declaring a union between two men who love each other; it was about how no loving couple should be denied the right of union and marriage if they desire it.
To me, "love that provides shelter from fear" was the most engaging phrase in her speech. The Supreme Court's decision and the legal recognition of the marriages of same-sex couples do provide shelter from fear, but they do not erase homophobia.
It was whispered in the opening cocktail party that many of the high-society attendees were homophobic, yet there they were, and that is important, not only to normalize homosexuality in their eyes but to allow them to see that people need to share their important moments with others who are important to them, one way or another, and that no one has a right to interfere with that.
There is still a long way for the U.S to go in its fight against homophobia. The "It Gets Better" project helps, but federal action is also necessary.
I married my longtime partner, a Croatian, in my home country of Brazil, and it was a very important point in our lives. Croatia has yet to vote on legislation regarding same-sex unions, and we will fight. We should all fight. Silence is surrender.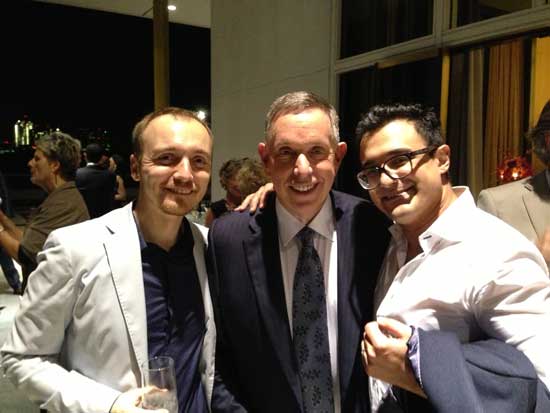 Zvonimir Dobrovic, Michael Kaiser, and André von Ah (photo by Anthony Olsen, used with permission)
Congratulations, Michael and John, and thank you, Justice Ginsburg. The fight has only started, but Justice Ginsburg's presence, words and celebration gave it a boost.