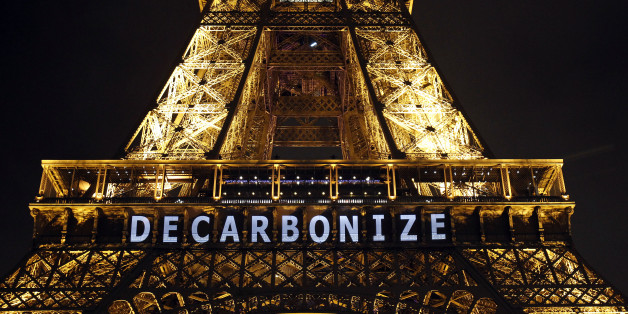 We will just be the audience in the stands. We don't have to be there. That's what I kept telling myself as I debated attending the United Nations Climate talks in Paris, otherwise known as COP21. My 15-year-old daughter, a self-made climate activist, had been selected as a delegate to listen in on the state of the planet, and the future of her world. But I was feeling vulnerable.
Three weeks earlier Paris had been brutally attacked, and the day before, sleepy San Bernardino, an hour south of us, had been similarly ravaged by religious extremists.
LAX was spookily quiet. But we went. Our mayor, Eric Garcetti, was already there, making our city's climate commitments. We joined him to pay tribute to fellow Angeleno, Nohemi Gonzalez, who had been shot those three weeks before at a restaurant called La Belle Equipe, which means The Good Team. Together, we added flowers to the candles and condolence letters posted on this unassuming corner. Then, French guards arrived with machine guns and flak jackets.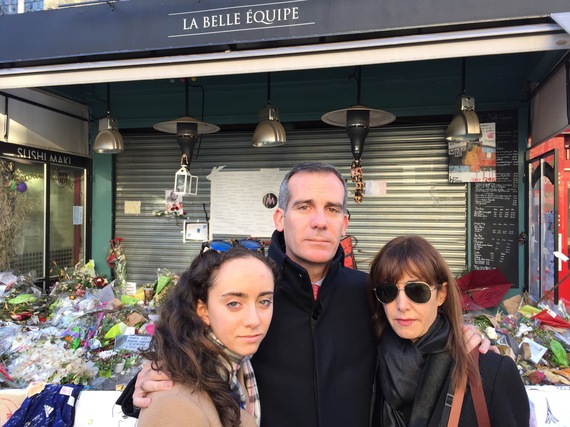 Vulnerable was what I felt passing through scanners at my daughter's first conference session. Veteran climate activist Robert Redford led a panel with representatives from the front lines of climate change. Kathy Jetnil-Kejinar, a young poet from the Marshall Islands, explained that her ancestral home is about to disappear beneath the warming ocean waters precisely because of the very comforts we first-world inhabitants hold as absolutes: Our hot showers, our cozy car rides to and from school, our plastic bags filled with short-lived satisfaction from disposable materialism. The idea that this may happen even before my teenage daughter graduates from college crystallized Mina's vulnerability.
Indonesia's Mina Setra took the microphone next. She was another of the spokespeople who'd come from threatened regions, invited to have a seat at the table with the world's worst carbon emitters, and argue the urgency of their issues. She is a formidable speaker, but here, words failed her. She, and every other representative of the indigenous cause, had been shut out of the central talks without warning. She wanted to describe her rage, but words failed her. There was silence. As she stifled her own, tears fell quietly throughout the dark room.
After all those recent deaths in Paris, in San Bernardino, in Beirut, in Sharm el-Sheikh, all those refugees risking their lives to reach Lesbos, all the drought in the Middle East fueling the explosion of extremist religions, Mina's fear rose among us.
And yet, the next day, there was also a tide of hope. The sun shone brightly through the grand two story windows of Paris' Petit Palais, built in another century to celebrate innovation and modernity. "I see a very different effort here," said the United Nations' chief, Ban Ki-moon. Never before, he said, had the entire world seemed to focus on the issue of climate change as they were now. With a small smile on his face, he said, "It feels like a Tsunami."
There was hope when the head of outdoor gear company, Patagonia, suggested we mend our torn jackets rather than replace them. There was hope when Darian Rodriguez Heyman, a head of the UN's Impact Investing Global Summit, said a new, green economy was already starting to grow.
At the "Celebrate the Arctic" Party, there were toasts for the defeat of the Keystone Pipeline, but Inupiaq Eskimo AKU-MATU's seemingly celebratory rap performance still pulsed with the sadness of a familial Alaskan habitat on the brink of destruction.
At the end of her song, 20 of us with the National Resources Defense Council delegation were invited to a private room for a summation of the week's progress with members of President Obama's administration, a rare treat for which we'd push through jet-lag and the hunger my daughter and I had been neglecting in favor of information gathering all day.
The doors closed. Negotiations are a dance, Christy Goldfuss told us. The days ahead would be critical. As we wished her luck, thanking her for her time, a woman we didn't know burst into the exclusive suite. She was shaking. We fell silent. This was the one event we attended that did not require a weapons check.
Her presence felt radical, yet frighteningly familiar, though none of us had been at the massacre at La Belle Equipe or the San Bernardino Inland Regional Center. Wild-eyed, the woman berated us for our wine and cheese parties while those who were truly vulnerable were shut out. She said she was from New Orleans and her family members were dying of cancer caused by the BP oil spill, and that everything in her world would again be in jeopardy when the next hurricane slams the Gulf Coast. She demanded immediate action.
Then, as quickly as she came, she left. NRDC President Rhea Suh, tears in her eyes, said, "This is why we are here."
Sam Kass, former food guru for Michelle Obama and now NBC News, likened COP21 to a wedding. There is exhaustive planning and excitement to reach the day when friends and family finally gather. But it is after, he said, when the couple's real work begins. I would argue that the work is not just for the newlyweds, but for the attendees, who leave with the life-long mission to hold the couple to their vows, to be their support team.
Ban Ki-moon described our planet this week as sick with a fever we have to treat. It is not just Kathy, Mina, AKU-MATU, and the frightened, angry woman from New Orleans who are suffering because of it. The climate connects every one of us.
We mere "audience in the stands" came there to bear witness, and left with a mission to hold our leaders accountable, to honor La Belle Equipe by being La Belle Equipe, by truly becoming The Good Team.
This post is part of a series produced by The Huffington Post, in conjunction with the U.N.'s 21st Conference of the Parties (COP21) in Paris (Nov. 30-Dec. 11), aka the climate-change conference. The series will put a spotlight on climate-change issues and the conference itself. To view the entire series, visit here.