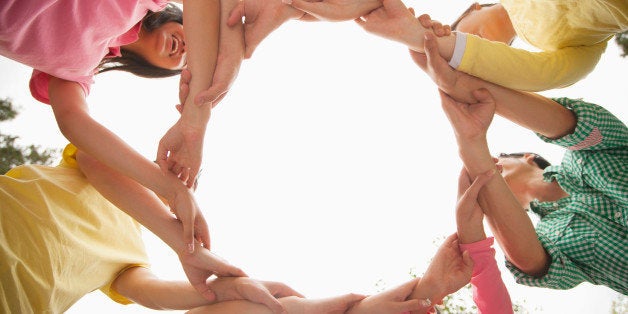 I was disengaged from my body.
I've been pushing myself and leading my life with my head for longer than I care to remember.
I, like many dynamic go-getters, have been busy hustling and running around "doing" business, making money and making things happen for (I would say) around a decade, non-stop. I'm a performer and singer-songwriter by trade, so you'd think I'd be self-aware, right? Well, to some degree, yes, but throughout my varied and successful career as a musician-turned-entrepreneur, I've taken for granted one aspect of my life until very recently.
I've been self-employed for 14 years and following a divorce around eight years ago, I became the provider for myself and my then young son. The provider instinct took over as I embodied the "superwoman" role, which is so recognized in today's busy lifestyle.
I made money.
I chased my passion and dreams.
I fuelled my ever increasing ambition.
I put food on the table and a roof over our head.
I looked after others and was the emotional rock for my family.
I pulled up my socks and did what needed to be done.
And I ignored my body. Until about three months ago.
In February, I experienced a hugely pivotal point in my life where I suffered complete burnout.
Stringent tests yielded diagnosis of pre-adrenal fatigue, pre-diabetic state, SIBO and hosts of food allergies and deficiencies leading to hypothyroidism. I'm pleased to say that I'm now successfully treating my newly appreciated body with supplements, sleep, lifestyle (or should I say work-style) change and diet.
I don't doubt that this comes at a time when my life is more stable for a reason. I am now happily married, parenting my now teenage son in a better financial position, with a growing small business. I recently became sole owner of the company and won a huge game-changing contract. I had let go of the stress that I had been holding onto for so long. Our body reflects how we used to live, not how we live now and I've had a very close call from the universe! I've realized, soberly, that I have been disrespecting my body for far too long.
Stress, high cortisol levels, sleep deprivation and lack of physical peace all led me to burnout. Be under no illusion, I have intellectually known that I and some of my team have been leading our lifestyles like a ticking time bomb.
I'm in the business of people -- I coach, encourage, mentor people and own a lovely engagement company called Sing & Inspire, which helps folk find self-awareness, engage with themselves and others and inspires them to make positive difference in their lives, bi-products of which are enhanced experiences and improved business results. We work with large brands and it goes without saying we must lead by example with our approach and energy levels, and while we do exactly that when client facing -- I'm not sure the same is always true when we leave work.
Bearing this in mind, I had already started implementing some subtle changes. Introducing energy management measures by creating chillout areas into our office space and promoting healthy eating in preparation for the added workload.
I recognize that there are at least four members of my phenomenal team who have similar tendencies to me. In my powerful, little, creative micro business there are nine of us who are all hungry for life, success and experience, talented and passionate about our "whys" and our ability to create... the four people I mentioned all take on too much, cram too much in, don't sleep enough and are time-poor. And we know about fulfillment.
It's not without coincidence that the week that I was working from my bed, I came across Arianna Huffington's fantastic new book Thrive.
Oh... my... goodness! Divine timing does not describe how strongly I resonated with the opening chapter of this book!
Life-changing, eye-opening gratitude!
I'm working my way through Thrive, and looking forward to hearing Arianna speak in a fortnight's time. I already feel that the Third Metric is the key to our future success. Since starting the book, I have spoken about what I'm learning with the team at length. It has become a Zeitgeist in the office!
Thrive impacted me so strongly that we started making cultural change within the business the following week when I returned to work. I've bought a copy of Thrive especially for the office library so the guys can read in the new said chillout spaces. We now have breaks at work every 90 minutes and we've changed some morning meeting times so commuting team members don't have to get up so early. I'm regularly telling my team to go home -- how blessed am I to have a team that wants to work more!
As for me -- I'm taking time off, delegating more, and allowing myself to be more authentic as a woman in my approach to leadership, ambition and company growth. I've created space in my diary for the first time in years and I'm saying no more often. I've completely given up gluten and I'm sleeping!
Well-being is now firmly on the agenda!
We are supporting each other more as a team -- and we're closer! We connect better, and even though we already practice being in the moment, the actions of eating well, sleeping well and being present in our bodies all the time and being engaged with how we feel is having the most positive effect. We will be spreading the word!
My next challenge is to unplug at night. I'll be encouraging my team to do so, also. I'm looking forward to posting the effects of this (if we can manage it!), and I'll be completing the other tasks in the book.
Thank you, Arianna, for being an inspiring role model. For being wise and brave and for personally answering your email -- I salute you!
How many others of you have shifted in your health behaviour since reading Thrive? I'd love to hear about your experience!