MTV has gone from "My Super Sweet Sixteen"--a reality show on 16-year olds' birthday parties that rivaled the Oscars--so Old Economy--to "MTV Hired," an incredibly good docu-series about young people competing for dream... entry-level jobs.
"The idea was how do we come up with something that talks about today's market but not be all doom and gloom, and still be entertaining," explained executive producer Noah Scheinmann by phone today from New York. Scheinmann founded his production company, No Regrets Entertainment, just as the market crashed and says that he wanted to address how young people, raised on entitlement and consumer culture, would face the wake-up call of the Great Recession. MTV was the only place he could imagine his show and luckily the network bought it.
This is not a scripted reality show with casting; "MTV Hired" got access into companies actually doing some hiring and then filmed the process from the employer and candidates perspectives. The jobless recovery lends suspense but so does the fact that we've all said and done things in job interviews we'd rather forget. (So it's not okay to stutter to the point of beatboxing?)
Premiering this Monday at 4:30 ET/PT on MTV and airing weekdays, "MTV Hired" is a constructive reminder on how to sell yourself, follow your passion, and always come prepared. Each episode follows a handful of young qualified candidates competing for entry-level positions at hot companies, including Gary Vaynerchuk's VaynerMedia, a boutique consulting agency; trendy designer Steve Madden; Reveille, the producers of NBC's "The Office" and "Ugly Betty;" and raw food lifestyle company Organic Avenue. Recruiter Ryan Kahn of the University of Dreams vets the candidates--most just out of college--and offers necessary feedback: maintain eye contact when shaking hands, smile, and don't wear an aftershave that overpowers the room. Kahn read one candidate something juicy he found while reading her Twitter page: a comment about how badly she wanted to be in bed instead of at work.
Naivete and high-stakes ultimately lead to unintentional comedy, like the young woman who opened up her job interview with American Rebel PR in Los Angeles by pitching herself as a highly organized multitasker, and she even had a writing sample. When asked for it, she flipped through her binder, unable to find it. Of course some of these rookie mistakes are cringe worthy, but the overall tone of the show is constructive and inspirational.
"If you're going for an entry level job it's about that gut feeling an employer has about you. It's not about a resume with tons of experience," says Scheinmann. "That first interview is a little like a first date."
When booming-voiced Gary Vaynerchuk, the best-selling author, wine expert, and social media powerhouse better known as Gary V, met with candidates, he didn't want to look at their resumes. "He didn't think anything on the resume would tell him more than what he felt in person," Scheinmann explains. "He used his gut instincts. Will this person fit in as a personality with the passion to do the job?"
What makes the show remarkably interesting is that each new episode takes you inside a different company, lead by someone of passion. In the Steve Madden episode, the candidates are treated to being interviewed by Madden himself. If you want to learn more about anything right now, it's about the companies that are actually hiring and what the winners want, in a worker and in a pitch.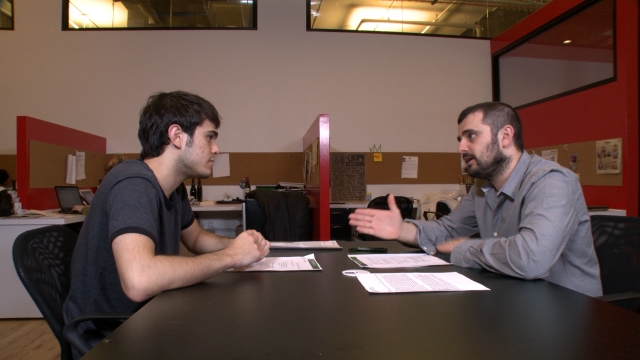 AJ Vaynerchuk and Gary Vaynerchuk, brothers and founders of VaynerMedia, making the difficult hiring decision
But one of the participating companies in the 20-episode series, New York-based Gen Art, is unfortunately no longer with us. The organization that supported young talent in the arts and entertainment lost major funding and recently had to close up shop after sixteen years. The chosen candidate was let go along with everyone else.
As a battle-hardened producer, what's Scheinmann's advice to job candidates of all ages? "Don't be discouraged by rejection. We all go through it and you'll find you learn from whatever happened. Ultimately that's the process we all have to go through."
Need help in that department? Check out these Confidence Boosting Tips from Drag Queens- Happy Interview-Acing!:
UPDATE: "MTV Hired" now airing 4:30 ET/PT.