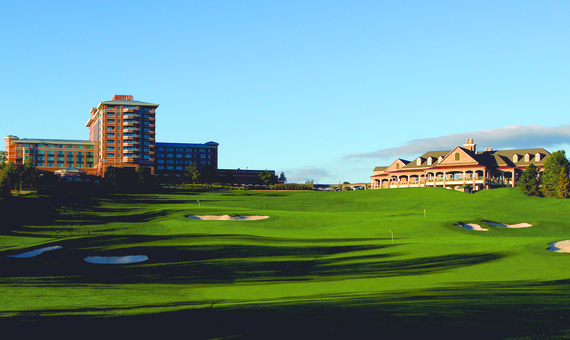 An easy escape from Washington, D.C. lies just across the Virginia state line. Here two resorts are nestled in Loudoun County, near Dulles Airport. Lansdowne and Salamander offer two very different experiences, but both have been designed with families in mind.
Lansdowne Resort, by Destination Hotels & Resorts
Set on 500 acres outside Leesburg, Virginia, Lansdowne has long been known as a favorite conference center, one especially prized by businesspeople with families. Increasingly, families without business at the hotel are booking vacations here thanks to its multitude of family-friendly amenities.
What's Special: Golf programs on courses designed by Greg Norman and Trent Jones Jr. that include cheap greens fees after 3 p.m., weekend kids' clinics, and family lessons with highly skilled and super friendly teaching staff, like Sang Hwang, director of instruction.
Kid-friendly features: Four pools and a water slide, a kids' camp, playground, a 9-hole golf course, hiking trails onsite and easy access to nature trails along the Potomac Heritage Trail, a savvy kids menu that includes healthy treats like salted edamame.
Grown Up Pleasures: Chauffeured wine trips to local vineyards, a sea salt scrub followed by a Vichy shower at Spa Minerale, a clubby sports bar that features local microbrews, like Lost Rhino and 3 Brothers Brewery on tap.
What's New: The former racquetball court has been converted into a TRX Training System space. All golf carts now come equipped with a digital caddie I-Pad GPS system, which allows players to drive to their ball and get exact yardages to the front, middle and back portions of the green. All guest rooms will get a makeover by March 2015.
Room Rates: $159-$299
Salamander Resort & Spa
Salamander Resort & Spa, which is set on 340 acres in the heart of horse country in Middleburg, Virginia is tailor made for a romantic getaway with its lush appointments, come hither stone fireplace in the library and acclaimed restaurant Harriman's, but it's equally appealing to families.
What's Special: Equestrian program for the entire family--from yoga on horseback to trail riding to exquisitely bespoke training sessions, including equine communication. The spa features unique treatments that cater to equestrians, like the mind and body altering massage called Rider's Relief. (Ask for massage therapist Jimmie Freeman.)
Kid-friendly features: Croquet, giant lawn chess, an onsite camp that focuses on the resort's natural surroundings, kids' cooking classes, pony rides, tennis, astronomy walks, animal tracking and geo-aching.
Grown Up Pleasures: The spa has a multitude of knock-out amenities like state-of-the-art steam rooms and saunas that tempt guests to linger inside this sanctuary all day, a roster of results-oriented exercise classes from kickboxing to yoga, a swanky piano bar, and hands-on cooking classes.
What's New: Tree canopy course with five zip lines that puts an emphasis on ecology with guides pointing out local flora and fauna.
Room rates: $275 and up