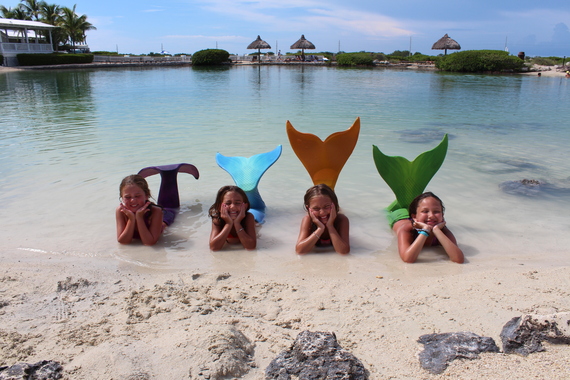 There is a reason that so many families return year after year to Hawks Cay, a 61-acre resort on tiny Duck Key, an island at the center of the Florida Keys.
This is the kind of laid back place, where you can dump your car (rental or otherwise) and spend the week puttering from one pretty perch to another, taking in the swaying palms, while your children get their fun on.
The centerpiece of the resort is an ocean-fed lagoon. Sea life like jellyfish, sponges and furtive fish congregate in this lagoon, making it endless hours of fun for kids of all ages from toddlers dunking their toes to big kids diving from the floating dock anchored in the lagoon.
Hawks Cay is one of two resorts in the United States with an onsite dolphin program. Dolphin Connection, which has four resident dolphins, has a mission to promote marine stewardship and conservation. Families who stay at Hawks Cay get free dolphins shows every day and, for a fee, children can swim with and feed the dolphins.
For little girls heading to the resort over the holidays, it will be hard to resist the new Mermaid Academy, where kids don mermaid tails and take an hour-long swim-like-a-mermaid lesson in one of the resort's five swimming pools. (The Mermaid Academy will only be available on a limited basis. Holiday dates include Thanksgiving weekend, Dec. 26 and 27, and Jan. 2 and 3).

Families flock to the West Indies Club, a knock-about hang out space that has indoor and outdoors activities such as a soccer field and air hockey, along with crafting sessions that include the stringing of shark tooth necklaces.
At the main dock, families can book fishing charters, go parasailing, try SNUBA, learn to SCUBA, launch a kayak or join a paddle boarding excursion.
Families even make out all right on rare rainy days in the Keys because all of the guestrooms are outfitted with flat screen TVs, iPod docking stations and Wi-Fi. Families with young children will especially appreciate the handful of rooms that have private alcoves for bunk beds.
Three restaurants and a café on site means you can stay in for dinner. Last year, all of the restaurants were updated and now feature local seafood, an upscale Latin menu and kid-friendly options like flat breads.
NOTE: This resort can get crowded, very crowded. Book early to be sure you get a family-sized room. Also, plan to get up early to stake a claim on one of the coveted lounge chairs around the main pool.