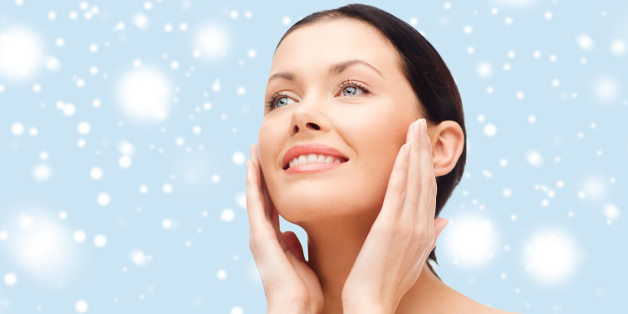 Brrr it's cold outside, and with the holidays behind us, chances are you're feeling a little tired, bloated and broke. Here in New York we're going to be snowed in for the next few days, so I thought I'd share some of my favorite at-home beauty treatments -- all inspired by interviews I've done with the dermatologists, makeup artists and hair stylist celebrities swear by to keep them gorgeous. You probably have most of these ingredients lying around the house, so why not do a little DIY beauty baking to whip up a few spa treatments? Go ahead, pamper yourself!
Coconut Everything!
Coconut oil, milk and water are popping up everywhere in the beauty world, but the truth is, you can get the beauty benefits of this miracle fruit straight from the supermarket.
1. Mix coconut oil with brown sugar for a soothing and exfoliating body scrub. We also like to use it on our lips to get rid of dry, flaking skin before wearing a bold lip.
2. Open a can of coconut milk and let it solidify in the fridge overnight. You will be left with the most amazing body butter three dollars can buy! Plus, you can apply it to your hair for about five minutes while in the shower and rinse for a nourishing hair mask.
3. For a red carpet facial at home, take a sheet of bounty paper towel and cut out eye and mouth holes. Soak it in some coconut water and apply to skin for about 10 minutes for a super-hydrating mask. This is great before a big night out, and buying similar paper masks at the department store can cost up to $100!
Hot Chocolate Skin Softening Treatment
Cocoa is very high in antioxidants and the natural oils help to fight wrinkles. The oatmeal acts as a natural exfoliant while the honey and yogurt soothe and hydrate the skin. This is a great home remedy for skin stressed out from the holidays!
1. Mix two TBSP unsweetened cocoa with one TBSP honey, one TBSP yogurt and one TBSP oatmeal. Apply all over face, rinse off after 15 minutes.
Green Tea Antioxidant De-puffing Treatment
Definitely stock up on green tea during the holidays! It revs up metabolism, curbs cravings and is both antioxidant-rich and an anti-inflammatory.
1. Make Green Tea Popsicles: you can use them topically to de-bloat and de-puff by rolling them over your eyes or eat them to detoxify and banish bloat. To make the pops, brew green tea to double strength, pour it in dixie cups, and freeze with a halved chopstick as a handle. To prevent the chopstick from poking you in the eye, use another dixie cup to hold it in place so it doesn't sink all the way to the bottom.
2. Or try Skin Guru Kate Sommerville's green tea and spoon treatment -- steep two green tea bags, then put two metal spoons in ice. First use the tea bags as eye masks, then remove and use the spoons to cool and de-puff.
Leftover Champagne or Beer Hair Helpers
No, don't drink it! Use in on your hair for an intoxicating treatment for your tresses.
1. Champagne: Put a little champagne in a spritzer bottle and spray all over hair. Blow dry to reveal softer, more volumized hair. It can also intensify the look of natural highlights!
2. Beer: The malt nourishes and smoothes hair while the yeast gives your strands strength and volume. Use a little warm beer after you shampoo, lathering it into your hair from roots to tips. Rinse and apply conditioner as usual.
Berry Beauty Parfaits
Cranberries and blueberries are very high in antioxidants and anti-aging properties. They also help acne prone skin and are rich in vitamins C, A, B-3 and B-5. Finally, cranberry oil is high in fatty acids, making it very moisturizing.
1. We like to layer blended cranberries with yogurt, honey and coconut sugar for a full body and facial softening and exfoliating treatment.
2. You can also blend a little fresh cranberry juice with almond oil to create a natural lip stain.