I forgot how much I LOVE caviar. When I lived in Paris, my boyfriend and I would go often to A Douchka in the Marais and eat blini after blini topped with those glistening, steel-grey pearls and a dollop of creme fraiche. But it's been awhile since I've indulged in a true caviar-orgy.
When I was invited last week to Petrossian West Hollywood for their Caviar Brunch, at first I hesitated. I'm a purist. I don't want my caviar with eggs or in a salad -- I want it straight out of the jar and as much of it as I can eat!
But I went. And I was actually was blown away by Chef Giselle Wellman's artful handling of this delicate comestible. Wellman, who has cooked in the kitchen of masters such as Thomas Keller and Mario Batali, had me from the first course of a sampling of items on the daily Caviar Brunch menu.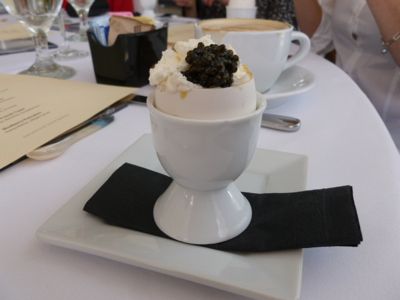 Photo courtesy of Andrea R. Vaucher
Her Egg Royale, which is a very soft scrambled egg (the consistency of a thick gazpacho) combined with vodka whipped cream and caviar, served in the egg shell, made me rethink combining caviar with actual food. I wanted a dozen.
But I needed to leave room for the Petrossian Sampler of caviar, trout roe, salmon roe and smoked salmon, served with toast and blinis and creme fraiche.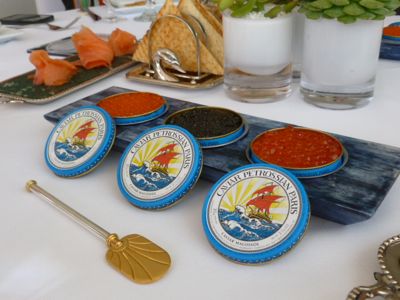 Photo courtesy of Andrea R. Vaucher
Then, Eggs Benedict topped with caviar, followed by the best smoked salmon bagel I've ever eaten. By this time, I was giddy from the Omega-3 fatty acids and the B12 coursing through my veins. So I merely tasted the Dulce de Leche Brioche French Toast and Blueberry Pancakes.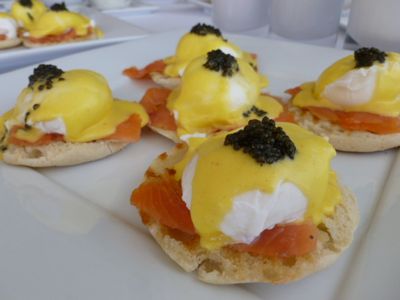 Photo courtesy of Andrea R. Vaucher
It's been almost a century since the Petrossian brothers came to Paris from Russia and began flogging their Caspian Sea fish eggs. It took years before the delicacy became a luxury food item. Now it costs a fortune. "You're the 1%," a friend commented when I posted pictures of our decadent lunch on Facebook. Not really. But it is fun to indulge every now and then, and at Petrossian you can actually sample the goods without breaking the bank.
In July, California outlaws the sale of foie gras. Leave it to Petrossian and Chef Wellman to devise an "Adieu to Foie Gras" feast for June that features five courses and ends with foie gras ice cream. Stay tuned.