There used to be a hotel in Cabo San Lucas called Twin Dolphin, which was the kind of place you visited once and quickly became a devotee. It was built in 1977 by David Halliburton, Sr., who first discovered the area in 1938 when his family's 160-ft. yacht broke down en route from Corpus Christi to Los Angeles.
Halliburton used his inherited oil fortune to build Cabo's first upscale resort, a gem of a place sprawled between the desert and the sea that disturbed very little of either. With guest rooms and pool area open to the water and cabanas set above a reef that protects one of the few swimming beaches in Cabo, Twin Dolphin defined understated chic and a laid-back vibe.
There were no televisions or telephones and for years they didn't accept credit cards. Twin Dolphin guests, mostly middle aged and affluent, came for the peace and quiet, not the margaritas and mariachis.
When Twin Dophin closed in 2006, its fans were devastated. None of the new luxury hotels -- most boasting break-the-bank room rates -- came close.
But now there's Rancho Pescadero. Located "an hour-and-a-half and a thousand miles from Cabo," this two-year old resort is getting the nod from Twin Dolphin fans. Accessed by either the airport in Cabo or the one in La Paz, and just south of the charming, artist colony/surfer town Todos Santos, Rancho Pescadero has the same chill, relaxing atmosphere.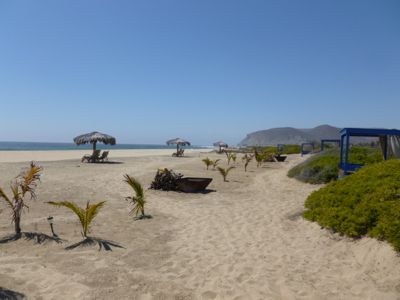 credit photo: Andrea R. Vaucher
Located on 15 acres, along a pristine and deserted white sand beach, Rancho Pescadero is a place that's guaranteed to restore you to sanity. The 27 guest rooms, all featuring both a view and the symphony of the waves crashing onto the shore, have sliding glass pocket doors, which open to a tiled, palapa-covered patio with comfy lounge chairs and a day bed. Some of the rooms even have a rooftop terrace. No televisions or telephones here either.
What you will find is a shower with a view of the ocean, a super comfortable bed with down pillows and, every morning, a basket filled with fresh fruit, sweet rolls and Baja Beans coffee waiting outside your door.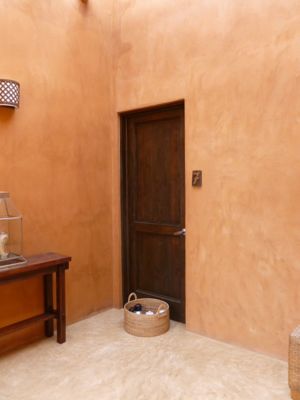 photo: A. Vaucher
After drinking that coffee, you might feel like drifting down to the yoga studio for the free daily class. And after a second breakfast, you might decide to surf the world class San Pedrito point break (10 minutes down the beach) or fish, or read and daydream on one of the inviting "floating" chaise lounges around the pool. A lot of thought has gone into planning the perfect day at the Rancho pool; the hotel provides the latest magazines, chic sarongs, trendy sunhats, as well as a large selection of sunscreens at the poolside bar, which whips up a sexy hibiscus martini.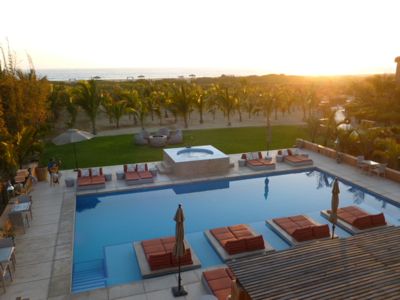 credit photo: Andrea R. Vaucher
Feel like being pampered? There's a cool spa shack down by the beach where you can book traditional treatments and even a ritual temazcal rock sauna. Follow that with a massage by Marea, a true healer, and you'll know your vacation has begun.
Rancho Pescadero has a huge organic garden, the palate for Chef Rodrigo's artistic culinary creations. Nothing beats an alfresco meal here, combining the tastiest vegetables with fresh fish and seafood and a bottle of top-notch wine from the nearby Guadalupe Valley. At three in the afternoon I picked basil from the garden, which Chef Rodrigo turned into a pesto served over fresh pasta later at dinner. How often does that happen?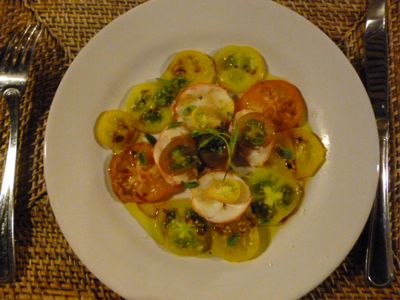 Garden Tomatoes w/ Fresh-caught Lobster photo: Andrea R. Vaucher
When we first arrived, we thought we'd go into Todos Santos; three days later we were so chill, that definitely seemed like a long shot. We did drag ourselves there one night to have dinner in a pop-up restaurant that Michael Cope, an ex-L'Oreal creative director-turned-gallery owner and part-time chef puts together on weekend nights in the courtyard of the Galeria de Todos Santos. It was worth the detour.