IFF Panama's significance on the film festival circuit was firmly established by its third edition, which wrapped April 9 in Panama City.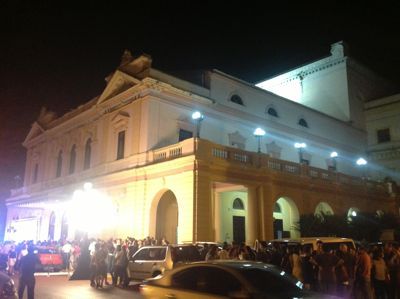 Festival goers gather outside Panama's Teatro Nacional in the Old Quarter. credit: Yanka Van de Kolk
Seventy-three films from 35 countries, hand-picked by Toronto International Film Festival's Spanish language curator, Diana Sanchez, wowed over 22,000 ticket holders. Sanchez, IFF Panama's artistic director, and festival director, Pituka Ortega Heilbron, also rounded up stars and directors from around the world -- including Mexican maestro Arturo Ripstein, French cinema icon Claire Denis, Spanish actor Luis Tosar and Argentine superstar Ricardo Darin (The Secret in Their Eyes) -- who flew in to talk about and show their films. Heavyweights from other festivals like Trevor Groth, director of programming for Sundance, and Argentine director, Pablo Trapero, this year's jury topper for the Cannes Film Festival's Un Certain Regard sidebar, sniffed around for up and coming talent and projects.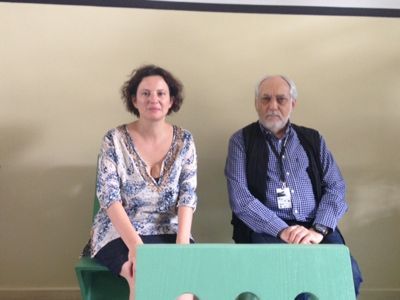 IFF Artistic Director Diana Sanchez & Mexican maestro Arturo Ripstein. Credit: Andrea R. Vaucher
Home girl Ortega Heilbron, who is also a producer/director, has long advocated for a Panamanian film industry and now, with the festival's $1 million government grant and a Panama Film Commission (under the banner of the ministry of commerce and industry) that awards millions of dollars in production grants to local filmmakers, she is seeing her vision realized.
Two solid and crowd-pleasing Panamanian documentaries made their world premiere at the festival. Annie Canavaggio presented Breaking the Wave, about Panamanian surfers from Santa Catalina, a dirt poor section of the country, who compete in international competitions against all odds and highly sponsored surfers from around the world. Canavaggio brought the trio of surfers featured in the film to the festival, where they stayed, along with other festival guests, at the gorgeous American Trade Hotel in the old quarter of Panama City, where a room probably costs as much as the surfers earn in several months.
Abner Benaim screened Invasion about the 1989 U.S. invasion of Panama City to take out Noriega, an event most Panamanians have filed under collective amnesia. Benaim nabbed two out of three audience awards, the Best Documentary prize, as well as the award for Best Central American and Caribbean film. (Spaniard Javier Ruiz Caldera won the prize for Best Ibero-American feature, for the second year in a row, for Three Too Many Weddings.) Benaim, whose previous film Chance (2009) broke box-office records in the country, recently directed one of five segments of the Ortega Heilbron produced (along with Ileana Novas and Pablo Schverdfinger) omnibus feature Historias Del Canal, set against the backdrop of a century of the Panama Canal's history. Ortega Heilbron helmed the film's final, present-day, segment.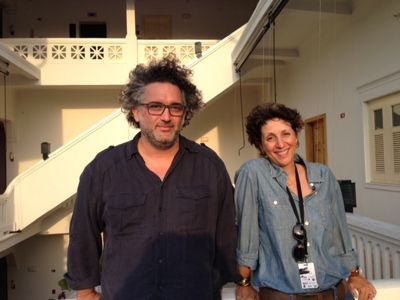 Invasion director, Abner Benaim, and festival director, Pituka Ortega Heilbron. Credit: Andrea R. Vaucher
This year, the first Platino Awards for excellence in Ibero-American cinema were presented during festival week. That the Ibero-American Federation of Film and Audiovisual Producers and Spain's EGEDA chose to organize the event during IFF Panama -- and not during a more established Ibero-American festival like San Sebastian or Cartagena -- shows how, in three years, the Panama fest has managed to establish itself in the world of Spanish-speaking cinema. The first Platino for Best Film went to Spanish/Chilean critical and box-office smash, Gloria, which screened at the festival.
Besides Spanish language films like Alejandro Fernandez Almendras's To Kill A Man (Grand Jury World Cinema Prize/Sundance); Mexican box office smash Paraiso, which opened the festival; and Costa Rican director Laura Astorga's Red Princesses; festival goers were able to see Jim Jarmusch's Only Lovers Left Alive; Paolo Sorrentino's The Great Beauty (2013 Best Foreign Film Oscar) and Abdellatif Kechiche's Blue is the Warmest Color (2013 Palme D'Or/Cannes); among many others.
The MEETS Latin American Film Market held its inaugural event during the festival, a pitch day where 12 partially financed film projects were presented by their filmmakers in competition for a $25,000 award. The prize went to Mexican director Daniel Castro Zimbron's The Darkness.
Panama is a small country -- it takes under an hour to drive from the Pacific to the Caribbean -- with big dreams. Its skyline of modern steel and glass towering skyscrapers could stand in for Dubai on film. Frank Gehry, whose wife is Panamanian, just built them a magnificent Biomuseum.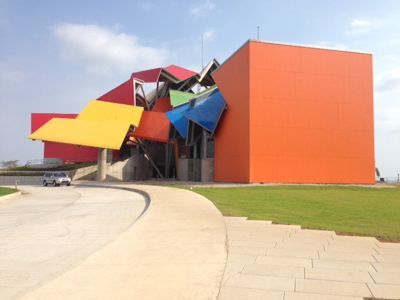 Frank Gehry designed Biomuseo. Credit: Andrea R. Vaucher
The country even has a world-class airline, COPA, which flies all over the globe and is a major sponsor of the festival. Amazingly, this country of 3.8 million inhabitants ranks second only to Mexico in the number of cinema admissions per capita in Central and South America. With IFF Panama's future virtually guaranteed, Panamanians will continue to have the annual opportunity to see more than the American blockbusters that fill their cineplexes the rest of the year. The better to fuel those soaring visions of their country's future.