When security guard Keith Mohrhoff found an iPhone at CNBC headquarters in Fort Lee, NJ, he knew exactly what to do. He pressed the home button and asked Siri "who does this phone belong to?" He got his answer and iPhone and owner were soon happily reunited much to the delight of the shocked owner.
Of course you're now doing the same exact thing -- reaching for your phone and making sure Siri knows who you are, right? Mine does, (phew!) but surprisingly, a lot of people haven't taken the time to tell Siri anything about them. And that information can help if you and your device ever get separated.
Mohrhoff, who's worked at CNBC 11 years, says he's seen tons of lost items over the years but the "one thing that never gets old is the look on someone's face when they get their device back."
Mohrhoff is a regular Sherlock Holmes when it comes to tracking down the owner of a lost cell phone. Before Siri and "smartphones", he says he would try to get the phone's number from the phone itself. He would use the phone to call his extension, and see the number displayed on the caller ID. With any luck, when he called it back, he'd get the person's voicemail, complete with full name that he would then look up in the company directory.
"People's whole lives are in their cell phone, their phone book, their pictures, their email, they really need their devices." So he goes the extra step to try to reunite people with their electronics.
"Clothing, forget it, we have enough hats and scarfs to start our own thrift store," he tells me. It's easy enough to replace a scarf, but a smartphone? Forget about it! In the old days, says Mohrhoff, "if you lost a (Sony) Walkman or had one stolen, that's it, it's gone," he says. But today devices can be traced. "These kids don't realize how lucky they've got it."
So how did this new sleuthing tactic come about? "About a year ago I was desperate," he says, "and I just asked the phone who it belonged to. I pressed Siri and asked 'whose phone is this?'" And it displayed the person's name and number.
"People lose phones every day," he reminds me. Either it's dropped or left behind in a shuttle van or car service." It's my job to find the owner.
So make his job a little easier and take these steps to make sure your phone doesn't wind up in the Lost and Found if you accidentally leave it behind.
To do this, go to Settings, General, then click on Siri. First, make sure Siri is turned on. Set your language and your voice preference and then under "my Info" find yourself listed in your contacts on your phone. If you haven't already done this, go to your address book and make an entry. Add your name, your phone number and an email address. You don't have to include your home address but make sure there's some way of identifying you.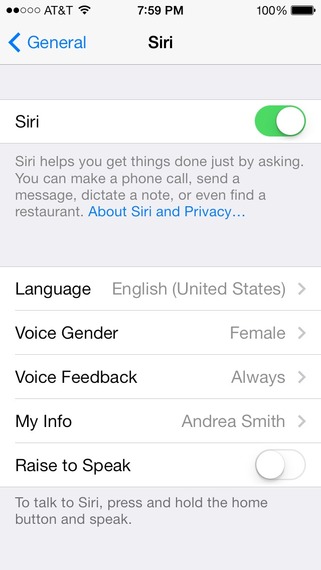 Once you have yourself in your contact list, tap on My Info and select your name from the list of contacts. Siri now knows who you are and if asked, can display your info. You can teach Siri a lot about you. I asked my phone "where is my work?" and sure enough, Siri pulled up my address and contact info. I also asked who my husband is, and she said she didn't know much about him, but she got his name right. So now I can ask Siri to "call my husband" and she will. And perhaps Keith Mohrhoff will too if I ever lose my phone while taping a segment at CNBC.
If you don't have Siri or Google Now, make sure your number can be displayed on screen so someone can call it. Leave your name or some identifying information on your outgoing voicemail message so someone can track you down if they call you.
If you're worried about privacy, think about what you write on your luggage tags when you travel. If your suitcase goes missing, you want someone to know how to find you, right? Same goes for your all-important cell phone. Leave a clue. Keith Mohrhoff will find you.