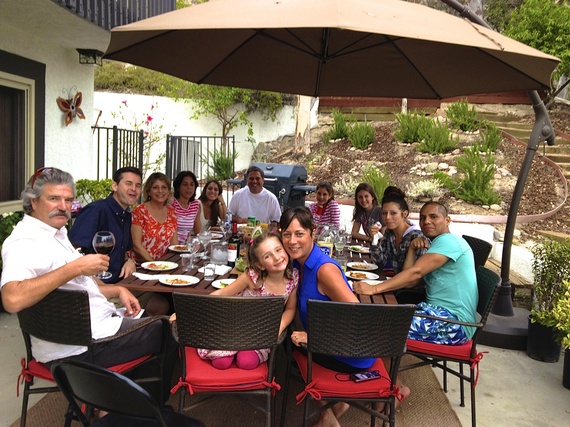 Photo: Andrés T. Tapia
Whether it's during the annual Hispanic Heritage Month, election season, or conversations about marketing's new target demographic, it's easy to talk about "Hispanics" or "Latinos." These terms get thrown around and everyone nods as if there is a common understanding of who we are talking about.
To begin with, people put a lot of energy into trying to figure out the difference between "Hispanics" and "Latinos." The very fact that these terms are often used interchangeably in the media but have meaningful but not-so-simple-to-explain differences in their origins, who uses them and how is telling in itself. But which term to use is only the tip of the iceberg. When we say "Latino" or "Hispanic," are we referring to the first-, second-, third-, or fourth-generation Latino? The baby boomer, generation X, or millennial Latino? The English-, Spanish-, or Spanglish-dominant Hispanic? The Peruvian immigrant or the Honduran American born in Wichita? Or any of the other hyphenated Latinos coming from 27 different national heritages?
So when the media zero in on the 11 million undocumented immigrants, and when marketers focus on the 34 million Spanish speakers (including the undocumented immigrants), they are looking at important segments under the "Latino" umbrella but not the whole. For example, they most often overlook the 26 million English-dominant Latino millennials, who paradoxically also tend to identify with the heritage of their parents' country of origin (Colombian, Costa Rican, Argentinian, etc.), according to the Pew Hispanic Center. In fact, according to that same study, only 16 percent of them see themselves as white, whereas twice as many older Latinos identify as white. This means that younger Latinos are less likely to be assimilationist in mindset than were their first-generation parents, who -- facing discrimination due to their limited or accented English -- often chose not to teach their kids Spanish.
M'hija, my daughter, is a case in point. I think back to just a few years ago: Tiara perched on her jet-black hair, she looked radiant and happy, surrounded by her friends and family. It was her quinceañera -- her 15th birthday -- a rite of passage in Latino culture, where a girl becomes a young woman. Mom, a European American, and Papi, proud... and torn. Our daughter was coming of age, and this joyous celebration, with 200 people, a live salsa band, and a Peruvian food buffet, also marked one major milestone in Marisela's passage toward independence and coming into her own identity.
Many millennials, while having embraced that American-kid love of hotdogs, the Super Bowl, and American Idol, also see themselves as Latino. In effect, many have embraced their American identity as well as their Latino love of abuela, arroz con pollo, and quinceañeras. It's no surprise, then, that seven in 10 young Hispanics report that they regularly blend English and Spanish into a Spanglish hybrid. These young Latinos epitomize a new American bi- and multicultural identity.
My own daughter lives this. She talks about being Peruvian-American even though she was born and raised in the United States. She embraced becoming bilingual and multicultural, as her friendships include girls and boys who are Jewish, European-American, black, and Latino. She spent extended time in Peru, where she found love and ended up marrying a Peruvian.
The multidimensional identity mix does not stop here. Millennial Latinos also are more likely to be in mixed ethnic and racial relationships, and, as they have children, we have to talk about blended identities of the Blaxican, the Mexipino, the China Latina.
Adult Choices
While millennial Latinos are shaping their own Latino identities, so are those in the older generations in the rapidly changing demographic landscape.
This was the lively topic of conversation at dinner in Boston's North End, on the outdoor patio of Ristorante Fiore, an Italian restaurant on Hanover Street, after a successful diversity conference. We were a group of Latinos -- some sipping wine, others espressos -- and in between bites of bruschetta and raw oysters, we discussed and debated accented English as it relates to Latino identity in the workplace. Why is it that having a French or British accent is seen as a plus, but having a Spanish accent a minus? And because of this, should Latinos who speak English with a Spanish accent work at reducing their accent? As the alcohol and caffeine took their effect, the conversation around how we sound dipped into a discussion about identity and success when one is in the minority.
The answers are not easy, the implications uncomfortable. Here we are, a table of Latinos from different countries, with different migration stories, having made different choices. What path should each of us take? I described facing, at best, ridicule and teasing and, at worst, outright discrimination due to my heavily accented English during visits to El Norte when I was young. This experience motivated me to work on my accent when I came to the United States for college.
The responses to my words clearly shifted toward more positive reactions as I calibrated my inflections, pitches, and tones. It was as if I had put on accent-attitude X-ray glasses. From that point on, it was as clear as tequila that many English-dominant European Americans heavily weigh their assessment of the value of words by the density of the accent of Spanish-dominant speakers.
But others around the table at Ristorante Fiore have made a different but equally valid choice. For them, how they sound, including their accented English, is part of their Latino identity. It is a marker of who they are culturally, in the same way that "Martinez," "Ochoa," "Jimenez," and "Castillo" are name markers of a Latino identity that is so paramount that even when offered a choice of different circumstances through a more Anglicized name, they wouldn't choose it. Yet others do.
We pick our cultural identity spots. Este es quien soy. This is who I am. Increasingly, for Latinos, particularly Latino millennials, the assimilationist survival tactics of their parents are not as necessary or desirable.
Instead, our choices regarding how to let our Latino selves show up in American society are as diverse as the various peoples that make up the Latino/Hispanic fabric en los United States de America.