Kickstarter is known as the place for artists, musicians, game designers (and many others) go to get something funded. Many projects have been successfully funded through this groundbreaking service. So when a project goes from an idea to reality, the results are rewarding for all involved.
Addicts Anonymous is a project that is experiencing just that.The project initially started as an idea by friends Jack Briggs and Freddie Smith. It was based on personal experiences of Briggs (who the character Kevin Richardson is loosely based on). Nate Hartley came on board during the early writing phase and suggested the idea of putting the project on Kickstarter. Later, Shawn Christian joined the creative team during the Kickstarter and rewriting phase, and the show was born. After posting incentives, and constantly updating backers, they surpassed their initial goal of $31,590 (which they spelled out in a budget) by over $20,000 or $52,750. This allowed the now funded project to be even better than once imagined. (An article/interview was done during the Kickstarter and can be found here).
Addicts Anonymous is a mockumentary web series (six episodes, roughly 10 minutes in length and all released at once). It chronicles a group of college students who are all sent to a program to deal with their addictions and is headed by Gary Goldberg (Freddie Smith). Goldberg is the founder/president of the program whose main goal is to "handle all addictions in the same room at the same time." He is considered a "lovable idiot" who wants to give participants the second chance he never received. If participants do not complete the course, they will be expelled from college. Along the way we meet his dysfunctional parents (Shawn Christian, Lori Loughlin) and a cast of characters which include food-addict and a pyromaniac. We also meet Kevin Richardson (Jared Kusnitz), a falsely accused alcoholic, who finds that he has more in common with these "addicts" then he thought.
The cast is made of actors and actresses who have appeared in various projects. Freddie Smith and Shawn Christian are currently on Days of Our Lives. Lori Loughlin is best known as Aunt Becky on Full House (though fans will know she appeared with Shawn on the TV series Summerland). Jared Kusnitz was recently on the MTV series Underemployed. Matt Walsh is who plays Dean Sawyer (the Dean of the college) can be seen on the show Veep. A list of the cast can be found here.
Though it is a comedy, all involved realize the seriousness the issue of addiction can be. According the creators, the term is used more as a metaphor. The series explores the issues that many face while still in college (and life in general). The idea of finding one's self while not falling victim to the temptations of everyday life is something most people can relate to. All involved hope that audiences can get relate to the characters while having fun watching them work through their individual situations.
While cast, crew, and some special backers have already seen the show, the big event is coming up on October 19th. The cast (along with special guests) are hosting a screening at the Jack Daniels Distillery, along with a Q & A, distillery tour, and many other events. More information can be found here.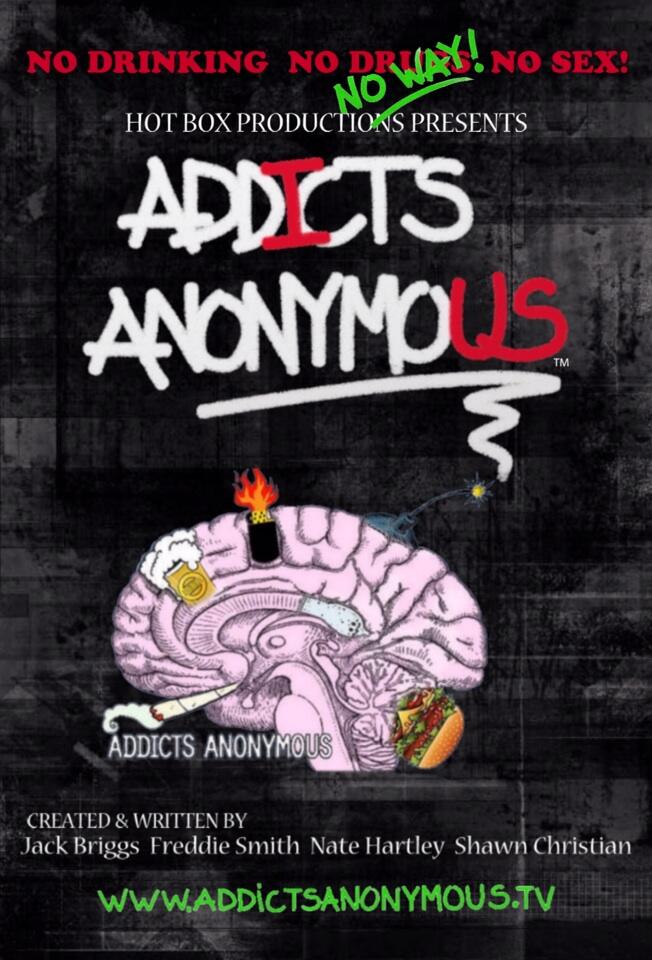 (http://addictsanonymous.tv)
Addicts Anonymous will be released first on the official website. The full trailer can be seen there. There isn't an official release date yet, but the creators hope to have it on the site and possible other avenues before Thanksgiving. Viewers can also receive updates from their Facebook and Twitter accounts.
How far this web series goes is yet to be seen. However I see potential. Web series are becoming a hot commodity in the entertainment industry. While television will never die, this trend is here to stay. While mockumentaries aren't brand new, they do draw an audience. Plus, this seems like a different type of animal.
It is also apparent the hard work, dedication, and overall passion to make their show the best it can be. All involved realize the fortunate position they were put in. The backers of this project wanted this project to not only be funded, but given enough funds to expand the potential of the project. The communication between the cast and the backers (and the incentives) helped turn this idea into a reality. Some backers really have become "addicted" to the project. Having a built-in audience that is growing will do nothing but help Addicts Anonymous become a success. The real question is: will you get addicted?