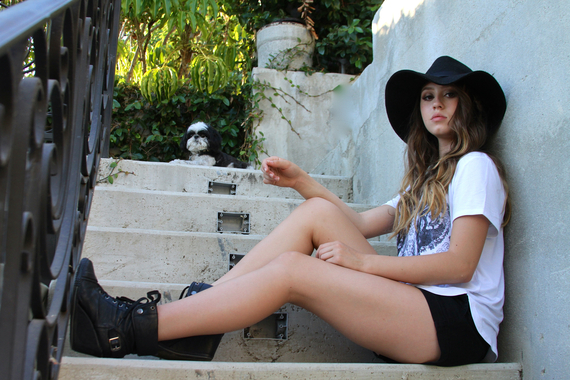 (Photo credit: Kenda Benward)
Hailey Sole is having a great summer. The 13-year-old is gearing up for the release of the Netflix series Wet Hot American Summer: First Day of Camp. The series is a prequel to the 2001 cult classic Wet Hot American Summer and stars an A-List cast including Paul Rudd, Amy Poehler, Molly Shannon, Elizabeth Banks and Bradley Cooper, just to name a few. Many of the original cast members of the film reprise their roles in the 8-episode limited series.

The film was based on a fictional camp called Camp Firewood during the summer of 1981. It told the story of a group of camp counselors trying to live it up on the last day of summer camp. The Netflix series goes back to the first day of camp. In the series, Sole plays Amy, who is one of the campers.
"She is the type of person who tries to be friends with everyone." Sole says about her character. "I think the audience will connect with her." She states.
Over the course of filming (which for Sole lasted a little over a month) she says it was nothing but good times. "It was always a fun time on-set." Sole says. "Most of them are comedians, so it was always fun and an amazing experience. I also learned a lot." She states. However, Stole wouldn't divulge into specific moment on-set because she didn't want to ruin any surprises (She notes audiences will be surprised). Still, the role of Amy was a definite departure from the primarily dramatic roles Sole's played in the past.
Originally from Dallas, Texas, she was always interested in acting. "When I was little, I would make my own movies and act out skits." She stated. Her parents enrolled her in an acting workshop and she caught the acting bug. Sole started acting professionally at the age of 4 and quickly racked up quite a resume. Her first role was the on Private Practice as Betsy Parker (A role that garnered a Young Artist Award nomination). She is also known for her role on Criminal Minds where she portrayed Meg Callahan, a role that truly showcased her dramatic side.
Besides acting, Sole's is a full-time student. She is also involved in charity work and hopes to have more time to do this in the future. Some of the charities include Habitat for Humanity and Operation Progress. With the help of her parents, she also hopes to soon launch her own organization to help teach elementary and middle school-aged children, age-specific communication and conflict resolution skills with the goal to promote kindness and minimize future bullying.
With all this on her plate, it is easy to forget that she is a teenager. However, teens can do and have done some pretty awesome things, and after speaking with Sole, it is clear she can handle it. It will be interesting to see where Hailey Sole's career goes from here. Personally, I think it is on its way up.
Wet Hot American Summer: First Day of Camp premieres on Netflix July 31st.