Some filmmakers make films to purely entertain the masses. During the summer blockbuster season, this is very apparent. However as this season comes to a close, audiences will begin to see the crop of "Oscar-worthy" films. These films tend to tackle more thought-provoking and sometimes controversial issues. The audience may be entertained, but not in a summer/explosion way. Instead, they may be forced to think of a topic or subject matter that may at times seem "controversial," but at times it may also hit close to home. While these films are full-length features, it is not exclusive to this format. Short films can also have the same or even greater impact when it comes to delving and displaying these issues on-screen.
The short film Parents is an example of a short film which tackles and illustrates some of these "controversial," but at the same time very real subject matters. The film is centered on a girl (simply known as "The Daughter"). While going through her own ups-and-downs of her adolescence, she must deal with her parents' turbulent and rocky relationship (A far cry from the happy couple, the viewer sees at the beginning of the film). She also must deal with bullying (an unfortunate reality for many her age) while attempting to figure out who she is. All these factors and the lack of guidance end in a tragic outcome (suicide).
The film was produced, written and directed by Thales Corrêa. The Brazilian born filmmaker moved to the United States four years ago to study film at Santa Monica College. With Parents, he drew from personal experiences when writing and producing the film. "My father has passed away at the time I was studying cinema in Santa Monica." Corrêa says "I wanted to express the importance of family in a child's life. I believe that one of the functions of art it to engage a conversation about something that is often hard to tackle. And that's exactly where suicide prevention starts from, conversation."
Since its release, the film Parents has received critical acclaim. It was screened at the 2013 Cannes Film Festival and also took home the Jury Prize for Best Short at the 2012 Santa Monica Film Festival. These are both major accomplishments considering the amount of submissions in each. Corrêa is currently working on a variety of upcoming projects including a feature film.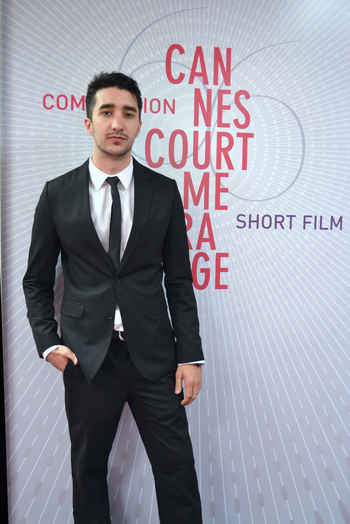 (Thales Corrêa at the 2013 Cannes Film Festival)
All the issues highlighted in the short film "Parents" are an unfortunate reality for many. Also with recent events, this has come even more to the forefront. As I sat and watched the film (I ended up watching it more than once), I was impressed with how Corrêa portrayed the struggle "The Daughter" was going through and the importance that communication plays in a family (and a potential outcome when lack of conversation occurs). I do recommend the short film "Parents" for anyone, not just families. It explores important topics that while are discussed, should be discussed more often and not only when an event occurs to warrant the conversation. Also with "Suicide Awareness Day" recently held, this may be a good time to watch the film and start a conversation.
To learn more about Thales Corrêa and the short film "Parents" (as well as watch it) you can visit the film's website here.