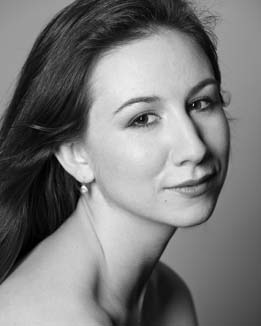 Isabella Boylston, ABT Soloist
Photo courtesy ABT.org
Lost in all the noise coming from American Ballet Theatre recently was the spectacular debut of Isabella Boylston in Swan Lake this past Wednesday. In the quest to become the next great American ballerina, Boylston made a strong case for herself. The standing ovation she and her partner, Daniil Simkin, received was evidence enough that she will soon graduate from matinees to headlining Friday and Saturday nights.
Ironically enough, it isn't easy being an American ballerina at American Ballet Theatre any more. There are few opportunities for the younger dancers to move up with all of the competition from within and from the international guest artists. With the addition of Polina Semionova, who has gone from being a guest artist to joining the stable of great principal dancers of foreign origins, an American girl might feel left out. So many of ABT's current crop of young American dancers are phenomenally talented and are competing for too few performance slots. It's too bad that there's not room for all of them at the top.
Isabella Boylston seems ready to make her move and take her place along the great American ballerinas if she continues to build on the great performance she delivered in last Wednesday's matinee. It was everything that could be expected of a first performance of one of the hardest roles in ballet and the one every little ballerina dreams of when she first dons a tutu.
Dispensing with the usual round-up of soul-deadening plot description and mentions of endless vaguely ethnic variations danced by the corps de ballet and the young soloists, this ballet is all about the ballerina. If she excels as the tragic ideal Odette and evil twin vixen Odile then you love it and if she doesn't... then yet another round of eleventy-hundred pirouettes by the technically brilliant Daniil Simkin will not be able to alleviate the tedium of four acts of costume melodrama. This production looks tired and it's long past time to re-invent this ballet for the modern era but a great dancer can make you forget about the endless agony of the Act III solos. I would sit through Act III again any time to see Boylston in action one more time.
Beyond the obvious, Boylston's greatest strength as a dancer is her ability to project vulnerability, a quality that is necessary to make you buy into her doomed life as an enchanted swan. It's all about making an emotional connection and she opens herself up as few dancers can with a soulful quality that is riveting. Luckily for Boylston, she has plenty of other assets: beautiful feet, high extension, great turns, balance, strength, fluid and lyric adagio. Really, there are no weak points in her technique.
It is not easy for American dancers who aren't trained in an academy system to do all the things that a dancer has to do in Swan Lake. There's the pantomime that simply looks ridiculous if every movement is not invested with meaning. There's Odette's swan port de bras which requires that she convincingly imitate the movement of a bird. There's the extreme degree of control required to dance the dream-like pas de deux of Act II -- it's much more exhausting than Act III's Back Swan pas de deux.
Isabella Boylston delivered the all-important Act II on all counts. She moved lightly, with an ethereal quality that extended to her anxiously quivering bourrèes and frightened wing-flapping as she fended off the advances of Prince Siegfried. It was delicately done and carried that air of avian otherness that has captivated audiences for more than 100 years. But there's more to Boylston's dancing. She has enormous strength to back up that feather light movement. When she hits her piquès and has to balance she calls to mind the steely foot strength of the great Cynthia Gregory except that where Gregory could at times appear over-balanced and too controlled, Boylston moves freely through the balances and never seems stuck. And when she jumps, Boylston flies.
Act III's Black Swan pas de deux is the other great test of a ballerina's longest night. It is flashy and requires a distinct change of character from Odette's lyricism to Odile's glittery display. Her projection of Odile's malign character was not as strong as I had hoped but this is a work in progress and it was a terrific debut. There is room to grow and the certainty that Boylston will continue to work hard, getting better year by year, as she works to build on this performance.
The most immediate natural comparison for Boylston will likely be Susan Jaffe, the last great American ballerina. While working on a piece about Jaffe's life as a choreographer and ballet mistress, it was my good fortune to be able to see them in rehearsal the week before this performance and watch the process unfold. It is Jaffe who coached Boylston in the role and she will surely have a great influence on the way Boylston approaches the role now and in the future. It is easy to see the link between them because Boylston has clearly spent a lot of time investing each and every movement with a sense of clarity and purpose, much as Jaffe did before her.
Jaffe indicated after the rehearsal that she saw much of herself in Boylston but there are also differences. Jaffe was always extolled for her purity of line which approached the absolute ideal. Boylston's line is different and has more curves due to her outstanding musculature but is nonetheless compelling. While Jaffe never seemed weak by any means, Boylston exudes surprising physicality. What they have in common is that they love working together. Jaffe is also working with Misty Copeland, Hee Seo and Sarah Lane who are are the other lead contenders for the top spot.
One look at Isabella Boylston on stage and you are hooked. She draws you to her. It's difficult to look anywhere else once she's on stage. That is the ultimate test of who will be the next great American ballerina: she has to be able to command the stage with her charisma, not just her technique.
It's up to someone else to review the performance of Daniil Simkin. He is already a rising superstar with his own dedicated claque among the balletomanes who follow ABT. They are agog at his prodigious technique and one quickly loses count of the number of times he pulls off eight and nine pirouettes effortlessly. He has his own star making machinery, obligatory Facebook fanpage and YouTube channel and will never want for attention. My humble opinion is that he will never move audiences to the same degree as Isabella Boylston. She is the current odds on favorite to be the next Great American Ballerina.