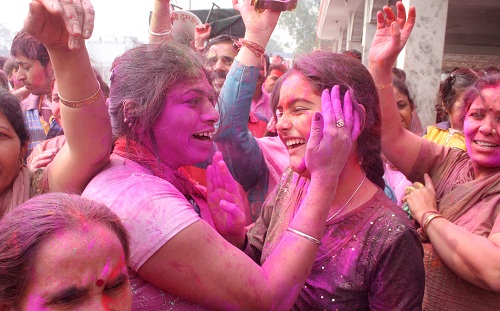 Photo by Munish Byala
Holi, the Festival of Colors, is coming once again. Hindus in India will gather together to celebrate the end of winter and beginning of spring by throwing bright powdered pigments and spraying colored water at each other. It is spirited play that would be frowned upon any other time of year. Every religious tradition seems to have a holiday in which excess is encouraged and the use of intoxicants, if not outright encouraged, is at least tacitly condoned by turning a "blind" eye. In Judaism, Purim would be unthinkable without wine. For Carnival, or Mardi Gras, the drinking and mayhem among Christians can be outrageous. Holi is a holiday of a different color. It relaxes the tight social strictures, eases the restraint between generations and encourages glee in a riot of brilliant colors. In India the intoxicant of choice is bhang, a cannabis derivative, which is added to the popular festival beverage, thandai, and to other savory foods such as samosas and pakoras.
"Man is the only animal that laughs and weeps; for he is the only animal that is struck with the difference between what things are, and what they ought to be." --William Hazlitt
Irrational exuberance is as necessary to our lives as are solemn rituals and calm contemplation. All of life's experiences must be included in religious tradition or it can risk the failure to fully engage its followers and this is certainly a strength of Hinduism. With its panoply of gods that celebrate the many aspects of divinity and the relative freedom enjoyed by followers, Hinduism encourages its adherents to find their own paths to ultimate truth and the transcendent experience of divinity. Intoxicants also have their place and time, and with all due acknowledgment of the dangers of over-indulging, there is a real need for people to let loose the bonds that chafe all year long. We all embody more than our prescribed societal roles. We are more than just our jobs. We are more than our friends and families and we are more than everyday life ever allows us to be. It is joy that sets us free. Laughter is as great a reminder of our humanity as our tears. Shared euphoria, seen in this context, is more than a spiritual good; it is a necessity for a fulfilling spiritual life.
Our Holy Kitchens films are all about sharing food within different spiritual traditions and Holi is one of our favorite holidays for its expressive spontaneity. Our ultimate goal is to stimulate conversations between people so they can appreciate what they have in common and welcome their differences with mutual respect. We consider ourselves fortunate because we have the opportunity to meet people from all over the world while making our films and we get to share in the wonderful kaleidoscope of various holiday traditions.
This year we will be celebrating Holi by preparing a festival dinner at the James Beard House on March 8. We will bring a crew of our cooks from Junoon, the Michelin starred Indian restaurant, down to the Beard House where the holiday menu will feature several dishes from our new cookbook, "Flavors First." Here in New York, the celebration of Holi will be far different from what it is in India. Still, we will be sharing some of the more popular festival foods like ghatiya and sipping on thandai. A beautiful thing about Hinduism is that it finds room for all of this variety of expression and observance under one magnificently colored inclusive umbrella. We hope you enjoy these recipes for your own celebration.
(All recipes from "Flavors First," reprinted with permission from Lake Isle Press, Inc.)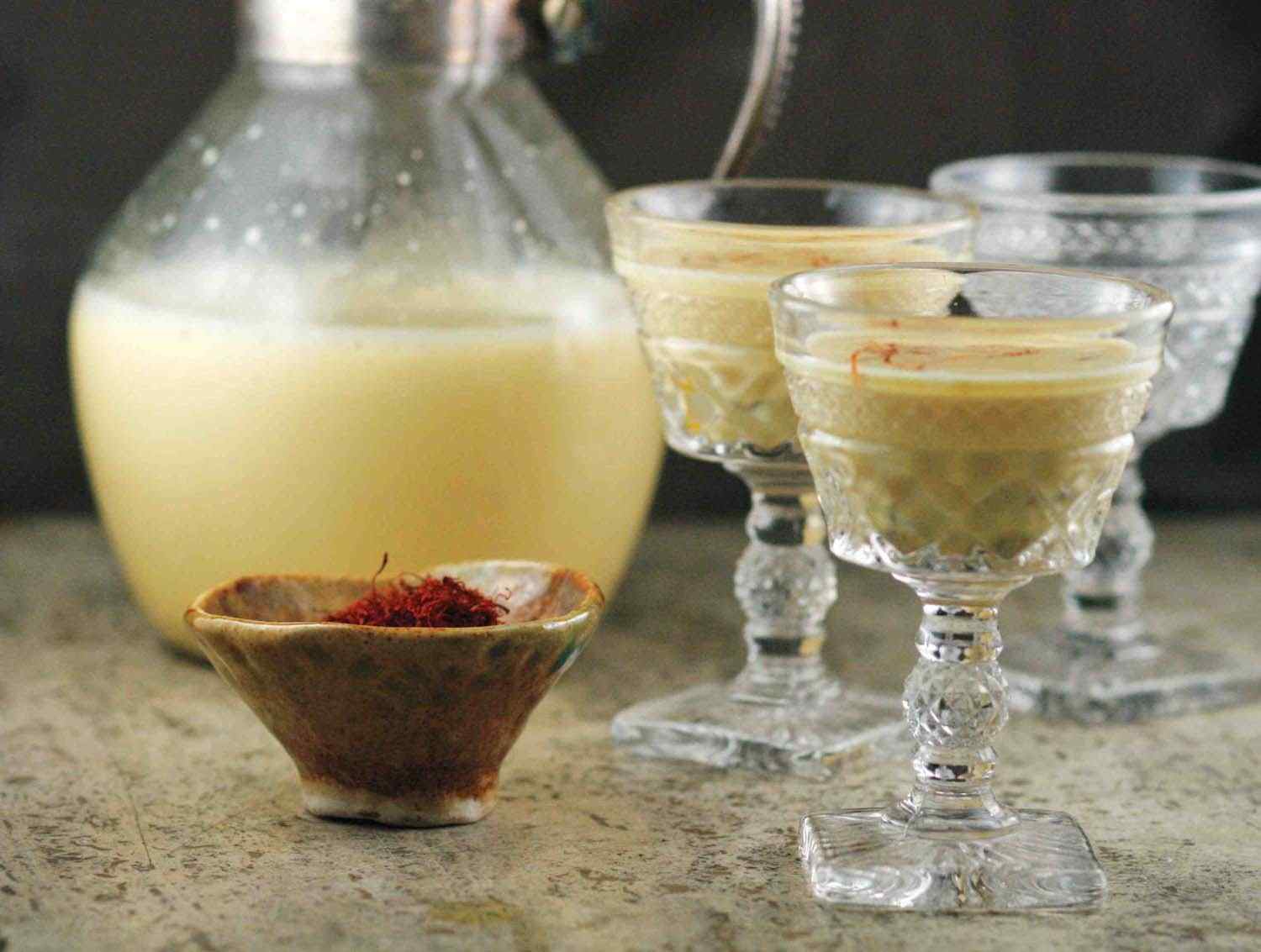 Thandai -- Saffron and Almond Milk
Saffron threads give this flavorful and soothing milk its beautiful orange-yellow color. Saffron in milk has been popular for centuries. For me, this drink is a quintessential part of celebrations in India. This milk is served hot or warm, particularly during festivals. Serves six.
7 1/2 cups whole milk
1/2 cup flaked almonds
1 teaspoon saffron threads, plus 2 pinches for garnish
1 teaspoon ground cardamom
6 tablespoons honey
Bring the milk to a boil in a medium pot over high heat. Reduce the heat to low and add the almonds, saffron, cardamom and honey. Simmer, stirring, until all the ingredients are well combined, about 5 minutes. Serve hot, garnished with saffron.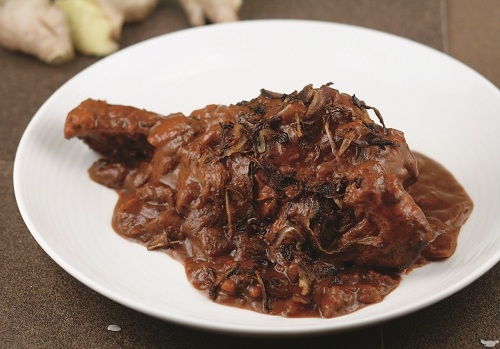 Elaichiwala Lamb Shank -- Cardamom-Flavored Lamb Shank with Caramelized Onions
Wonderfully tender, these lamb shanks melt in your mouth. Here, the shanks are slow-cooked in red wine and tomato sauce flavored with cardamom, cloves and a host of other spices. Red wine gives it an intense, deep flavor. Spices add fragrance, and their flavors develop the longer they are cooked. Caramelized onions add the perfect finishing touch. Serves four.
4 (1 1/2-pound) lamb shanks
Salt and freshly ground black pepper
1/4 cup ghee
8 to 10 green cardamom pods
6 whole cloves
One 2-inch-long cinnamon stick
1 teaspoon whole black peppercorns
1 whole star anise
2 bay leaves
2 large Spanish onions, thinly sliced
2 tablespoons chopped garlic
One 2-inch-long piece fresh ginger, peeled and finely chopped
3 ribs celery, without leaves, finely chopped
2 medium tomatoes, finely chopped
2 tablespoons tomato paste
1 cup dry red wine, preferably Cabernet Sauvignon
Juice of 1 lemon
5 cups chicken broth
1 tablespoon olive oil
1 medium red onion, chopped
1. Preheat the oven to 300°F. Pat the lamb shanks dry with paper towels and season generously with salt and pepper. Let sit for 15 minutes.
2. Heat the ghee in a large Dutch oven over medium-high heat. Add the lamb shanks and evenly brown on all sides, 4 to 5 minutes per side. Transfer shanks to a plate, cover and keep warm.
3. Add the cardamom, cloves, cinnamon, peppercorns, star anise and bay leaves, and stir continuously until the mixture is very fragrant, about 2 minutes. Add the Spanish onions, garlic, ginger, celery, tomatoes and tomato paste, and cook, stirring occasionally, until all the liquid is evaporated, 8 to 10 minutes. Add the red wine and stir continuously, scraping up any browned bits that cling to the bottom. Bring to a boil, then reduce heat to medium and cook until the wine is syrupy, about 5 minutes.
4. Add the lamb shanks, lemon juice and chicken broth to the mixture and bring it to a boil. Remove from heat, cover the pot, and transfer it to the oven. Cook 1 1/2 to 2 hours, turning the shanks occasionally, until the meat is just falling off the bone. If necessary, add more water to prevent the shanks from drying out.
5. While the lamb is cooking, heat the olive oil in a large skillet over medium heat. Add the red onions and cook, stirring occasionally, until caramelized, 15 to 20 minutes. Add 1 tablespoon water if the onions begin to stick. Set aside to use as a garnish.
6. Remove the shanks to a serving platter and skim any accumulated fat off the sauce. Discard the bay leaves, adjust the salt and pepper to taste, and pour the sauce over the shanks. Serve hot, garnished with the caramelized red onions.
Pista Phirni -- Indian Rice Pudding with Pistachios and Silver Leaf
Edible silver leaf, finer than tissue paper, is used in Indian cuisine to garnish special festive dishes on grand occasions. Also known as varak, it can be purchased at Indian specialty food shops and some art suppliers. It is made from pure silver, small blocks of which are interleaved with paper, wrapped in leather, and then beaten with a constant, drumming action (which effectively puts a stop to conversation if one is anywhere near the shops which make it) until uniformly thin. Serves six.
1 cup basmati rice, rinsed, soaked for 1 hour and drained
8 cups whole milk
1 teaspoon saffron threads
1/2 cup skinned, raw almonds, coarsely chopped
1 teaspoon ground cinnamon
3/4 cup sugar
1 teaspoon ground cardamom
1 cup canned mango purée (found at Indian groceries)
6 silver leaves (found at Indian groceries)
3 tablespoons pistachio slivers, for garnish
1. Place the rice in a blender along with 2 cups of the milk and blend for about 1 minute. The mixture will appear grainy.
2. Place the remaining 6 cups milk, the saffron, and almonds in a large, heavy wok or saucepan and bring to a boil over high heat. Reduce the heat to medium and simmer, stirring and scraping constantly, until the milk has slightly thickened, 5 to 7 minutes.
3. Add the blended rice to the simmering milk, whisking constantly to prevent lumps. Increase the heat to medium-high and cook, stirring, until the custard is thick and creamy, about 5 minutes. Stir in the cinnamon, sugar, cardamom and mango purée, and reduce the heat to low, cooking until the pudding is thick and the flavors have blended, 8 to 10 minutes. Gently pour into 6 small serving dishes and top each one with a silver leaf.
4. Serve warm or at room temperature, garnished with pistachios.