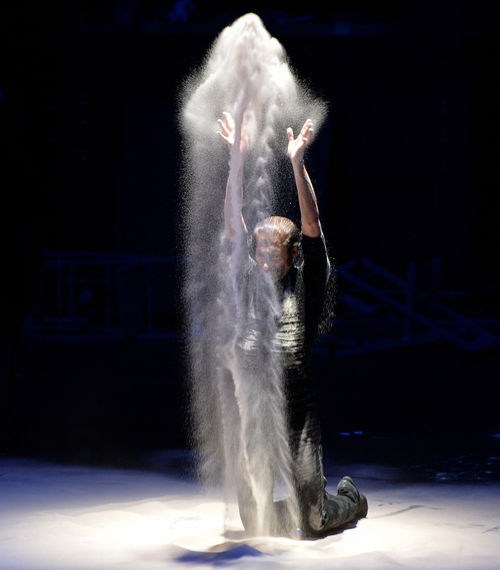 Israel Galván in La Curva at Pace's Schimmel Theater
Photo: Kevin Yatarola
Israel Galván comes with the reputation as a performer who doesn't mind irritating people. He is more concerned with expressing himself in as pure a manner as possible. It may be that flamenco purists would have found much to take issue with in his La Curva, presented at the Schimmel Theatre as part of the Flamenco Festival, but he found a receptive and appreciative audience in New York.
As a dancer, Israel Galván has more in common with Fred Astaire than he does with his flamenco-dancing peers. In the same way that Astaire was a towering legend to classical ballet dancers like Baryshnikov and Villella, Galván is already a legend among his dancing peers in Spain. Like Astaire, Galván uses everything around him to arrive at his deeply personal expression. He dances with and within his environment. His speed is unparalleled, his focus so sharp. His every movement is so clearly defined that it's obvious he's fully aware and in control of everything he does.
Marina Harss described Galván thus: "Unlike most flamenco dancers, whose movements dig deeply into the floor, Galván springs into the air like a coil, legs split, spinning, or feet beating in the air." The same was true of Astaire. His tapping was lighter than air and he moved with elegant fluidity. Margot Fonteyn noted that Astaire made "dancing look easier than walking, more natural than breathing." This is also true of Galván.
There's one crucial difference between two. Where Astaire could never look less than composed and graceful, Galván is willing to embrace the grotesque. This goes beyond our current understanding of grotesque as ugly into the medieval notion of grotesque as the realm of the fantastic. Galván has no fear. He twists himself into physical contortions that are unmistakably intended to challenge our notion of what is beautiful and acceptable. It's part comedy and part serious inquiry. But it's all under his control.
The quality and range of his movement is what astonishes. The whip-like speed of his hands, feet and pirouettes is sometimes almost too fast for the eye and the sound is essential for affirming what you saw. There is nothing he does that is not under his control, no matter how rapid or off balance. When he was dancing on the table and tipping it, I feared it wouldn't hold him. It was a moment of astonishment to realize that it was all under his control. He uses his body as a percussion instrument with a never-ending range of sounds to explore. He slaps away at his thighs, snaps his fingers, smacks his chest and belly, explores the contours of his jacket to play the folds and pockets, not omitting his cheeks, teeth and head.
Everything on stage is a prop in service of the goal of total expression. You forget at some point that Galván is a flamenco dancer and take the great leap to join him on his journey of creating theatrical magic. He dances with a metal chair, a wooden chair, mounts a table, engages the piano, plays rhythms on his body. Large chunks of rosin get crunched underfoot with a strangely satisfying sound and the powder left behind makes footprints on the black floor. Everything is a source of sound and another way to interact with the world. A pair of rectangular metal sheets standing on the right side of the stage are tipped over and become a tiny floor that creates sharp, metallic sounds that allow him to pierce the air with his zapateo. It is the first of his small stages within the stage.
Various rectangles around the stage are used to showcase his personal staccato symphony. A rectangle of light, another of metal, the rectangle of the table and the final one of flour. Each became a dance floor and a dance partner. Each of these spaces played a part in a theatrical experience that was far removed from the tablaos of southern Spain.
In a sense, La Curva can be described as a flamenco show about flamenco, a meta-flamenco. The trappings of traditional flamenco are stripped away, paving the way for something new. There are no guitars and there's no company of dancers. There are no batas de cola or other accoutrements of old school flamenco.

Sylvie Courvoisier, a Swiss-born pianist and composer, ruled over the left side of the stage and her piano was the perfect accompaniment for this show. She never let you forget that the piano is a percussion instrument. Her rich and complex music covered the sound spectrum as she plinked and caressed the strings simultaneously to create a soundscape that merged perfectly with Galván's vision. Her deftly inserted musical quotations included the sometimes plaintive and sometimes urgent strains of Stravinsky's Rite of Spring. It's a reminder that this show is an homage to previous artists of the avant garde, like Vicente Escudero, and that Galván is a follower of the new way, not the old. It may be that Galván is paying tribute but this is his own show and he seems to be looking forward more than backward.
Inés Bacán, cantaora of the cante jondo, and Bobote, the palmero, occupied the table on right side of the stage. Bacán's voice is as elemental and traditional as it gets. She sings in a pure and unadorned gitana style. The table was wired for sound and Bobote turned it into a powerful musical instrument before Galván took it over. This table served as the setting for a warm musical intimacy that conjured the close feeling of family. It reminds one of a table that might be found in the home of a young flamenco dancer where the compas that comprise the basic rhythms of flamenco are first learned by banging them out on the table. As they traded compas back and forth Bobote and Galván seemed to be conversing in rhythm.
That oppositional interplay between Courvoisier's free-ranging, modernist piano on the left and the opposing tradition of the cante jondo and palmero at the table allowed Galván to go back and forth between some notion of comforting conventionality and the flip side of embracing the modern. His ability to go back and forth requires such a level of virtuosity that it could be irritating if it were simply used to show off. Galván fortunately uses his ability to create his own deeply personal and atmospheric theater of movement and his tricks are never allowed to be the focus.
The culmination of the show is a stupendous tour de force of something approaching ritual consummation with the final stage within the stage: a rectangle of powder. It is flour, about three inches deep. As Galván plunges into this final arena the sound of his feet morphs into something profound, like a massive heartbeat. He stomps and kicks at the flour, sending flying trails of energy through the air and across the surface of the stage. And then he plunges face first into it and becomes one with the stage. He covers his body and face with it and emerges in a denouement that is spellbinding. We are given a moment to process it. The stage looks like it has been destroyed. All the carefully stacked chairs have been tipped over and the mess of flour is everywhere. What is left to say? Nothing. So he sits down and takes off his shoes.
As the show wound down, we were left to consider that there are an infinite number of ways to be a flamenco artist. The traditional mode will last as it does with classical ballet and it will always have its fans but what is coming next will not be denied. Galván is too potent a creative force to be stifled and he will probably stir up a lot more people before he's done dancing. We can only hope that he comes back to New York often and collaborates with people here. The dance scene could use some new blood and Galván's vital originality would have a tremendous impact.