Part 2 of a 4 part series
The Hartford Ballet, 1972-1992
After leaving the Joffrey Ballet, Uthoff choreographed and performed with Lisa Bradley in the First Chamber Dance Company of New York and also took a teaching position at SUNY Purchase to gain some financial security. The couple was still in the public eye, performing at venues like Jacob's Pillow when Uthoff heard about a possible opportunity in Hartford, Conn. Enid Lynn, director of the school there who had been a dancer with Martha Graham, leaped at the chance to get such a well-known dancer and choreographer to come to Hartford to start a professional dance company. Astonishingly, this was not even 10 years after he arrived in New York as an aspiring teenager. This is where Uthoff began the pattern that would shape the rest of his career.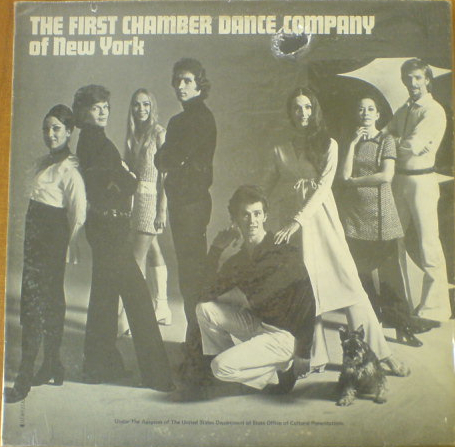 Uthoff is 4th from left on this LP sleeve with members of the Chamber Dance Co. of New York
Apparently this collector's item is available for download... HERE
Uthoff's established professional reputation helped to draw early attention to the works he choreographed for the smallish company of 10-14 dancers. They were able to book engagements at important venues like Jacob's Pillow and with these early shows, Uthoff was able to draw interest and attention to Hartford with positive reviews in the New York Times and other important publications. Pretty soon there was a viable professional company in Hartford and the troupe's reputation and performance schedule expanded quickly. The Hartford Ballet was the busiest touring company in the country at that time with a grueling schedule. Tours frequently ended with fewer dancers than started out.
The Job of Artistic Director
Uthoff eventually withdrew from the drain of performing with the company to focus on choreographing new works and making plans for the development of the young company. This meant buying occasional pieces of known choreography by established names like Balanchine that he felt would fit his company and showcase its talents while giving him something familiar to shape his programs around. He needed a few popular ballets with guaranteed audience appeal. It was important to Uthoff that he be able to solicit outside choreographers to come and create pieces on the company's own dancers which helped to shape the identity of the Hartford Ballet. Uthoff's strength is, as he sees it, that he is always able to take in the big picture. It was never just about his personal achievements. He always took the responsibility of directing a company with profound seriousness. He has an intuitive sense of when to take a back seat and let others have the spotlight. This is important in order to let everyone grow.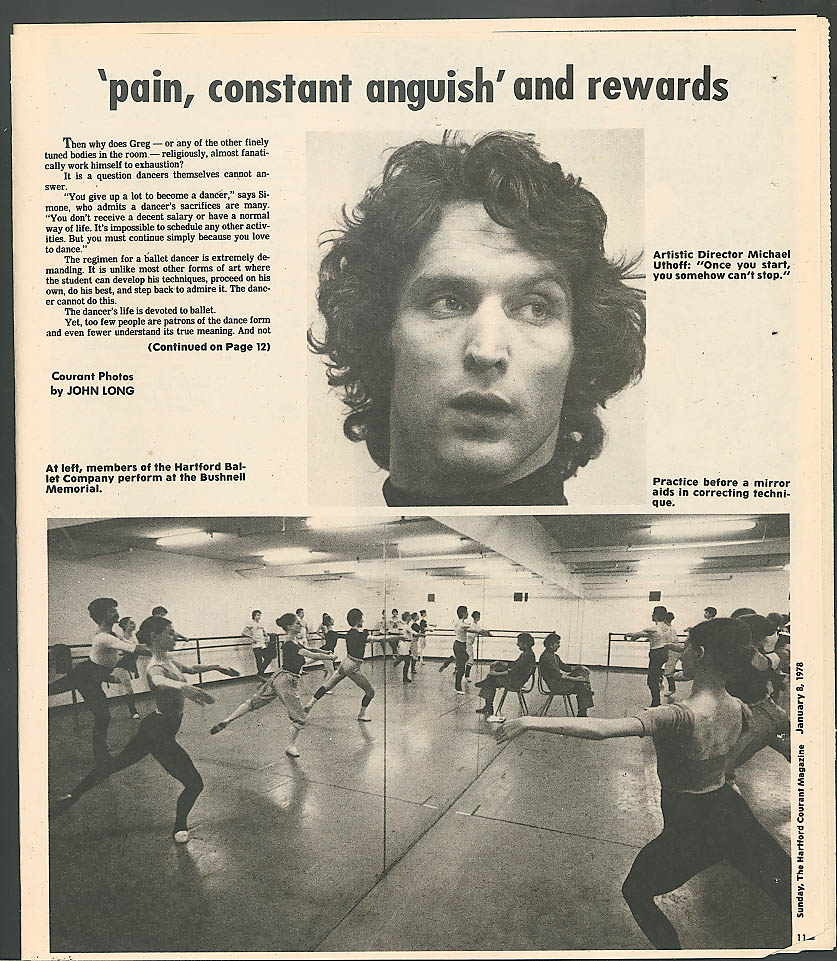 A Hartford Courant feature article from 1978
During his 20 years in Hartford, Uthoff never stopped working at the important jobs of audience development, grant writing, funding, repertory expansion, community outreach, drawing in outside choreographers and securing bookings. At the time Uthoff left Hartford, the ballet school had more than 700 students and provided them with a first class dance education. Above all, Uthoff is mindful of fiscal responsibility. He believes that a company that can't pay for itself won't, and probably shouldn't, stay in business. There were plenty of ups and downs as the NEA grants which had supported the company's extensive national tours in the early days dried up but Uthoff and Enid Lynn patiently built the Hartford Ballet and its school into a highly respected and financially sound artistic entity.
Romeo and Juliet -- Choreographing New Works
Michael Uthoff and I have something unexpected in common. We both met Rudolf Nureyev while working as supernumeraries in productions of Romeo and Juliet. Uthoff held a banner in the Royal Ballet's production at Lincoln Center in the 1960s. Uthoff and Nureyev became good friends and remained so until Nureyev's death. I met Nureyev while filling in as a townsperson in his own production staged with the London Festival Ballet at the Kennedy Center in the 1970s. We laughed over my memory of Nureyev having an attendant always waiting for him in the wings with a tray that held a hairbrush, a mirror and his favorite Elvis thermos full of hot tea. We were both surprised by how much conversation took place on stage during performances and how much of it was incredibly profane. This coincidence lead us to talking about Uthoff's own setting of Romeo and Juliet on the Hartford Ballet back in 1980 which he later re-staged on Ballet Arizona in 1999.
Uthoff has choreographed a lot of ballets during his career and it would take a very long time to write about them all. But here is just one, because every ballet has another story behind it. Sitting down with him many years later, I took advantage of the opportunity to ask him why he walked around the studio with the orchestral score in his hands. During the entire process, it was seldom more than a few feet from him. Prokofiev's score for the ballet is arguably the most perfect one ever written but, as Uthoff explained, he needed to make several cuts to fit his vision of a leaner and more dramatically taut ballet. He needed the score on hand to keep track of those cuts as he didn't have a recording with the cuts to work from. Much of the action is clearly and specifically written into the music and has to be followed. There was simply no changing the Death of Tybalt, for example. All of the cuts he made had to be individually tracked to make sure that all the music was covered choreographically. It takes supreme confidence to make cuts in Prokofiev's score. Uthoff's Romeo and Juliet brought some important new elements into play, not the least of which was tight layering of the dramatic flow.
One of his innovations was to move the Mandolin Dance to the first act to show that Romeo's original intent in going to the House of Capulet was to pursue Rosaline, not Juliet. Another new innovation at the time was to layer hanging, painted mesh scrims on the stage which would only become visible when front-lit. When back-lit, they became transparent. Dousing the lights on the front scrim allowed for another, subsequent scene to take place immediately behind it without stopping the music or changing scenery. It was a highly complex and innovative lighting scheme which, in addition to saving money on sets, allowed for quicker and smoother transitions between scenes. The final ballet had a running time of just two hours and each scene flowed briskly and seamlessly into the next. Said Uthoff finally, "I would put my Romeo and Juliet up against anyone's." This is the sort of thing I refer to when I say that Uthoff does not engage in false modesty.
Uthoff's selection of dancers for his companies was idiosyncratic. He never had a specific type of dancer he preferred to work with and seems to have little patience with uniformity. The Hartford Ballet dancers ranged in size from under five feet to over six feet tall. "We could never do ballets that required a perfectly straight line but I never wanted that anyway. I have to find a dancer relatable and interesting, first of all," said Uthoff. "They have to love to dance and move around because that passion is what makes them watchable." That was, and is, more important to him than pure technique and it made his companies more compelling to watch repeatedly than most. It also meant that he had to be flexible. "I never hesitated to change choreography to accommodate a new dancer," he added.
While choreographing Romeo and Juliet, Thomas Giroir, the dancer Uthoff had cast as Romeo was injured and Uthoff briefly contemplated a return to the stage. After abandoning that idea, Uthoff looked at the company and there was only one dancer suited for the part. William Parton was 19 years-old and not yet ready for a lead role as he had limited stage experience. Nonetheless, Uthoff gave Parton the part and then modified the choreography to suit him and a new Romeo was born. Parton rose to the challenge and it changed the arc of his career.
The Importance of Programming
The perfect repertory program was always Uthoff's goal. He wanted the audience to come and see four works performed by his company and have a fulfilling theatrical experience. Uthoff's model of the perfect program came about when he had put together a program featuring Balanchine's Allegro Brillante, Lotte Goslar's Leggieros, his own Tom Dula, and Land's Edge, created by dancers from Pilobolous Dance Theater. The reason this worked so well, according to Uthoff, is that it gave the audience one familiar classical dance from Balanchine, one comic piece by Goslar, then Uthoff's own homespun regional American piece and then, to finish, a dramatic work that gave the audience a strong cathartic experience.
This epiphany came after a different program in which he had placed a jazzy new work by Christian Holder last in a program with Land's Edge just before it. Holder's piece received a tepid response because the audience had been emotionally drained by the preceding one. When he changed the order the next night, everything clicked and the result was a standing ovation. Giving the audience a fulfilling experience is more important to Uthoff than receiving applause for his own work and that ovation was his proudest moment. For him it stands above any of his personal achievements as a dancer and choreographer and it is what he strives to do today while programming for Dance St. Louis.
The Hartford Ballet and its school were a source of pride for Michael Uthoff and Enid Lynn, who had worked very hard to build it over 20 years. Although he left it in sound financial condition and with a substantial base of followers, it survived Uthoff's departure by just seven years, closing down permanently in 1999. More than anything, he was saddened by the prospect of the more than 700 students who were left without access to a great dance education. It is unfortunately impossible to name all the great dancers that the school turned out. Uthoff became visibly emotional on the subject of the Hartford company's demise but he was less sentimental about the shuttering of many other regional dance companies across the country. His feeling is that "a company has to have a damned good reason for existing or it won't be able to do the things it has to in order to survive."
Speaking further on the topic of the necessity of vision and ambition in leadership, Uthoff says, "You have to feel that you will die if you don't get to do it." Anything less than that total commitment just isn't enough to keep a dance company going. Uthoff feels that too many regional companies came about as a result of an unemployed former dancer trying to keep drawing a paycheck. Many of these companies are now gone and Uthoff sees this as generally a good thing. Without a real mission and something to say, the company is just an ego trip or a copy of the things that everyone else is doing. When everyone is doing the same thing it's just another tedious exercise in mediocrity. To do better means to constantly work to put the best performances you can on stage, drawing the best performances out of the dancers you have rather than the ones you might wish to have.
After 20 years in Hartford, Michael Uthoff felt that it was time for a change in leadership for the company and time for him to reach out for new horizons. Ballet Arizona came along in search of a new artistic director at just the right time.