Part 1 of a four-part series
A Life in the Arts
Michael Uthoff is an artist and the son of artists. He is a dancer and a choreographer, an artistic director and administrator and above all, Michael Uthoff is a teacher. Currently the artistic director of Dance St. Louis, Uthoff has lived his entire life within the world of dance. Now that a seminal era of dance in America is coming to a close, it's time to take a look at one of those who helped to make the dance explosion of the '60s and '70s happen. Uthoff provides a worthy role model for ambitious choreographers and artistic directors to follow. At a time of life now when some of his peers are slowing down or being pushed aside, Uthoff is still working, still relevant and still shaping the face of dance in America. I sat down to talk with him recently while he attended the Association of Performing Arts Presenters (APAP) conference in New York City.
Michael Uthoff: Dancer, Choreographer, Artistic Director and Teacher
Uthoff was multi-cultural and multi-talented before those concepts were spoken of. Born in Santiago, Chile to German expatriate parents, Uthoff grew up steeped in the arts. His parents, Ernst Uthoff and Lola Botka, had been dancers in Germany before World War II and they founded the Chilean National Ballet in 1945. Uthoff is typically candid, even blunt, but is respectful of others. He has regrets but does not wallow in the past. He lives in the present, savors every moment and looks to the future with enthusiasm. He is realistic in his self-assessment but has no patience with false modesty; he brims with confidence and good humor.
Discovering His Destiny
It was not until Uthoff was 17 and saw the José Limón Dance Company in Argentina that he determined his life was going to be in dance. José Limón, a legendary modern dance pioneer, was to play a pivotal role in Uthoff's career. From the moment Uthoff saw Limón's work, he knew that he was going to create dances and one day direct a company of his own. Uthoff is not and never was shy about his ambition nor has he ever lacked a certain swaggering confidence. He says on that topic, "Growing up with my parents running a dance company gave me a unique perspective. I never doubted that I would run my own ballet company one day." While he always assumed his right and qualifications for taking on the role of leadership, he also turned out to have an excellent grasp of the weight of responsibility he bore for doing so. Realizing that making his own path in his native Chile would be impossible due to his parents' renown, Uthoff went to New York City where his creative life took off quickly.
The Early Days in New York
Uthoff's arrival on the dance scene in New York City in the early 1960s coincided with an incredibly fertile time for the growth of dance in this country. The entire world of dance in the United States was centered in Manhattan in the early 1960s. Every dancer, teacher or choreographer of note worked within a few blocks of each other and Uthoff wasted no time in getting to know all of them. He began learning the craft of dance as a scholarship student at the School of American Ballet and the Martha Graham School, keeping one foot in modern dance and the other in ballet. At the time, he lived across the street from the old headquarters of the Juilliard School in Morningside Heights and made the acquaintance of José Limón, who was teaching there. Uthoff subsequently enrolled at Juilliard and was soon expanding his knowledge under Limón and the great choreographer, Antony Tudor. He advanced rapidly and was invited to join Limón's troupe. From that point, his career trajectory began its rapid ascent.
A Rising Star
In 1963 the Limón Company was chosen to present the very first dance performances at the brand-new Lincoln Center in the Philharmonic Hall. It was a once-in-a-lifetime opportunity. Enthusiastic reviews opened all doors and Uthoff was soon invited to join the relatively new but highly regarded Joffrey Ballet Company. Said Uthoff, "I was lucky to be in the right place at the right time and I never looked back or questioned it. I just believed that if you worked hard enough and had some talent that things would happen for you in New York and for me they did."
Nowadays this would be nearly impossible. Standards for technical proficiency have risen so high that dancers must specialize early to meet the criteria and it is now next to impossible to move from a modern dance company to a classical dance company in midcareer. Even in 1965 it was not something that happened very often. Most often you would see older ballet dancers whose bodies were giving out would move into the less technically demanding modern dance companies in an effort to extend their careers. Even that is much less common now as modern dance forms have evolved into their own highly demanding disciplines. In Uthoff's case, this experience gave him a much more extensive dance vocabulary to work with than most of his contemporaries had when he finally got down to the business of creating dances for his own company. There's a sense with some choreographers that they use the same basic steps in every ballet they choreograph, just in a different order. This is not the case in Uthoff's work. He covers the spectrum from modern, to jazz, to classical forms and he never stops trying new things.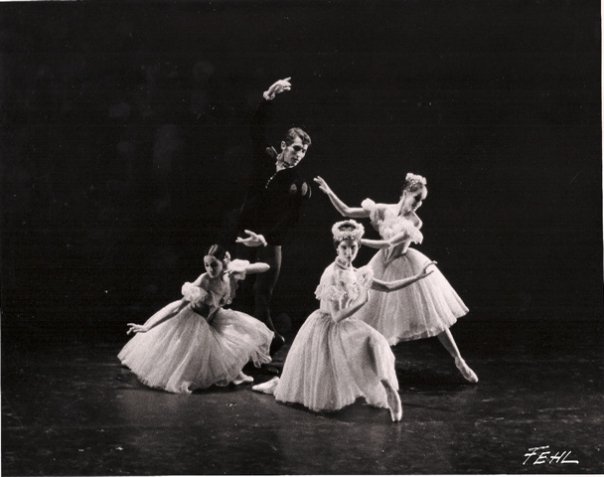 Michael Uthoff in Pas de Desses with the Joffrey Ballet
1966: Things Begin to Happen Rapidly
The Joffrey Ballet turned out to be a perfect fit for Uthoff and he was soon getting to dance lead roles. He also established an important partnership on and offstage with Lisa Bradley, another rising star. It wasn't long before his choreographic ambitions led him to ask a quartet of fellow dancers in the Joffrey Company to help him work on a dance he was creating to music of Dvořák. They worked on creating what Uthoff referred to as "a sweet little ballet" in the Joffrey studios while they were on a inter break. When the company returned to work, Uthoff asked Robert Joffrey to look at the piece and give him feedback on his work. He was surprised to be called into Joffrey's office later and receive the honor of premiering the work during the next season. Uthoff's career in choreography had begun.
The Green Table
Walking into Joffrey's office one day, Uthoff saw a folder on Joffrey's desk with the name Jooss on it. Kurt Jooss was the foremost choreographic proponent of the German Expressionist Tanztheater movement before World War II and Uthoff's parents had been dancers in Jooss' company. They had all managed to get out of Germany just before the war. They were artists who challenged the status quo and would have been in grave danger had they stayed. Many of their peers who did stay did not survive.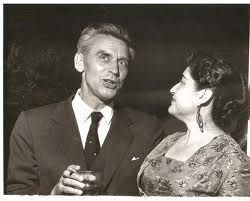 Ernst and Lola Uthoff
When Uthoff asked if Joffrey wanted to perform The Green Table, Joffrey admitted that he wanted to very much but hadn't been able to get a response from Jooss, the creator of the dance. Uthoff promptly phoned his father, Ernst, who had been in the original performances of the piece in Germany in 1932. The short story is that Jooss, on hearing from Uthoff's father that Joffrey's company was well suited for the piece, approved and then Uthoff's parents set the piece on the company and it premiered at City Center in 1967. The piece was a huge hit and became a mainstay in the Joffrey Ballet's repertory
for years to come. Much of America later saw it on the television program Dance in America in 1976.
For closing night, Joffrey gave Uthoff a special surprise. When he went to the stage for the final performance, he was stunned to find his mother in the wings wearing the costume of the Old Woman. The announcement of the casting change was made to the audience and before Uthoff had time to think about it, he was onstage performing one of German Expressionism's greatest masterpieces with his own mother. Clive Barnes, reviewing the company's closing night for the New York Times, wrote:
The performance was superb, not only for the dancing of the family trio of Mme.
Botka-Uthoff (tremulously touching as the Old Woman on the fragile brink of
death) and her son and daughter-in-law, but also for the magnificently executed
portrait of Death by Maximiliano Zomosa. The ballet is clearly destined to
become one of the company's trademarks...
Telling the story, Uthoff did not quite dab at his eyes, but he was misty and it is clear the
memory is a treasure for him.
It soon became obvious to Uthoff that he was going to have to set out on his own. A series of misunderstandings and misinterpretations over his choreographic ambitions generated tensions within the company as he was formulating plans to create a ballet to Alberto Ginastera's Cantata para América Mágica. Uthoff's singular position in the dance world and his force of personality enabled him to simply pick up the phone and start dialing until he got hold of Ginastera who was in New York for a series of concerts.
Without realizing that he was stepping on some sensitive toes, Uthoff quickly had the enthusiastic support of the composer and secured financial support through Anthony Bliss, an influential member of the board of the Metropolitan Opera and the husband of Sally Bliss with whom Uthoff partnered frequently on stage. When he proudly presented the news of the fait accompli to Joffrey, feathers were ruffled. In the main, it came down to the essential fact that a ballet company can have only one head and Michael Uthoff's profile was growing too large. It was time to move on.
(In part 2, Michael Uthoff founds the Hartford Ballet Company)