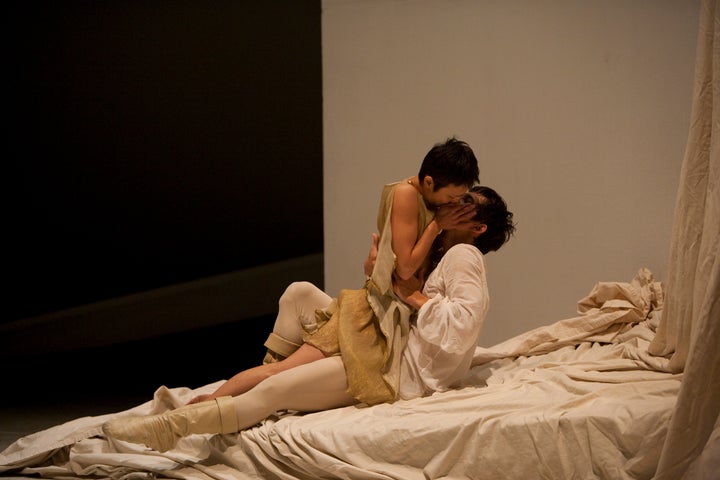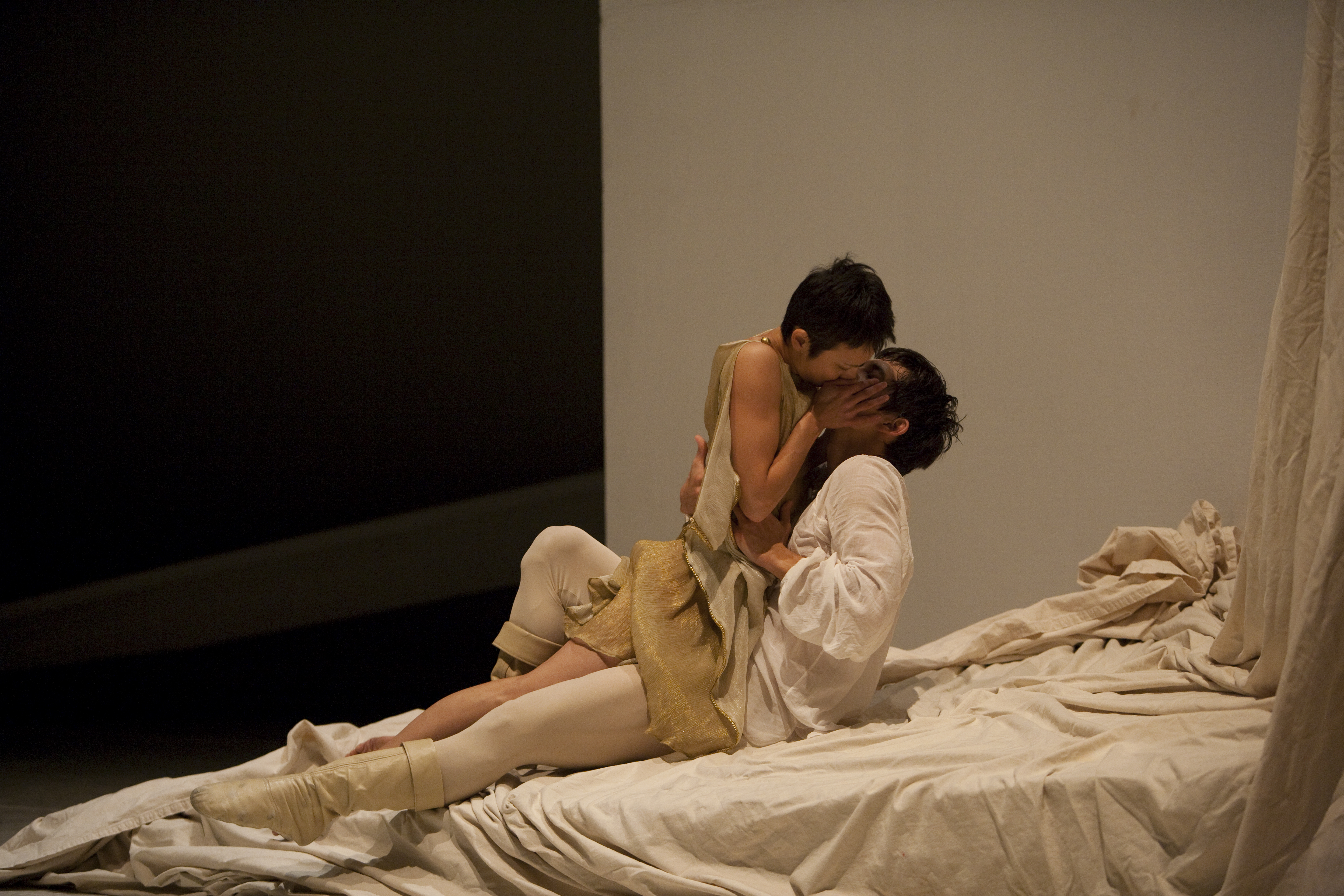 Pacific Northwest Ballet principal dancers Kaori Nakamura and James Moore in Jean-Christophe Maillot's Roméo et Juliette. Photo Credit: Angela Sterling
"You have to believe in what you are saying. Maybe they will like it or not but they cannot contest that what you are saying is true." - Jean-Christophe Maillot
This quote deftly articulates the level of commitment that French choreographer Jean-Christophe Maillot wants the dancers of Pacific Northwest Ballet (PNB) to bring to their performance of his Roméo et Juliette appearing now at City Center. Maillot's version of the ballet is completely balletic but it is also utterly contemporary. For starters, there is a frank sensuality to this ballet that is in keeping with its generally modernist sensibility. While this Juliet is young and new to love, she is anything but naïve. There are no swords, no heavy Renaissance costumes and there is no vial of poison. The ballet has been stripped of all its dead weight while preserving the essence of the narrative. In most versions, Friar Lawrence and the Nurse are non-dancing character roles given to older, frequently retired dancers, who help to advance the plot through mime. In Maillot's ballet they have to move like everyone else and they are all demanding roles. His choreography is very fast and requires attention to precise positions even while it is stepping away from the older conventions of telling stories through ballet and mime.
It is impossible to speak definitively about a ballet from watching rehearsal because it is nothing like a live performance. There lacks the drama of costumes, lights, live music or the framing element of the proscenium. Rehearsal is close enough to see the sweat and hear the heavy breathing of exertion. Nonetheless, there is much that can and should be said about the rehearsal process. What I saw was not even a regular rehearsal. Jean-Christophe Maillot had flown in from his native France where he heads the Ballet de Monte Carlo to lead the rehearsal and bring the ballet into line with his artistic vision. Ballet is subject to entropy just like everything else in life and it has to be regularly tended to keep it sharp and remind everyone of the importance of what they're doing. All the dancers were striving to dance full out and show their best effort to the choreographer. Normally a pre-performance run-through would involve more marking of steps to conserve energy but I was able to see everything danced full out. It was early in the rehearsal when Maillot gave the general exhortation that every step had to be danced with complete conviction. The story is choreographed into the steps and there is very little mime so all the action has to be fully realized and with full intentionality.
The first and most important thing to notice in this rehearsal was that the dancers love this piece. When not on the floor dancing, they were all watching action and paying close attention to Maillot's comments and corrections. The full company spontaneously and enthusiastically applauded after the run-through of Romeo and Juliet's pas de deux. That's rare. They don't have to applaud and it isn't customary. They clearly feel strongly about this intimate and deeply touching pas de deux. They also seemed to enjoy their own dancing. It is extremely physical and requires lots of speed as well as stamina. Where other versions have considerably less challenging choreography for the minor soloists and corps de ballet, Maillot's Roméo et Juliette has everyone moving with whipping turns and flying jumps. During the rehearsal, no one left the studio, even when they were not needed. Maillot engaged every single dancer individually at some point to talk about their character and the importance of the steps and how to give everything meaning. This is a ballet that you may or may not like but you will leave convinced by its truth. This is an extraordinary realization of a timeless story.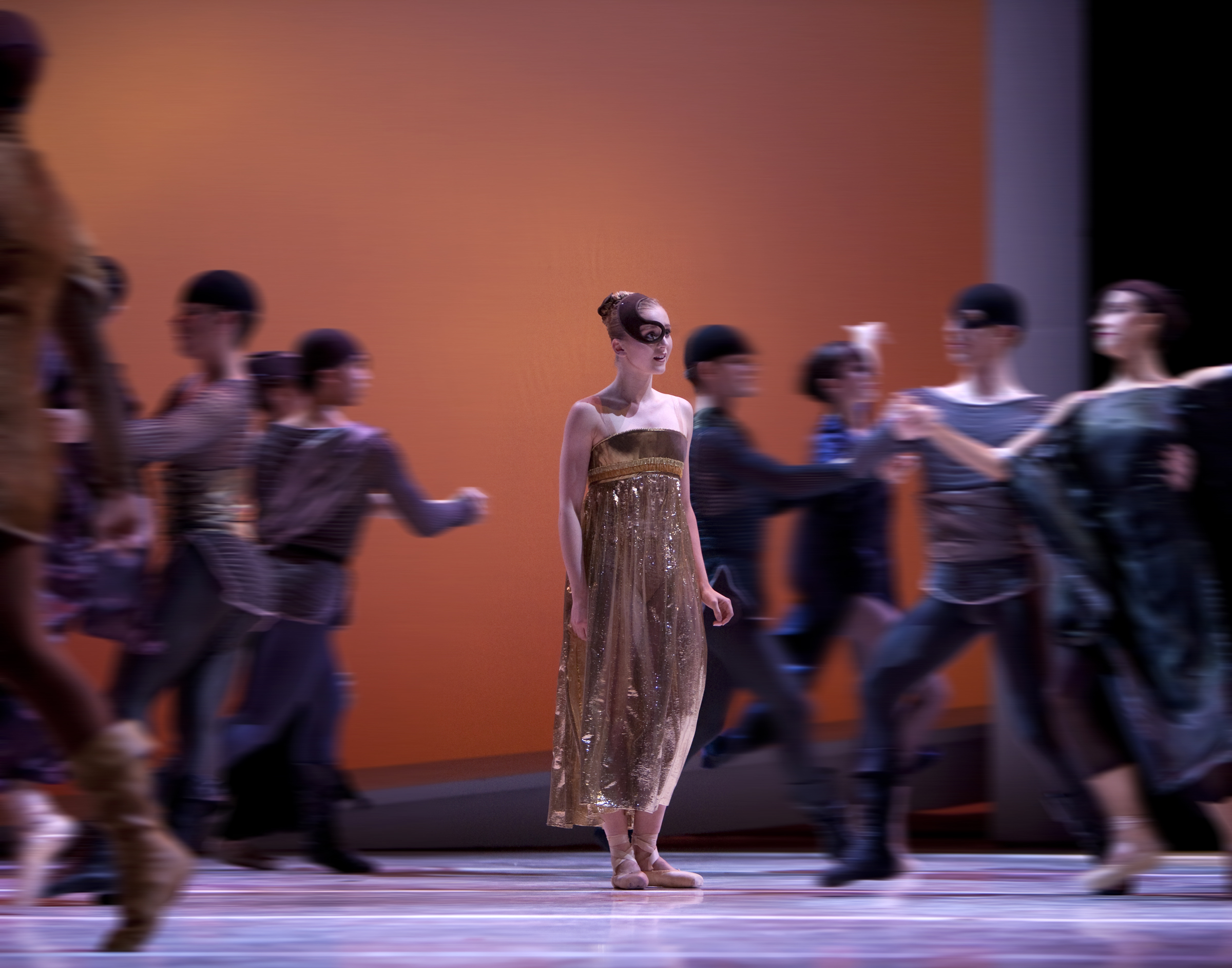 Pacific Northwest Ballet principal dancer Carla Körbes and company dancers in Jean-Christophe Maillot's Roméo et Juliette. Photo credit: Angela Sterling.
PNB's Artistic Director, Peter Boal, and principal dancers Kaori Nakamura and James Moore took time from their lunch break to talk about PNB's appearance at City Center.
What does PNB bring to this ballet?

Peter Boal: We have dancers that fit all the roles perfectly. We fit into this ballet very well. Interestingly, the Ballet de Monte Carlo is about the same size with forty five dancers. I didn't know that we'd fit it so well but each dancer rose to the occasion.
Kaori, how is this Romeo and Juliet different from the one that you danced previously with PNB?
Kaori Nakamura: It was a more traditional, a real classical ballet and it was set to music of Tchaikovsky. I think Jean-Christophe's version is more original, more contemporary. It's very different.

How many different Juliets have you danced?
KN: In the Royal Winnipeg Ballet I danced Rudi van Danzig's and then at PNB, Kent Stowell's and now Jean-Christophe's.
And how is this one different?
KN: She's still young, like fourteen, fifteen years old, but she's older inside.

James Moore: In the early scenes in the bedchamber and during the ball there are childish movements mixed in with more mature actions. You get a sense that she's a little more mature than your average fourteen year old.
What did you use as the basis of your character?

JM: The Ballet de Monte Carlo has a bunch of recordings. I really enjoyed watching Chris Roelandt who originated the role. I really like his attack and I try to use what I can. This is the third time we're doing it. I also watched movies like the Leo DiCaprio version, the older movies, read the play, even Cliff's Notes.
Kaori, who did you watch for inspiration?
KN: I watched Bernice Coppieters. She danced this Juliet first. I watched the Ballet de Monte Carlo version about 100 times. They are amazing the way they move and act. I don't want to copy her but I got ideas that I use. I also watched Noelani Pantastico back home in Seattle and learned a lot.
This is far from the traditional tombé-pas de bourree-glissade-jeté story ballet - is it a real challenge to dance?
KN: It is still a classical ballet and you have to hit the positions but for Juliet, the third act is no shoes. That's really different for me.
JM: It's challenging in the sense that you have to break away from what you've been taught. This is the opposite. It's also freeing because you can relax. Instead of just doing a step into a classical position you can come out of it and act more natural.
Is there added pressure performing in New York?
KN: I'm a little more excited but I don't think people know who I am here.
JM: There's a little more pressure. It's an extremely educated audience who know what they're watching but at the same time I think this ballet is a little bit of a departure from what they're used to seeing.
The whole company of PNB hasn't been in New York since '96 why is that?
PB: There was a transitional phase when I took over. I'm not sure exactly how the final years with Kent Stowell and Francia Russel played out but they were busy on other projects. They opened a second school in 2001, built a new theater in 2003, so all of the energy and all of the fundraising went to that. In my time, I didn't want to tour the company right off the bat. Now the company is mostly dancers that I have hired.
Why did you choose this Roméo and Juliette?
PB: I saw it first here at City Center in '99. I was really quite taken with the realistic acting and emotion. It didn't feel like acting. It was human interactions that struck a chord with every member of the audience. It was like remembering your first crush.
What do you think is the enduring appeal of these story ballets?
PB: I think it's the same answer. It's when you connect with the viewer. People see something of their own lives drawn out and re-visited and it affects their present. The story is still relevant. How many stories that were written four hundred years ago are still on the best seller list?
Why did you decide to bring Roméo et Juliette to New York?
PB: Presenters are interested in a full length ballet and a mixed repertory program. During my time as director we've been here with smaller groups for the Guggenheim Works in Progress, the Fall for Dance Festival, the Joyce Theater and peripheral places like Jacob's Pillow. Just not with the full company. I had a lot of people asking why we didn't bring Balanchine to New York since it's such a big part of our company but I didn't want to do it unless it was the right venue and with live music.
Any other story ballets that you would like to do?
PB: Last year we did a revival of Giselle from the Stepanov notation. It is near original choreography. It's very old and yet it's completely fresh because it hasn't been seen like this. Rediscovering what Giselle was meant to be was fascinating. It had a happy ending. Well, it wasn't that happy but it was just so surprising to see how many things had changed over the years. It's like uncovering King Tut's tomb. It came from the Harvard Theater Collection where they're stored. We did all the reconstruction but we had to rent the sets and costumes. The next time around we're doing all new costumes with the same designer who did Roméo et Juliette. I think doing La Bayadère would interest me. It really depends on the notation and how complete it is. I had to fill in some gaps with Giselle but it was fairly complete.
What's coming up with future productions?
PB: Christopher Wheeldon is coming to do a new ballet for us in the spring and in the following fall Twyla Tharp is coming to do a work for us. She's coming to observe company class tomorrow. Alejandro Cerrudo from Hubbard Street is doing a new piece for us next year.
Written with Ellen Dobbyn-Blackmore