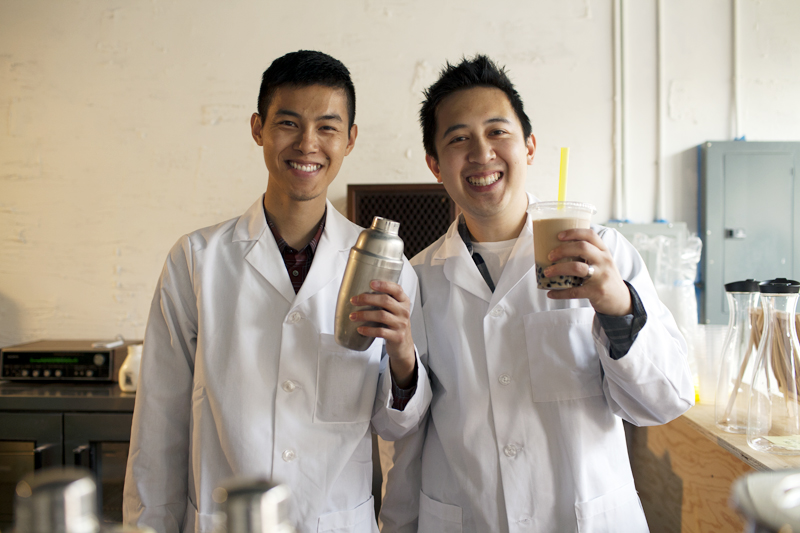 A photo from our first pop-up event.
We owe our business to the online community. If we started Boba Guys in the nineties, we would have had a hard time executing our concept. Before the age of Facebook, Yelp, and Instagram, people would only hear of new food establishments through friends, Yellow Pages, or leisurely stroll down the street. Furthermore, a pop-up model would have been hard to execute given the limited and expensive modes of communication. The most important contribution from the Internet is not ability to communicate with thousands of people at once, but rather, the simple idea that we can connect with an individual thousands of miles away.
There has been one secret that my business partner and I never shared until now: We almost shut down our business, Boba Guys, just as we were peaking. To be candid, we did not know what we wanted to do with our business and had to restore balance in our personal lives. Our mission hadn't changed -- we still wanted to change the way people thought about boba and tea, but we did not know how to do it. We wanted to reach that pot of gold at the end of the rainbow. With the pop-up, we were just happy that people loved our product. That was the end of the rainbow.
So one summer night in San Francisco, after six months of operating as a pop-up, we said that we'll fold Boba Guys -- this was when lines were forming every day just to try our premium bubble tea. Without telling anyone, we put our pop-up on hiatus with no intent of returning (in retrospect, that was a mistake and we should have told everyone what was going on). We still had our website, emails and tea gear, but we were holding out for the rainy day in which one of us had a change of heart and wanted to do it solo.
We never told the public what happened. When our friends asked us when we planned on returning, we would just tell them, "When we find a permanent location." But we weren't looking. We were both working on new projects. And then it happened. People began reaching out. We got emails and messages from followers all around the world, from Sweden to Australia, saying how much they enjoyed our GOOD magazine articles or were inspired to start their own business. Then, the tipping point: I met a stranger who told us that while our boba milk tea was good, it was our story and values that made her a loyal fan. For her and many of her friends, we needed to come back and finish writing our story in which quality, giving a damn, and transparency (our core values) become the new norm in the food world. She said, "You guys are like the Everlane for food." I called my business partner a week later and we began working on a way to make Boba Guys a viable business. The rest, as they say, is history.
We still have a long way to go, but we would not be where we are without the people of the Internet. I write this not as a tutorial or blueprint for small businesses. Nor is it a documentary on our business. It is just one case study of how the online community can change lives. There isn't a three-step process for engaging with customers online. There isn't a handbook on how to build relationships. The only lesson is that businesses are not always built for the people. Sometimes, the people are built for the business.