Republican presidential candidate and business mogul Donald Trump speaks at the Iowa Renewable Fuels Summit Jan. 19, 2016. Andrew Clark/Huffington Post Pollster
DES MOINES, Iowa -- While 11 Republican presidential candidates debated the issues facing the U.S., Donald Trump, the leading GOP candidate, held a benefit for veterans at Drake University that he claimed raised almost $6 million.
"We're actually told we have more cameras than they do by quite a bit," Trump said of the media presence at his event. The fundraiser began simultaneously with the debate of the top seven Republican presidential candidates.
Trump's refusal to debate his Republican opponents before Monday's Iowa Republican caucus provided an unexpected spark of controversy and more evidence of a growing split within the Republican Party.
Although Trump forwent the debate, candidates present wasted no time jabbing at the business mogul.
"Let me say, I am a maniac and everyone on this stage is stupid, fat and ugly. And Ben, you're a terrible surgeon," Texas Sen. Ted Cruz said at the start of the debate, mocking Trump in his absence and kidding retired neurosurgeon Ben Carson.
But later in the debate after his imitations of Trump, Cruz was the one who felt attacked.
"The last four questions have been Rand, please attack Ted, Jeb, please attack Ted," Cruz said at one point to the debate moderators.
"Gosh, if you guys ask one more mean question, I may have to leave the stage," he said.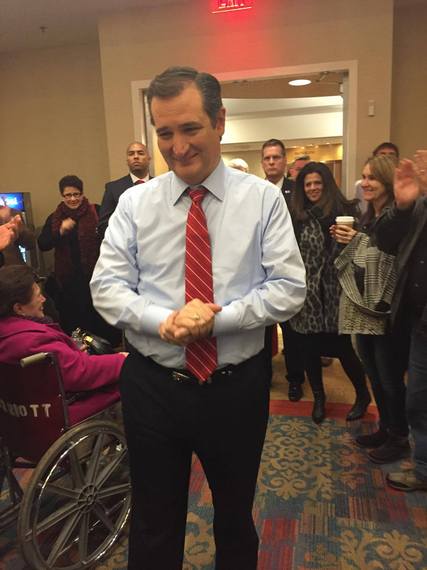 Texas Sen. Ted Cruz after the GOP debate Jan. 28, 2016 in Des Moines, Iowa. Savannah Hurst/Huffington Post Pollster
This complaint earned Cruz a jab from Florida Sen. Marco Rubio, who received audience applause for saying, "Don't worry, I'm not leaving the stage no matter what you ask me."
And although the candidates present at the Iowa Events Center debated long and hard over topics like immigration, foreign policy, Hillary Clinton, Planned Parenthood and more, it was Trump who still dominated the Internet, as he was the most-searched Republican candidate on Google from the debate's start to its end.
Trump took to Twitter Wednesday to declare Fox News and network personality Megyn Kelly as the primary reasons for skipping the debate, calling Kelly a "lightweight reporter" and the network's statement about his omitting the debate a "disgrace to good broadcasting and journalism."
I refuse to call Megyn Kelly a bimbo, because that would not be politically correct. Instead I will only call her a lightweight reporter!

— Donald J. Trump (@realDonaldTrump) January 27, 2016
The statement put out yesterday by @FoxNews was a disgrace to good broadcasting and journalism. Who would ever say something so nasty & dumb

— Donald J. Trump (@realDonaldTrump) January 27, 2016
Hannah Hopkins, 17, the daughter of a pastor in Texas and a supporter of Cruz, criticized Trump for what she believed was Trump backing down from Kelly.
"I just think it's stupid how he's saying 'I'll face ISIS, I'll face the enemies of the U.S., but he won't even face (Kelly)," she said.
However, Mike Ford from Clive, Iowa, who attended a watch party put on by the Republican Party of Iowa and is a self-identified Trump supporter, said he thinks Trump made the right decision to skip out on the debate.
"I would like Fox to report the news, instead of being the news," Ford said about the drama with Trump and the news network.
Tonight's debate was the final Republican debate until the caucuses on Feb. 1, and television ratings of the debate, which have not been released yet, could foreshadow the results of the caucuses. It remains to be seen if Trump's absence from the debate will affect how many tuned in to see the action live from Des Moines.
Additionally, The Federalist has reported that while Trump said the money raised from his benefit tonight will go straight to veterans' needs, a disclosure at the bottom of the website he created to hone in donations says all of the proceeds actually go to the Donald J. Trump Foundation, his personal non-profit. It is also reporting that the foundation does not have a history of donating much money to veterans' causes.
Written by Andrew Clark. Reported by Clark, Pam Ortega, Savannah Hurst and Lindsey Gomez.