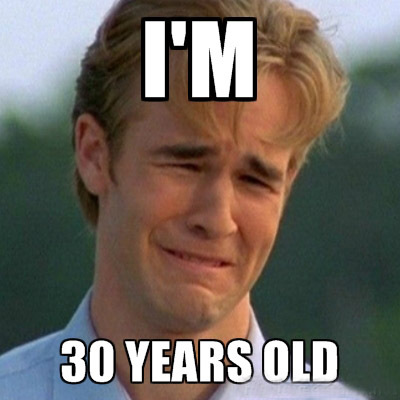 It's officially the new quarter-life crisis.
Whether you think you have it "figured out" or not, what I've begun to realize is that the truth is that by 30, no one has anything figured out.
I just hit the milestone in April. I am not married (nor do I ever want to be), I have neither a companion in my life nor children (I don't want any of that either), and I'm still very happy with being the quintessential millennial -- a spokesperson for my generation with my book series The Peter Pandrew Trilogy -- possessing all the qualities that the Peter Pan generation are known to possess.
But that's not to say that I don't have many friends who have chosen the complete opposite path in life. At my 30th birthday party I was surrounded by the people I have filled my life with over the years, an assortment of the colorful characters you can find throughout my books, running the gamut of lifestyle choices. One friend in particular, a beautiful blonde who, when I met her, was one of the wildest girls you'd ever meet, showed up late -- because she'd been waiting for a sitter for her two kids.
The girl I once knew, who would party all night long and dance with me in the middle of traffic, is now a 31-year-old mother of two and wife to a successful man, has held a stable teaching job for almost a decade, and has the perfect white-picket-fence house.
In short, she is a grown-up.
When it came time to make speeches, the crowd basically just dispersed and began getting hammered, but she sat there clutching her heart and looking into my eyes. She didn't care if anyone else heard her speech; she just needed me to hear it. She told me, "I love my kids. I love my kids. And I wouldn't trade them for anything. But" -- her big, blue eyes filled up with tears -- "I miss you. I miss this. I miss the life we had together."
Looking into those enormous, blue saucers, I felt like I was surfing through memories to the soundtrack of a Lana Del Rey song about being young and having reckless fun.
A few days later, on my actual birthday, I was at her house, and she couldn't get a moment's peace from her children, who kept waking up and coming over to her, sobbing and clawing at her. As I wallowed in self-pity at turning 30, asking, "Now what?" now that I might no longer be little and cute anymore, she offered a surprising solution: "Look at all that you have to look forward to!"
I was completely confused.
She sighed. "You're only 30. You still look the way you did when you were 16, and you have nothing holding you back. You have a long and successful life ahead of you, filled with so many more adventures." Then, after a pause, she added, "But what about me? Now what?"
She sunk into her own pity party as she explained her situation, how she doesn't have the liberty to try new careers, because she has a mortgage to pay and children to feed. She never gets another first kiss. She has two kids as her best friends to "party with" all the time. She might have achieved the American dream, but she achieved it so young that... now what?
I knew she raised valid points. These were all things that had kept me living the way I was living and had led me to avoid those sorts of life choices. She has beautiful children, and she is an amazing mother, a role she was born for, but having started at 23, she pulled the plug on her wild and free days with me pretty early on.
I just read Jason Priestley: A Memoir (yep, Brandon from Beverly Hills, 90210), and I feel like it put it all into perspective for me. You'd be surprised, but those 90210 kids can write -- I also have one of Tori Spelling's books, and I love it.
Anyway, in this awesome book Jason writes, "Your twenties are for fucking around, your thirties are for making the money, and your forties are for making a future."
So many people in their early 20s have 30- and 40-something goals, and I think that's one of the biggest problems. I see my friends who are 23 trying so hard to live their lives like they are 45, desperate for dead-end careers and relationships or marriage. I just try to tell them, "Hey, slow down, dude. Enjoy this while you can. These are the best years of your life. You're old enough to be taken seriously, and young enough to fuck up."
I was so scared of turning 30, and I felt so set in my protracted adolescence that I really didn't know if I wanted to -- or even could -- come out of it. It was almost an addiction. But now I wouldn't change a thing. These years have given me so much experience doing so many different things. I've learned a lot from the many different fields that I've explored, and from the many different people I've tried on. Everything has been a new adventure. I've never pigeonholed myself.
The people Jason Priestley keeps mentioning in his memoir as, basically, the success stories of his class (outside the 90210 crew) are Brad Pitt, Johnny Depp and Bradley Cooper. If you go by his mantra and look at Priestley himself and these three other amazing men, you'll see that his advice makes perfect sense. These guys didn't really start molding their careers as we know them until their 30s, and they didn't start building their families until their 40s -- and they are all doing just fine.
Sometimes we Lost Boys need our time to go on some adventures before we figure it all out. Trust me. I'm Peter Pandrew.