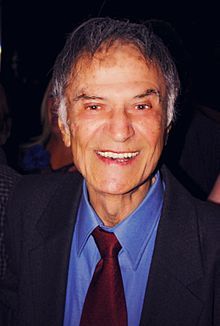 Something wonderful is happening tomorrow (or Thursday the 26th, if tomorrow isn't Thursday where you are). Larry Storch is performing comedy in New York.
I looked at a clip of him performing two or three years ago and, though then in his late 80s, his performance had manic power, which surprised and delighted me. I'd seen him at an autograph table a few years earlier and he'd seemed quiet, so I figured old age had muted him. But no.
Of course, he's now past 90 and had to endure (enjoy?) reports of his death about a year ago when he was, fortunately for the planners of tomorrow's show, not dead, but merely playing the saxophone (which is not a euphemism for death, though it damn well ought to be). On the other hand, on the bill with him at Stand Up NY is the also largely unmuted Professor Irwin Corey, who is, if I'm not mistaken, about a decade older than Larry, so there's every reason to think the comparatively young nonagenarian will still have punch.
The purpose of the show, which Storch will headline, is to raise money for a star to honor him along the the Palm Springs Walk of Fame. While I wasn't aware anybody, famous or not, walked in Palm Springs and I don't know what connection Mr. Storch has to the place, the man loved for decades for the mere two years in which he played Agarn on "F-Troop" deserves a star someplace and Palm Springs is as good a place as any.
And yes, since you asked, I am particularly fond of Storch for the great voice work he's done without much attention over the decades, from Professor Whoopee in "Tennessee Tuxedo and his Tales" to some fabulously monstrous performances on "The Groovy Goolies" and a small host of unnoticed Warner Bros. characters at the bitter end of that venerable studio's volume one of existence. Much of his cartoon work draws (get it?) upon his vast experience as a mimic (which is, as I understand it, what they called impressionists 'til Claude Monet got insulted).
At a lunch with Will Jordan at the now-demolished Beverly Hills Friars Club some years back, the "Sultan of Sullivan" cited Larry as an example he wished he had followed, noting that mimics who'd moved into more straightforward stand-up tended to do better than those who'd remained, in effect, novelty acts.
But heck, Jordan's great too. Give him a star somewhere!
But first go to Stand Up NY and help Larry get his.
*****
The show is 6:00pm
Stand Up NY
236 W 78th St, New York, New York 10024