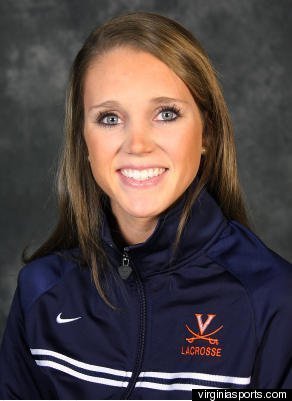 I never met Yeardley Love. Apparently we had a mutual friend on Facebook, an alumna from the University of Virginia who I haven't spoken with in years, but we never crossed paths. She, a striking and intelligent women's lacrosse star from Cockeysville, Md., and me, an aspiring senior student journalist at the University of Maryland, College Park, from Glenmoore, Pa. But, when I heard the news Monday that she was the victim of an alleged senseless murder earlier that morning, I was devastated, and I didn't know why.
For most of the day, I blocked out the reporters anchored in Charlottesville, scouring passersby for whatever they could get; the by-the-second Twitter updates, substantiated only by the churning rumor mill; and the online articles updated every hour, seemingly by a combination of the two. But I couldn't dodge them all: I heard Charlottesville Police Chief Tim Longo briefly describe what officers found at her off-campus apartment and who was arrested for allegedly carrying out the crime. After that, I abstained from the news for the rest of the day, kept myself busy and just thought a lot.
"Not again." That was my initial reaction when I saw the first headline. It's been a deadly year for college students, and my mind raced through them faster than I could morbidly count. The New York University junior, Michael Finney, who drowned while on spring break in mid-March; the Yale University graduate student, Annie Le, who was murdered on campus and found dead Sept. 13, the day she was to have been married; and, of course, the recent rash of suicides in the gorges at Cornell University.
But the one who stuck out the most was Ryan McCall, a rising senior track-and-field standout at the University of Tampa who was gunned down in the early hours of Aug. 19 while walking back from a friend's birthday celebration. He was a good friend, my brother's best friend, and he had his whole life ahead of him: graduation, a career, a family. In an instant, at the hand of a ruthless assassin, his life ended and ours forever changed. The same, it seems, for Love.
Regardless of how they all died, the shock and the feeling has been identical: they were gone too soon. We're in the "prime" of our lives, or so we're told, constantly, and then this happens, and it makes us wonder. Why him? Why her? Why us? In between lyrics for Jimmy Eat World's "Hear You Me" and Billy Joel's "Only the Good Die Young," we try to wrap our brains around the fact that we're still here and they're gone; that we're somehow expected to move on, as if there's another option staring us in our somber faces; that "this was never supposed to happen."
Growing up, it's a saying we're all too familiar with. By freshman year, most of us have experienced the loss of a friend, a family member, or another close someone, to an unforgiving illness, or a shadowy vigilante who didn't consider how we would be affected by their absence, or some other unfortunate circumstance. Whatever it was, these seem different, because this is college, and the poor choices we make now are supposed to be learning experiences to remember, and to live by, in the future.
As news of each tragedy hit me, I found that these are the hardest lessons of all. We're told that after high school, we should go to college; get a degree in something we're interested in enough to study for four years; and attain the right amount of employer appeal to land a decent starting-salary.
But college should be more than that, and after thinking all day about Love, McCall and the others, it's becoming clearer that I'm not as invincible as I once thought and that I want to live a good life. These things happen; I'm not immune, which means you're not immune either. We're sad, and we're going to stay sad, but we've got a chance to do what they no longer can: we can graduate and we can do it on our own terms.
We can change our major, transfer to another university, apply to an "out-of-reach" internship or consider graduate school. We can do whatever we want to do to make sure that we don't look back and regret the time we had here, and what we did with it.
So we should study as much as we want, have as much fun as we want and love these four years as much as we want, because when it comes time to graduate, we should walk across that stage, grab that diploma and shake that dean's hand knowing we didn't waste the "prime" of our lives planning for something we didn't want to begin with.
And as you do so, I urge you to, please, remember your deserving peers who couldn't join you and never forget the lessons they taught you.