Defying Washington's conventional wisdom on health care reform, two senior Democratic House members are preparing a grassroots campaign to sustain a vigorous public option following a vote scheduled Saturday.
To keep Speaker Nancy Pelosi's proposed successor to H.R. 3200 as strong as possible during conference negotiations with the Senate, House Judiciary Committee Chairman John Conyers, Jr. of Michigan and Rep. Sheila Jackson Lee of Texas are building on momentum from the unique town hall-style hearing they hosted Oct. 27.  
The hearing generated videos of patients facing death because they could no longer afford their insurance or co-pays.  It featured also physicians urging a public option, and a 1960s civil rights icon urging that basic health care should be a fundamental human right, as in most of the industrialized world.
But a public option faces a potentially fatal counter-attack during the weeks ahead because of lack of follow-up by its proponents ─ despite favorable national poll numbers, inspirational rhetoric and countless horror stories. 
Not Enough Political Muscle for A Public Option?
"We're not seeing enough political muscle to sustain a strong public option right now, and we might not get anything at all," a senior Hill health policy aide told me Nov. 4. 
"Where are the buses of supporters?" he asked. "Sometimes we don't get a single visitor on this for days, and barely a phone call.  Where are the national strategy meetings like the civil rights groups had in the Sixties?  The major public option advocates are too afraid of antagonizing the White House.  This is what I call 'Russian Roulette lobbying,' with people thinking: 'Maybe things will be OK.'  With that attitude, I don't think so ─ not when you're up against Republicans and insurance companies."
The oft-controversial Jackson Lee, for one, is speaking out.  "We are now losing 45,000 people every year," she says, citing estimates that annual fatalities from lack of health coverage almost match the total for the Vietnam War, the nation's longest.  "This is a life-and-death crisis."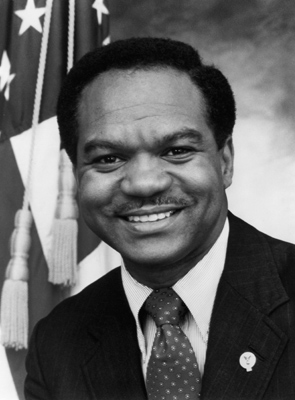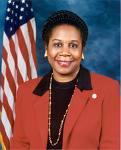 The Rev. Walter E. Fauntroy, left, was a member of Congress from 1971 to 1990. U.S. Reps. John Conyers, Jr., and Sheila Jackson Lee were first elected in 1964 and 1994, respectively
Conyers and Jackson Lee each described their Oct. 27 hearing for ordinary patients and physicians as a pivotal moment in the fight for a public option ─ and the broader concept of health care as a civil right.
But even without the civil rights analogy, the current health care debate is developing an increasingly nasty racial subtext, as indicated by a Nov. 4 HuffPo article on a new ad by business groups implying that health reform will cost whites jobs.
Pelosi and Senate Majority Leader Harry Reid included a weak public option in pending House and Senate bills.  A solid front of congressional Republicans, private insurers and most mainstream media have long disparaged the concept that insurers should have to compete with a government plan to keep insurance costs affordable.  
A Congressional Budget Office study last week predicts that few consumers are likely to use the Pelosi bill's public option because her rules would steer too many older or seriously ill customers into the public plan, thus creating unattractive pricing for others.  Also, Pelosi's bill removed the proposal passed by the Education & Labor Committee by a 27-19 vote that enabled states to create single-payer plans, leaving a model much like the Massachusetts experiment that is now attacked by critics from both parties as financially unsound.
John Nichols, a columnist at The Nation, slammed the Pelosi bill.  But fellow liberal and New York Times columnist Paul Krugman urged Democrats to approve the deal as the best one possible now. Indeed, the Washington Post reported Nov. 4 a counter-attack by so-called moderates to strip the option from the Senate bill.
Public Views on Public Option
On Oct. 27, most of the patient witnesses testified that they had private insurance when their lives began collapsing because of health care costs not fully covered, and ultimately unaffordable.  
Conyers described last week's hearing as like a religious service, when inspiration suddenly strikes.  "We've had hundreds of hearings," he said afterwards in an interview, available here.  "Today was a transformative moment in the history of our accomplishing our goal," he said.  "You know when something special happens."  
The hearing was almost ignored by news media with a few exceptions, such as a CNN camera crew that filmed without an on-air reporter, the Pacifica Network's progressive radio and a Montgomery County cable access host from Maryland. 
But web-enabled coverage enables a way around news gatekeepers.  My report today provides the first compilation of witness videos by filmmaker Robert Corsini, who flew from Los Angeles to cover the hearing and who is expected to publish his own account in Truthout shortly. Corsini and his co-producer Natalie Noel are working on a documentary about post-Katrina recovery efforts in Gulf States. 
Noel was a witness also, and obtained the interview whereby Conyers shared his impressions from his career-long fight for better health care.  Arguing that every other industrialized country provides care at half or less of total U.S. costs, Conyers sponsors the single-payer H.R. 676 bill, with a public option as a fallback. 
As a reader advisory:  The stories and video below about hardship, hope and struggle are not for everyone.  I showed one clip to a friend who works as a Washington-based news editor, and he dismissed the approach in essence with: "Who cares?"  Lots of people have problems, and lots of members of Congress are adept at voicing words of concern, with scant results.
All too true.  But a single video of Jackson Lee taking a cellphone call during her Aug. 11 town hall meeting in Houston has now racked up more than half a million views on one website alone.  Fox, CNN and others demonized her for talking while a very attractive white cancer patient was opposing the congresswoman's position.  You be the judge of whether there might be subliminal, race-based messaging that prompted such an enormous reaction to behavior that's fairly commonplace by multi-tasking officials. 
Critics also slammed Jackson Lee for thanking a town hall audience speaker who claimed to be a "general practitioner" but, upon investigation, confessed merely to working with physicians.  Again, is Jackson Lee truly rare among politicians for thanking an audience speaker without verifying the job-status? 
As the late conservative Paul Harvey used to say, let's look at the rest of the story.  What did she and Conyers think so important at their hearing last week? 
For perspective, the Conyers career in Congress began with election in 1964, and before then as a staffer for his Michigan delegation colleague John Dingell.  Dingell, the longest-serving congressman in U.S. history, has been an unsuccessful advocate of universal coverage, like his father in the same congressional seat for an unbroken streak extending back nearly eight decades.  And like Conyers, Dingell is willing to compromise now by supporting the more modest initiative of a public option. 
Health Care as a Civil Right?
As for my own involvement, I occasionally attend Conyers-led health care briefings that are open to congressional staff, the public and media, and I recently saw an opportunity for new material not normally covered.
At one such briefing last month, the Rev. Walter Fauntroy, a 1960s civil rights pioneer and former congressman, voiced a desire to launch on Oct. 27 a public education campaign about why basic health care should be recognized as a civil right. 
Fauntroy brings a rare perspective.  As an aide to Dr. Martin Luther King, Jr., Fauntroy was the principal organizer of the 1963 March on Washington, and also the 1965 Alabama civil rights marchers whose brutal treatment by police soon prompted introduction and passage of the 1965 Voting Rights Act.
At the hearing last week, others confirmed the day's import.  One of the first witnesses was cancer survivor Harriet M. Fulbright, widow of the Arkansas Senator J. William Fulbright, whose televised Vietnam War hearings helped change national opinion about the war four decades ago.  "I can think of no subject more important," she testified, "than health care for every citizen of this country."
Jackson Lee and Conyers listened for three hours, occasionally joined by other Democrats. A video of her comments is here as she urged an all-out battle in the days ahead on behalf of those sick and dying.  "And those lost souls are telling us," she said, "that in their name, we must have an insurance coverage system."
One panel focused on physician opinions.  Dr. Sanjeev Sriram, director of outreach for the 20,000-member National Physicians Alliance, quoted the Rev. King as follows:  "Of all the forms of inequality, injustice in health care is the most shocking and inhumane."  The witness added, "Sadly, this nightmare is still going on today."
The filmmaker Noel was a witness also. As Fauntroy beamed down from the dais, she thanked him for his civil rights service in her native Alabama.  She went on to describe (with video here and her News from Indian Country column here) how she and Corsini two years ago began work on their film "Reinventing Paradise" about post-Katrina recovery problems in Gulf states.
She recounted how she later discovered that she had a Stage Three cancer, which exhausted her ability to pay for treatments or even to continue to pay her insurer, Alabama's dominant carrier. With no options for life-saving care in Alabama and unable to work, she moved to Pennsylvania, where the state is providing twice-weekly treatments toward her full recovery.
Noel concluded her testimony by asking those present to consider: "What would happen if you were suddenly struck by your own personal Katrina?"
Her panel ended with a powerful clip from her forthcoming film showing two Louisiana criminal justice professionals describing last month their continuing inability to provide crucial mental health care. Each sought a national dialogue on whether a fundamental American right should exist for such care around the country.
Rise and Fall of Great Nations
At the hearing's end, Fauntroy sought to provide an answer, based on his five decades experience seeking to transform civil rights concepts into policy.  He'd already done so, of course, by organizing the iconic 1960s marches and by leading anti-apartheid protests in Washington in the 1980s that helped topple the white-run South African regime.
"Great nations rise and fall," Fauntroy quoted British Prime Minister Benjamin Disraeli as saying more than a century ago. The retired pastor described the inspiration he felt as a young man from Disraeli's discourse that nations start in bondage, then move through such stages as "spiritual truth," liberty, courage and abundance, and then decline into selfishness, complacency, apathy, dependence and then back into bondage.
"It remains for us to break this cycle," Fauntroy told his audience.  "You can do it! We can do it ─ if we put our hearts and our minds to it. Let's go do it!"