Note: Police killing of unarmed teenager Michael Brown, 18, in Ferguson, Missouri, has mobilized African American media across the country. Below is a compilation of editorial excerpts from some of the major black newspapers and news sites since the killing and subsequent protest began.
"The political negligence of black leadership over the last 30 years has produced an existential threat to the black community that calls our very existence into question. While Michael Brown was literally lost to us Saturday afternoon, how many thousands of young black men and women are we figuratively losing every day to poverty, drugs, violence and failing public schools?"
The political negligence of black leadership, St Louis American
"I am now pleading with young brothers to abandon the idea of winning, fairness, vindication or satisfaction. It won't come. The No. 1 goal has to be survival. Survive the situation. Just live." wrote T.J. Holmes. "It doesn't matter if you're 100 percent innocent. You have to try to disarm an armed officer by giving him no excuse to act on what he might already preconceive as a threat: a black man. At that moment, your pride or even your rights cannot be the priority. Your life is. We will send the Rev. Al Sharpton later to fight on your behalf. But if you are up against a police officer who has the law on his side and a gun on his hip, you are going to lose. It's just not worth it."
Stay Alive, Black Men, Stay Alive, The Root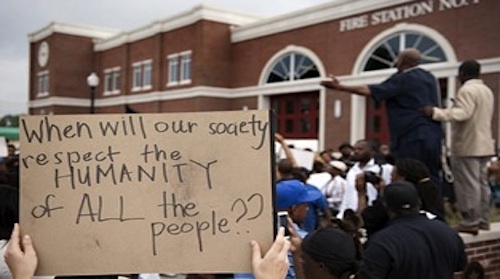 "The recent shootings of Michael Brown, Ezell Ford and Eric Garner underscore the danger Black men and boys face when they cross paths with law enforcement officers."

"The reason the Ferguson Police Department looks (97 percent white) and functions the way it does is public policy. If the government of Ferguson looked like the Ferguson community (67 percent African-American), it could have had a different police force. I say "could," because in St. Louis African-American leaders are no guarantee of better public policy for the black community. It's what I call the fallacy of the politics of melanin; you can no longer afford to assume that ethnicity equals political allegiance or competence."
Police shootings of unarmed Black men a national problem, St. Louis American
"Several White police officers visited my son's preschool a few months back. They smiled, shook his hand, and talked about safety, how and when to dial 911, how they should not play with guns, talk to or accept gifts from, or go off with strangers, how they could trust a police officer if they are lost. One child wondered if the officers were going to take them to jail."

Now my son was asking, "are the police bad?" I couldn't say no, and I couldn't say yes. When I knew I was having a son, I feared for him from an endless line of future threats. This was one of my top fears, so troubling in my spirit that I avoided talking about it aloud.
No More Requiems: A Protest for Michael Brown and My Son. Ebony
Jesse Jackson told The American he hopes that the U.S. Department of Justice sees the Ferguson Police shooting of Michael Brown on Saturday and resulting community violence as "systematic of a national crisis."

"It was a crime of injustice," Jackson said. The injustice, he said, was two-fold: a police shooting of an unarmed black teen followed by black youth from high-unemployment neighborhoods erupting in rage.
Jesse Jackson Calls Michael Brown shooting 'Crime of Injustice,' LA Watts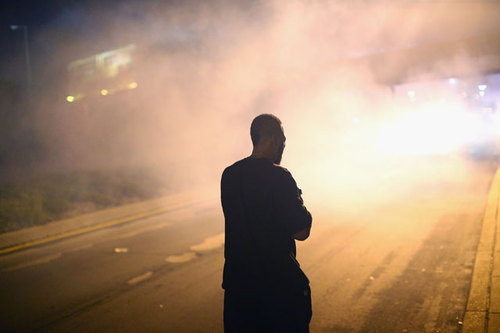 Today, if we are to believe law enforcement and personal responsibility-loving politicians such as President Obama, black victims of white racism must still, as Colvin put it, "fit the profile." Their victimhood is only supposed to matter if their lives are pristine. That's why St. Louis County law enforcement keeps trying to chip away at the popular image of Michael Brown as a college-bound gentle giant. Last Friday, while identifying the 18-year-old's killer as Officer Darren Wilson, local police released surveillance footage from a convenience store that allegedlly shows Brown stealing cigars and assaulting a clerk. (Later that day, Police Chief Thomas Jackson admitted that Wilson didn't know that Brown was a suspect.) On Monday, unnamed sources from the St. Louis County medical examiner's office told The Washington Post that Brown had marijuana in his blood at the time of his killing.

These tidbits are an obvious distraction from the most urgent matter: a police officer's killing of an unarmed young man.
Michael Brown and the Danger of the Perfect Victim Frame, Colorlines
A problem with America is the paradox that it can be a nation with high compassion, but also a nation with no empathy. Central American children fleeing violence and in desperation making a long and dangerous journey to the land they think is full of milk and honey, with streets lined with gold, are greeted by angry mobs as their buses take them to detention centers. Cuban children who drifted across the Florida Straits, on the other hand, were once greeted with open arms. African American children facing gang violence in their neighborhoods, like Chicago, elicit a litany of epithets accusing them of different pathological maladies. And, as in the case of Ferguson, a criminalization that can end in being the victim of police violence.
On Ferguson, North Star News

Andrew Lam is an editor with New America Media and author of the "Perfume Dreams: Reflections on the Vietnamese Diaspora," and "East Eats West: Writing in Two Hemispheres." His latest book is "Birds of Paradise Lost," a short story collection, was published in 2013 and won a Pen/Josephine Miles Literary Award in 2014.