Four years ago today, one of my beloved mentors passed away. His name was Franz Schurmann, a well-known sinologist and author, and he taught at UC Berkeley for many years. He spoke and read 11 languages and also cofounded Pacific News Service/New America Media where I now work as an editor. Reposted below is an essay I wrote upon his passing.
When I think of Franz Schurmann, which is surprisingly often, I see him poring over his big book of maps, searching, mumbling names of foreign places. The atlas was frayed and faded with age, and over its pages Franz would squint as he leaned down to search for some particular -- a river or a valley. So intense was he and so close was his scrutiny that his nose nearly touched the surface. He might have been there, or he probably wanted to go there. Certainly, he was always curious about the place.
I myself didn't care for maps. To be honest, I didn't know where a lot of countries were when I first joined Pacific News Service two decades ago. Franz had founded the news organization with Orville Schell, a colleague at UC Berkeley, in 1970. Franz's wife, Sandy Close, ran it, sending out a few stories a day over the AP wire. All I cared about was that Franz and Sandy, practicing inclusive journalism, gave me a public platform where I could write about my trauma. I was a refugee boy from war-torn Vietnam, and I had only one purpose: to convey the horror and sadness of that experience, telling the story of a wretched people forced to flee and to remake themselves elsewhere.
But Franz's curiosity was infectious, and I started to help him look, too. In a sense, I grew curious about the larger world because Franz was always curious about it. Curiosity, in fact, seems to define him on so many levels. It made him restless. It made him devour information with ferocity, and it enabled him to learn a dozen languages. If his knowledge was vast, his hunger for more was equally profound. And he always wanted to know about you, whoever you happened to be. He wanted to know where you came from, what was your cultural background, what languages you spoke, and what did you believe in and why?
And he'd always listen. Hard of hearing in one ear, Franz listened better than most. He tended to lean toward you and cup his hand behind his good ear to get all the words he could, to hear everything you had to say. Then he would interject, telling you about some other cultures or societies whose histories ran parallel to your own, and then ask, What do you think?
At first I didn't know what to think, for whatever I had to say, I felt, was not of any interest. But he pushed, wanting to know what I made of this or that idea, and I felt obliged to answer. The personal and the historical were not separated in our conversations, so I was to discover. For one's own story often is part of a larger narrative, and vice versa, as the personal to the historical is but river to the sea.
Human and historical dimension are embedded in every terrain in that book of maps. Once, I remember telling him something about the rivers of my youth, the memories of the Mekong Delta with its farmers and fishermen and its fertile rice fields, a place Franz hadn't been (he later went there), and we would end up looking at the book of maps. It's the 12th-longest river, he would tell me, and "see, it begins here, all the way up in the Tibetan Plateau and snakes down through China's Yunnan province"...then through Burma, Thailand and Laos and Cambodia. I'd follow his finger and trail across the borders to where the river began, passing all these countries I had never thought about, and my memories of Vietnam gave way to a wanderer's curiosity. What would it be like to go up the river? What conflicts over water do the people who live there have? I once lived where the river ended, but wouldn't it be amazing to travel to where it began, charting the lives of others along the way?
I wanted to travel then, and, I suppose, having my imagination stoked, I did. With the approval of Sandy and Franz, the cub journalist for Pacific News Service circumnavigated the globe.
And each time I came back from somewhere--be it France or Cambodia, Laos or Burma, Mexico or Nepal--Franz and I would have lunch. Sometimes our lunch would last for three hours, usually at a Chinese restaurant. (And surely the Chinese waitress was wary and perplexed: why did the old white man speak Mandarin to her while the Chinese-looking young man spoke nary a word, and how could two men go through five pots of tea?) Franz wanted to discuss the stories I filed. How religious were the Burmese under Communism? Were the Khmer Rouge all bad? Could I tell him about their anger and their passion, what made them kill the way they did? Then the conversation would trigger some idea or another. Empires rose and fell as we ate, people survived and rebuilt their lives, countries were established and undermined by corruption and society was redeemed by spiritual yearnings. And lunch would often come with a lesson or two about world history--the Roman Empire before its fall, perhaps, or China in the 19th century and the opium trade, or the French Revolution. We kept talking, and I would say something, some idea that thrilled him, and then came that often-heard sentence, "Andrew, you must write about this..."
Perhaps it was because I didn't want to disappoint Franz, or because, in some way, he was a bit like my father, who was also worldly; or perhaps because Franz was like a father--I wanted to measure up to him and to prove that my world view, too, had expanded, I wrote. I hunkered down and explored a topic about which I knew very little, researching, reading, asking Franz for help, until I dug a little deeper, saw a little further, crossing all kinds of borders along the way. I took risks. I connected otherwise far-flung spheres, meshing civilizations together in one sentence to prove a point. Of course, when I thought big, I was chiefly emulating Franz Schurmann.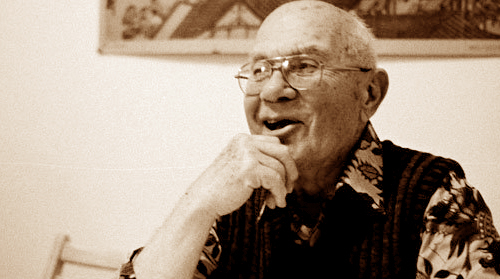 On Facebook, there's a memorial page dedicated to Franz Schurmann for people to write lovingly of a man who deeply touched and indelibly changed their lives. The commemorations read like an ode to the beauty of the intellect, of the mind and, in a way, to the American spirit of individualism itself:

...one of the most original thinkers... stubborn independence... deep and broad thinking, his work an inspiration ... a beloved professor... Franz showed me how to see the deep running historical, human dimensions of those mountain people... formidable man with a ferocious intellect... passionate and loyal individualist... consider myself exceptionally lucky to have had him as a friend... His generosity, his patience, and his understanding were such a gift...The delight he took in ideas! ... reading a Chinese newspaper, with several other foreign-language papers spread around him..
The last of the great Mongols...
Alzheimer's took hold and slowly made him disappear, but his chief and last concern was with the soul, both that of the American empire and of the individual. By soul he meant a real force, which he defined in his last book, American Soul, as that which "gives direction:"

"Individuals with a sense of direction feel themselves moving on a path of meaning in their lives and possibly beyond; people moving along with the path of history... when soul is lost there is no future..."
To this I would like to add that when the soul is strong, and imbued by passion, it also becomes a force that sculpts and shapes others. Franz, for me at least, opened the gate to the wider world, and through it I went.
And so--my mentor has journeyed on to that far country whose terrain cannot be charted on any map, but his restlessness and his sense of curiosity and his search for meanings--his legacy--live on. The refugee boy has stopped mourning his lost homeland; instead, the writer is eying that faded book of maps--the places and people yet explored and charted, the fertile fields around the river's bend yet to be trekked, and the meanings yet to be intimated.

Andrew Lam is an editor with New America Media and author of the "Perfume Dreams: Reflections on the Vietnamese Diaspora," and "East Eats West: Writing in Two Hemispheres." His latest book is "Birds of Paradise Lost," a short story collection, was published in 2013 and won a Pen/Josephine Miles Literary Award in 2014.