The HuffPost Book Club is proud to reveal its second title! I could write all kinds of things here about how fantastically well our conversations went around the first book, The Tiger's Wife, thanks to all your comments, tweets and photos, and how much we've learned about engaging with you all around its narrative, but to be honest, you've probably already skipped this part and scrolled down to see the title and cover of the next book which is...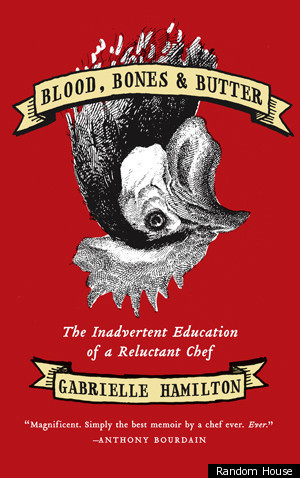 Blood Bones & Butter by Gabrielle Hamilton
Buy it from your local indie bookstore!
Also available: Amazon, B&N, iBooks
A chef's memoir like no other, it's a fascinating look at kitchen life, part travel memoir, part adolescent runaway narrative, along the way taking harsh looks through personal experience at writing MFAs, foodie talk, and the apparent difference between male and female pallets.
There's a lot to chew on there, and we'll have plenty to talk about. We're also teaming up with some fantastic foodies to provide readers with ingredient-related insight - and maybe even a recipe or two inspired by the narrative.
And we'll be holding an event at the end featuring Gabrielle Hamilton, at a location TBA. Just like our forthcoming event with Téa Obreht - click here to claim some of the final free tickets left!
I should point out one more thing: we hesitated about this choice for one reason only, which was that this book happens to be published by Random House - the same publisher as The Tiger's Wife. However, as the paperback of BB&B has just come out, we thought it would be good timing to run this now, while the book has coverage elsewhere for you to read as well. We'll be giving Random House picks a break for a while, now.
If you have read the book, please no spoilers below! If you haven't, tell us in the comments, on Facebook or on Twitter with the hashtag #HPBookClub: will you read along with our Book Club community?
We'll begin reading BB&B on Feb 8th, with the first discussions on February 16th on The Huffington Post Book Club page - if you haven't already signed up to our weekly newsletter, you can do so here (we promise not to use your email for anything else):