Like the cholera outbreak in Haiti that began four years ago, the current Ebola virus outbreak tells the tale of extreme poverty, a lack of health education, and a dearth of basic healthcare supplies to help treat the people affected and prevent the further spread.
When cholera broke out in Haiti and the fatality rate was hovering around 10 percent, it took a large educational campaign and a massive infusion of basic supplies like soap, IV fluids, and basic antibiotics to bring that down to under 1 percent. Ebola is much more deadly, however a similar approach can be employed and Direct Relief has already sent an emergency air shipment of personal protective equipment (PPE) and life-saving medications to Sierra Leone and has more on the way to Liberia.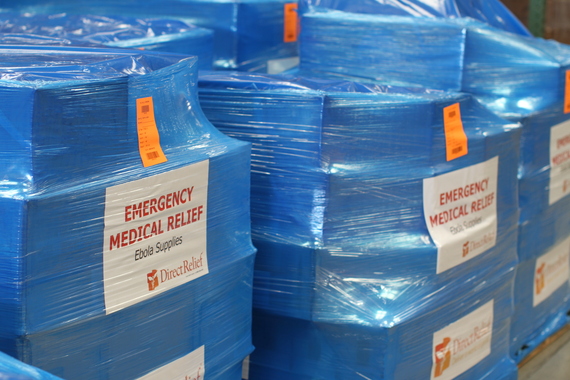 Last night the Executive Director at Sierra Leone-based Wellbody Alliance Hospital, Raphael Frankfurter, sent us a response to questions we posed to him following our first delivery of supplies to fight the Ebola outbreak. Direct Relief has been in very close contact with Wellbody Alliance and other partner organizations in the affected countries to ensure that the particular needs of local, frontline organizations guide the support being provided. Direct Relief's longstanding approach - in both emergency situations and generally - is one of supporting and strengthening locally run institutions that are trusted in their communities. This approach is particularly important in the unfolding Ebola situation, which has generated reports of local residents being suspicious of and unwilling to engage with some of the foreign public health interventions being conducted
The interview below is articulate, insightful, appropriately critical, and offers helpful context and clarity around what's happening and what needs to happen to help stem this terrible outbreak.

Do you have sufficient protective equipment to stay safe - both in terms of quality and quantity?
Generally, the national public health care system is still shamefully unequipped with basic PPE. The main public hospital in Freetown (Connaught) has been requesting gloves from us for the past two months (we sent some this week). It's pretty unbelievable.
The Direct Relief shipment is going to be absolutely critical as we are almost out of our existing stock of gloves and gowns. The repeated infection of expert healthcare workers in Sierra Leone and Liberia (who were presumably very careful about PPE), however, has raised some questions about whether this is a uniquely/especially contagious strain of the virus. We're going to be communicating with Doctors Without Borders (MSF) to find out if they think this is an issue of systems (ie how people are geared-up or decontaminated) or something else (ie the type of PPE).
Are you lacking any critical supplies - if so, what are they and what are they needed for?
Yes--things continue to emerge, especially now that there are cases coming in in Kono District and the local health care system is taking stock (seriously) of what they have/what they need. In yesterday's Ebola Task Force meeting, key items identified as being in very short supply were chlorine (almost none in the district), thermometers, goggles (we have none--just face shields), backpack spray systems for decontaminating workers and equipment, boots and accessible vehicles to transfer patients to MSF treatment centers. The vehicle issue may actually turn out to be quite disabling if cases continue to spike and the one Ebola ambulance in eastern Sierra Leone is inaccessible to patients in Kono.
Finally, the Kono Government Hospital, where the cases have been treated, is now nearly empty as many people have fled the wards in fear and are not coming when they are sick. There is a very high chance that patients will begin pouring into our clinic instead. We would like to construct a tarpaulin isolation unit ASAP for holding, testing and stabilizing patients before transporting them. Right now, our "isolation unit" is only one room, so we don't want to be in the position of holding multiple suspects in one room (within our general clinic). We were not expecting the first cases to come to the Government Hospital in Koidu City rather than a public clinic on the border with Kailahun, so this has put our clinic at an unexpected risk.

How does the situation compare to what we're seeing in the news?
Things have completely changed in the past week. It started with Dr. Sheik Humarr Khan contracting the disease, then cases just started spreading all over the place. Kenema Hospital is in shambles (though hopefully turned over MSF/WHO soon) and there are now some cases in Freetown. Everyone's on edge, but also trying to deal with the fear with humor and irony.
Certainly, Sierra Leone isn't "shutting down" in any sense, and the number of cases is still miniscule compared to the population, the number of people dying of malaria, malnourishment, etc. I'd guess that in Kailahun things are very chaotic and in panic--we've been hearing reports of villages with scores of bodies out in the street, with people afraid to touch them but also not wanting to see their loved-ones buried in a far-away mass grave.
In Freetown, there's a definite mass-exodus of ex-pats which adds to the growing sense of doom, I'd say (we've evacuated all of our ex-pat volunteer staff as well). And more than anything, there's just no indication of how this is going to stop after this past week. But in general, these sensationalized accounts of the risk of the disease "going international" don't acknowledge how relatively difficult it is to contract the disease (people in the States don't take care of gravely ill relatives at home like they in Sierra Leone), and I find this repeated reference to "ignorance" causing the spread of the disease misguided, inaccurate and frankly offensive as it veers towards blaming Sierra Leoneans for the outbreak.
Are there any important facts that people need to know in order to understand the complexity of this outbreak?
I think that the social/community level issues are being completely misunderstood in the media/by international experts advising on the outbreak. We just posted a blog on our thoughts in this regard and are writing some more substantial articles for distribution.
My opinion is that the widespread rejection of health workers and reporting patients to clinics is a very reasonable response to utter panic and lack of communication/respectful dialogue about how scary this disease is, but that uncomfortable steps (isolation and sending loved-ones to inaccessible facilities) are the only thing that can halt the spread.
Every Sierra Leonean--even in the most remote villages in Kono and Kailahun--has heard of Ebola, and knows perfectly well how it's spread. It's not an issue of ignorance, but the lack of attention and respect and communication provided to families and communities about what is happening to patients and attending to their fears that is ultimately undermining the response.
On a personal level, this hit home for me on my flight last night. Inevitably, I often get sick/malaria when I work in Kono, and it suddenly occurred to me before my flight that if I happen, for whatever reason, to get a fever on the airplane I'm going to be met at the gate by a team of Belgian health authorities in space-suits who are going to whisk me off to a hospital I've never been to before, without my family nearby, and possibly isolate me for the next 21 days (where I will be treated with much more respect than most Sierra Leoneans are when they present to public clinics). If I were to have Ebola, I would likely die alone without ever seeing my friends and family again. I know for a fact I don't have Ebola, so I brought plenty of fever medication along to self-medicate and avoid the hassle.
Well--it's the exact same thought-process that's going on in these villages: denial of the risk out of fear with nobody there to counsel and acknowledge what a difficult situation this is for patients personally the terrifying reality of being confronted with a terminal and extremely painful illness, and the fear that they will not receive respectful, humane and communicative care to patients and families since this is a "public health emergency."