All you have to know to understand the scale of the devastation in Tacloban is that the people of this area, families who have lived their entire lives here, are leaving by the thousands to go start their lives in entirely new cities. The destruction and loss makes it all too overwhelming. The island of Cebu, a 45-minute plane ride away, is now receiving around 2,000 people per day and there are now dozens of evacuation centers set up around town.
When we met Marafie Garfin, the chief nurse at Bethany Hospital in Tacloban, she had been working feverishly, doing everything she could to get their hospital back into some version of what it once was. Of course she wants to re-open in order to start seeing patients again, but more importantly, to she wants to show her staff and patients that they did not have to leave, that they could work to rebuild what was once an amazing hospital, the place where Marafie has spent her life.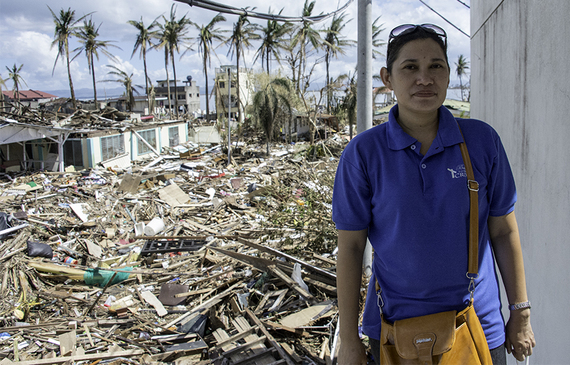 Jodie Willard
The people in this area are used to typhoons. Indeed, there were more than 20 typhoons this year alone, but none have compared to Haiyan. Marafie said that in her whole life on Tacloban, and in the decades before when her grandparents founded the hospital, there hadn't been a typhoon that brought a storm surge more than a foot or two. In fact it was so rare, that Marafie believes that one of the reasons why so many people in Tacloban were unprepared was because they were calling it a typhoon with an accompanying storm surge, a term many people didn't understand. The sense is that if people heard the word tsunami, which is what it effectively ended up being, they would have fled to higher ground, remembering the Indian Ocean tsunami in 2004.
Marafie said that when the storm hit, there wasn't anywhere to go. At first they brought their staff and patients upstairs but the wind was so strong that it blew the roof off the hospital. When they went back downstairs, there was eight feet of water gushing through the hospital. Electricity and water were cut off. Nurses in the dormitory next door were clutching onto a pipe to avoid floating away. People who didn't have a solid hand-hold were literally slamming into the side of the hospital. One boy was trying to climb up to the second story window from outside the hospital and was hit with a flying piece of tin roofing material and died.
When we visited the hospital a week after the storm, the remaining staff were working to clean out the lower floor of the thick layer of mud and water that was caked all over everything -- the medical equipment, supplies in the pharmacy, even hospital beds were all being removed and cleaned in hopes that some could be salvaged. There was only one patient left in the hospital: a 72-year-old man injured during the typhoon who remained alone in this devastated hospital alone because he had nowhere else to go.
It's easy to understand why people would want to pick up and leave. Hard memories, massive loss, and an overwhelming sense of uncertainty of not knowing where to begin. And in the first week after the storm, people weren't able to get food, water, shelter, or medical care so they had no other choice but to leave. There was some blame placed on the national government and international aid organizations for the delay in responding (and not being adequately prepared in the first place). While some of those criticisms are warranted, it also has to be understood that at the exact time when the aid needs to arrive, is the time when the airports, sea ports, boats, roads, bridges, warehouses, and hospitals are damaged. And it takes time to mobilize the massive amount of food and water and medicine and then figure out how to get it into these badly hit areas when you can't fly or drive them in.
In the last 13 days, Direct Relief has been able to mobilize more than 100 tons of critically needed medical supplies and start the distribution to the hospitals all throughout the Visayas. We have already distributed life-saving antibiotics to areas in northern Cebu and parts of Panay Island where no one else has delivered large volumes of medical material aid. We've also been able to bring in two shipments to Marafie at Bethany.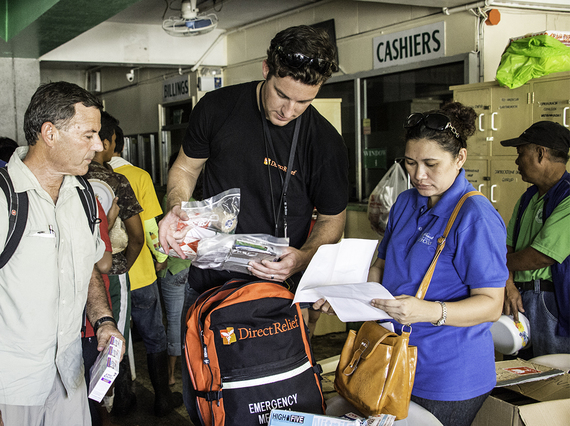 Jodie Willard
All of this was done using the support of corporations -- medical manufacturers that donated the items, FedEx, which donated the air-freight, even companies in the Philippines like DB Shenker, Ayala Business Group, and International Pharmaceuticals Incorporated (IPI), which have donated our local trucking, lodging, and warehousing to enable us to get these essential items into the hands of the nurses and doctors treating patients in these hard-hit areas of the Philippines.
Thanks to the hard work of our staff and the support of these companies, 100 tons of medical material valued at more than $10 million (wholesale) is currently being distributed to the affected regions of the Visayas where highly trained doctors and nurses are working hard for their patients but sometimes lack the essential materials to do their job effectively.
In the end, it's the people of the Philippines who are going to be in charge of rebuilding their lives and their homes. It's a Filipino crisis -- not an NGO one. But the international community, with the help of local businesses and corporations can do a great deal to fill in some of the gaps and work to bring the residents of Tacloban back home and get Marafie's staff back into the hospital.