The unfolding Ebola crisis in Africa that has claimed 1,400 lives -- 80 of whom were health workers -- is a tragedy. That many of those who have died would be alive today but for the absence of items such as gloves and masks is unconscionable.
The solution to protecting these health care workers, a critical component to containing the spread of the virus, seems simple enough. Get medical staff the gloves, masks, and other protective supplies they need to safely care for patients.
If only it were that simple.
In what Dr. Paul Farmer refers to as an "acute crisis on top of a chronic problem," the Ebola crisis in West Africa is taxing a health system that was delicate to begin with. Years of civil war and conflict have left Liberia and Sierra Leone with some of the world's lowest doctor-to-patient ratios -- as few as one or two for every 100,000 people. With 51 doctors for 4.4 million people, Liberia confronted the outbreak with fewer doctors per person than any West African nation; fewer still as the outbreak has spread, as many health care workers -- understandably -- refuse to work without basic means to protect themselves from infection.
The acute crisis and the chronic problem intensify each other as patients avoid hospitals for fear of infection. The John F. Kennedy Teaching Hospital in Monrovia, the capital of Liberia, typically sees around 120 patients per day. Last Monday there were five. On Wednesday the hospital had almost completely shut down. Ebola's ripple effects are extending to everything else, from children unable to receive care for malaria to women unable to deliver babies in a hospital. And prevalent ailments -- chiefly typhoid and dysentery -- may be killing more West Africans than Ebola.
Were the acute problem an earthquake or tsunami, not the months-long march of an outbreak, the urgency may have come into public focus faster. But urgent it is. And just as natural disasters require rapid deployment of resources to rescue those at risk, bury the dead, and protect against further devastation, so too does the current Ebola outbreak. Any county or government facing such a situation would need help from private sources, which is why it's important for nonprofits and companies alike to engage, work together, and acknowledge the difficulty and potential for chaos. We should view these challenges -- which arise during every major disaster -- not as insurmountable obstacles, but as things we must manage through. Gloves and protective suits, obviously, are not the sole need in this complex situation, but they're part of the mix and manageable.
Over the past month, Direct Relief has delivered 40 tons of medical supplies to frontline health care workers treating Ebola in isolation wards and other health facilities. We have an additional 400 pallets of supplies, including 2.3 million pairs of gloves, ready to send to the region. We talk with local NGO partners and Ministries of Health in these countries on a daily basis, as well as offering material assistance to neighboring countries as they prepare themselves for a possible spread.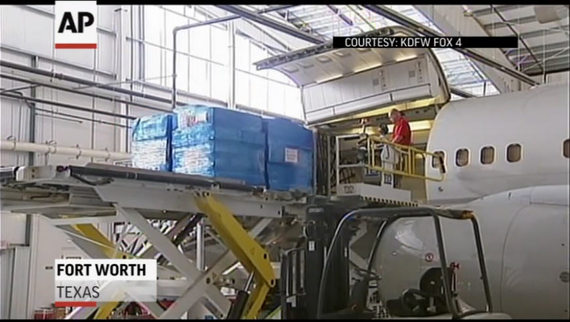 In the near-term, we must do all we can to protect doctors, nurses, and community health workers to contain this outbreak, reduce the number of additional human tragedies from a deadly virus and other health conditions, and help countries that have been moving forward in many ways from horrifically difficult recent pasts suffer avoid an even deeper setback than has occurred already. The long-term chronic problems are still fundamental -- things like stable supply chains for medical resources, and broader access to trainings and incentives for medical professionals to practice in their home countries -- as no one knows better than the countries affected. But it's important to act now, given the urgency of the humanitarian crisis and since the failure to do so will just make the chronic problems all the more severe. If purely humanitarian motives aren't enough, then we'd do well to heed the warning issued by WHO Director-General Dr. Margaret Chan: "Our collective health security depends on support for containment in support in these countries."