"Hip hop is Dead." -Nas
I know how he feels.
Generally speaking, with the exception of some truly stellar standouts, popular hip hop has become pretty homogenized over the past decade. The contrast of Public Enemy's "Fear Of A Black Planet" with virtually anything on the charts today is staggering. Maybe it's a sign of a lack of respect for the past... or a loss of a sense of history. Maybe it's a thirst for fame via the dollar. Or maybe it's simply that when they sing about money, cars, women and power, today's popular hip hop artists have more in common with young pop divas than they do with Grandmaster Flash or RUN D.M.C. My point is that it just feels like there's no depth to it.
But don't give up.
Give me The Roots How I Got Over.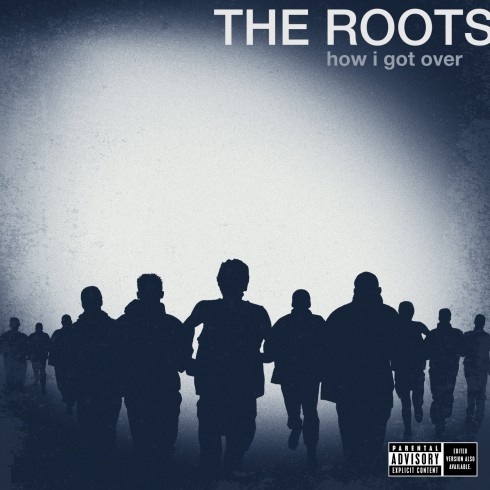 From the band who has consciously or otherwise taken on the job of "rescuing" hip hop's inner monologue for the past decade, comes their latest effort that is not only broad in it's lyrical scope, but monstrous in it's sound. With How I Got Over, The Roots prove once again that they are indeed the progressive saviors of hip hop and it's soul.
Life is fiction, competition and contradiction

Petty perceptions, window dressing for misdirection

Love is a lotto, I know I know you know what I know

Hope is so hollow, that's why winos follow the bottle

And people pressure, make death a hidden treasure

A girly pleasure, lonely language inside a letter

It's now or never, move it, move it, love it or lose it

'Fore it's recruited, then included inside the stupid

It's things of nature, paid a player and say your prayers

Naysayers, the haters, the major players, the beggars

You 'bout it, 'bout it, don't allow it to pow without it

Then those who doubt it, do or die to death are cowards

The world is yours, and the world we can't afford

So ignore the law; start a fire, then start a war

If you're sick and tired of your access denied

Free will died long before blogs and iPod

-

Radio Daze

In 2001, with the release of Jay-Z's "Unplugged" album, The Roots were anointed hip hop's unofficial "house band." Almost 10 years and five albums later, as they reprise that role on Late Night With Jimmy Fallon, they have translated the day-in-day-out rehearsal atmosphere of a late night TV show into a record that showcases an already tight ensemble. One that is as comfortable with itself as it is with accompanying it's many, musically-diverse guests.
As usual, ringleader ?uestlove makes sure that everything is driven by hip hop's dominant instrument: the drum. But unlike many current hip hop records, melody is always front and center. Whether it's John Legend crooning on "Doin' It Again," the sampling of Joanna Newsom's inimitable "The Book of Right On" on "Right On," or Dice Raw simply singing, "I feel different today, I don't know what else to say" on "Now Or Never," I double-dare you to listen to this record, and not find something that you're humming later.
The confidence of this music comes from the ultimate assurance of their craft. The Roots are modern masters, to be sure. Despite being based in New York, beholden to their current gig with Fallon, the Roots remain a Philly band, and that's important, because it brings to the table a different vibe. Suffering the same constant comparisons to NYC that other major American cities often receive, Philly tends to be a little more aware than most of even the smallest slights. It's famously passionate (and loveably obnoxious) sports fans take their city as seriously as a heart attack brought on by a Geno's (or Pat's) "wit whiz." So to, underestimating the city's influence on The Roots (and vice versa) is to discount their musicianship, the latest example of which is indeed their greatest.
Clocking in at 42 minutes of near perfect hip hop, How I Got Over, is this generation's "What's Going On," or today's "Innervisons". The Grammy Awards of 2011 will take place on February 13th at the Staples Center in Los Angeles. That will be the time and place to put The Roots latest and greatest where it belongs: at the top.
That's right, it's that good.
Listen now via their MySpace stream
Additional material provided by Russell Gustave Ochoa from Everybody Gets 15 Minutes