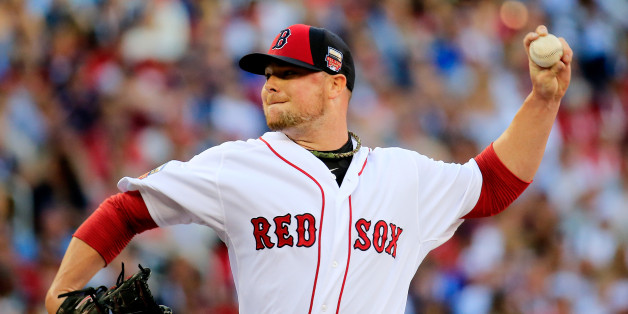 For years now, fans and pundits have been complaining that baseball teams have become too defensive and scared, leading to a decline in meaningful trades, especially at the trade deadline. How many times have you had your eyes peeled on your computer until 4 p.m. on the trade deadline just to realize nothing happened? Well, whatever we thought was plaguing front offices to make them so boring is apparently gone, because we got a whole lot of big time trades yesterday. I'll break down the biggest ones here.
The Trade: Jon Lester and Johnny Gomes to Oakland, Yoennis Céspedes and a compensatory draft pick to Boston
We've got to start off by discussing the clear blockbuster trade of the day. Most people would have thought the Oakland A's were basically finished making big deals after they traded three of their top prospects for Jeff Samardzija and Jason Hammel of the Cubs at the beginning of July. The trade was a clear win-now move by GM Billy Beane, giving up promising young players to bolster the rotation and make the first-place A's World Series favorites. However, Beane surprised everyone again by making another huge trade to further fortify the rotation, picking up the Red Sox's ace Jon Lester and platoon left-fielder Johnny Gomes. Once again, the A's had to give up a lot to make the move, trading All-Star and Home Run Derby champ Yoenis Céspedes to Boston along with what amounts to a first-round pick. These past couple years it's been very uncommon for a team in the hunt for a pennant to give up a starting player in an in-season trade, generally they only surrender prospects and bench players. Trading your biggest power hitter is a far departure from the norm.
But this trade should end up being a huge win-win. Despite all of his talent, Céspedes's production has been disappointing this year and can most likely be replicated by the platoon of Johnny Gomes and new acquisition Sam Fuld. Even though Lester is a free agent at the end of the season, he will be Oakland's number one or two starter and hugely improve the A's three-man playoff rotation. They can now compete with the Tigers three-headed beast of Justin Verlander, Max Scherzer, and newly acquired David Price.
On the other hand, Boston acquires an insanely talented hitter in Céspedes whose numbers could see a huge boost playing with Fenway's short confines and the hitter friendly parks of the AL East. You always have to gamble on talent, and Boston gets a whole lot of that here. All Boston had to give up was ten or so starts by a pitcher who wasn't going to make a difference in their season anyways and one more free agent to be in Gomes. The Red Sox are still hopeful that they can sign Lester in the offseason, and if they succeed in signing him this trade will look like a HUGE win for the Red Sox. Even if neither teams resigns Lester after the season, this trade is one of the few true blockbuster win-wins.
The Trade: David Price to Detroit, Drew Smyly, Nick Franklin, and Willy Adames to the Rays, Austin Jackson to the Mariners
It's pretty unbelievable to have two trades with players of this caliber in the same year, let alone the same day. 2012 AL Cy Young winner David Price joins 2013 AL Cy Young Winner Max Scherzer and 2011AL Cy Young Winner Justin Verlander to form one of the scariest rotations in baseball history. Verlander's skills have diminished since his Cy Young years but those losses might be made up by the strength of the fourth and fifth guys in the rotation, Aníbal Sánchez and Rick Porcello, both of whom have sub 4 ERAs. If Verlander continues to struggle, it's conceivable they'll do what the Giants did two years ago with Lincecum and put Verlander in the bullpen. Even though the Tigers had to give up still valuable center fielder Austin Jackson to get the deal done, they're clear winners here. The Mariners also did great in this trade, picking up Jackson to man their weak spot in center, and only giving up the very light-hitting infielder Nick Franklin. It's hard to say the Rays were losers, they picked up a good young pitcher in Drew Smiley and got top Tigers prospect Willy Adames as well, but I consider it a disappointing haul for a former Cy Young winner. I think it's hard to justify giving up the best player in a deal and letting the second best player go to another team at the same time. Unless Adames becomes an impact player very soon, I'll maintain that the Rays should have rolled the dice on a playoff spot and traded Price in the offseason if things didn't break their way. This haul simply pales in comparison to what other teams got for dealing their aces.
The Trade: John Lackey to St. Louis, Jon Kelly and Allen Craig to Boston
The Cardinals became the last team to pick up one of Boston's very in-demand starters. Lackey, who's had a personal resurgence over the past two years, is making his way to St. Louis after reportedly demanding a trade once Lester was dealt away. The Cardinals were smart to bring in a veteran to help a rotation that has been devastated by injury. Lackey tossed the last game of last year's World Series to silence the Cardinals, and I do believe that had an effect on St. Louis's decision to deal valuable players away for him. All the contenders this year have absolutely stacked rotations and the Cardinals didn't want to put themselves at a disadvantage by coming in with some patchwork starting pitching. They also get to have Lackey next year at an insanely low value ($500,000) due to Lackey's Tommy John surgery a few years back. In Boston, they pick up two players who will have an immediate impact in exchange for a pitcher who didn't want to be there anyways. The verdict: Another win-win but on a much smaller scale than the Lester-Cespedes deal.
The Trade: Asdrúbal Cabrera to D.C, Zach Walters to Cleveland
Washington is betting on the currently underperforming Cabrera to switch from shortstop to second base and fix their primary hole. Danny Espinosa has clearly not been the answer for the Nationals, and replacing him with a former All-Star in Cabrera is a marked upgrade even if he doesn't quite regain his previous form. The Indians pick up Cabrera's now or future replacement in Zach Walters, a recent call-up from Triple-A. Walters has struggled in his first taste of the big leagues but did some very nice work while in the minors. He can hit for power which is always valuable among middle infielders. Considering that Cabrera was on a relatively team-friendly contract, I don't love the deal for the Indians but I can live with it. The Nationals come out on the upper hand.
The Trade: Jarred Cosart, Kike Hernandez, and Austin Wates to Miami, Colin Moran, Jake Marisnick, and Francis Martes to Houston
I love everything Miami has done this year. They didn't go into this year expecting all that much with a young team, but everyone stepped up this season and even following phenom Jose Fernandez's heart-breaking early season inure, the Marlins have basically been a .500 team on the rise. Now realizing they have the talent to compete in not so long, they acquired one young, talented starting pitcher on a great deal and swapped mid-level prospects, highlighted by third baseman Colin Moran. Moran has a great glove and arm and showed a good bat in limited minor-league play. He was the sixth pick in last year's draft so it is a bit surprising to see him traded this early on in his career. Now he's just another prize in Houston's highly touted farm system, so we'll see what happens. Everyone involved is too unproven to call anyone a big loser or winner yet, but I like the strategy on Miami's part.
The Trade: Stephen Drew to Yankees, Kelly Johnson to Boston
My jaw was on the floor when I saw the Sox and Yankees made a deal, but you'll rarely see a trade with less consequences than this one. The Red Sox dump some salary and open up the depth chart so the young un's (Brock Holt, Xander Bogaerts, and Mookie Betts) can get more playing time in an already lost season. Johnson became completely disposable to the Yankees after picking up Chase Headley earlier in the month so they replace him with a player at a more dire position of need.
The Trade: Andrew Miller to Baltimore, Eduardo Rodriguez to Boston
The last move of the day for the Red Sox just brought in more value. They shed salary by trading away a soon to be free agent for the Oriole's number three overall prospect, Eduardo Rodriguez. Rodriguez has struggled in the minors this year, but remains highly valued by scouts and front-office people. The Orioles probably made a good play here, shoring up a weak bullpen to help themselves hold on to first place in the AL East. I would also like to think that the Red Sox were trying to make sure the Yankees won't make the playoffs by helping out the first place team. The rivalry lives on.