When I graduated from Brown back in 1996, I had a general desire to be smart and accomplished and successful, whatever that meant. I went to law school and became a corporate attorney in New York.
My choice was completely typical. If you graduated from a national university in the past twenty years, there's an almost even chance that you became a banker, consultant, or lawyer and moved to New York, D.C., San Francisco, or Boston. Here are the most recent numbers on where graduates go, gathered from the schools themselves and publicly available sources: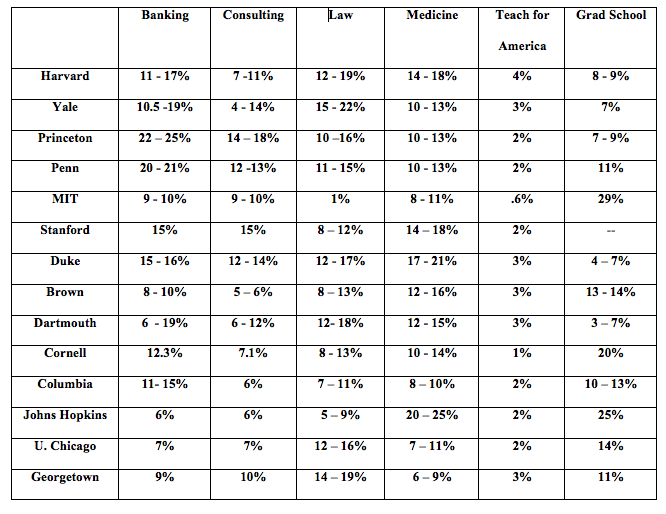 Within a few months of joining the law firm, I figured out I was in the wrong place. I left Davis Polk in less than a year to co-found a dot-com company in 2000. It was extraordinarily difficult and my timing wasn't good. My company failed spectacularly when the bubble burst. But I recovered. I worked at a mobile software company and a health care software company over the next five years, eventually becoming the CEO of a test prep company in 2006.
I spent five years running Manhattan GMAT helping young people get into business school. I taught our corporate classes at Goldman Sachs, McKinsey, JP Morgan, Morgan Stanley, Deloitte, and hundreds of individual students over the years. Some were exactly where they wanted to be. But there were an equal number of young people who reminded me of myself at the law firm. They wondered why they didn't like their jobs more. They sought a higher sense of engagement with their work and their career. Sometimes, they would put words to what they were looking for: "Something entrepreneurial," or "I'd like to be really excited about something."
By the time my company was acquired by Kaplan/the Washington Post in 2009, I knew a few things. I knew that there were promising startups and growth companies all over the country that needed talent to expand and thrive. I knew first-hand that there was an army of talented, ambitious, somewhat directionless young people who'd love to work for a startup. And I knew that if we could connect these two groups, we'd help everyone: the individuals, the companies, cities and communities around the country, the economy, and society as a whole.
If we send our top people year after year to financial services, management consulting and law school, we'll wind up with a certain state of affairs that we can see right now. If we send them to startups in Detroit, New Orleans, Providence, Cincinnati, Las Vegas, Baltimore, Cleveland, Philadelphia, and other cities around the country we'll get something else. Our economy and our country would be better off. Even allowing for a high proportion of failures, we'd create hundreds of new companies and tens of thousands of new jobs. Our communities' tax bases would go up. We'd restore our culture of achievement to include value creation, risk and reward and the common good. If we solve this one problem we solve many other problems at the same time.
Imagine if the same proportion of talent that currently flows to professional services went instead to startups and early-stage growth companies around the country. How long would that take to meaningfully impact job growth and innovation?
We've got a problem right now - our smart people are doing the wrong things. If we get them to do the right things it will transform the country.
Venture for America is a new organization that recruits top college graduates who aspire to be entrepreneurs and places them in startups around the country for 2 years. Our goal is to help create 100,000 new U.S. jobs by helping start-up companies thrive and succeed and training a critical mass of our top graduates to themselves become business builders and job creators.
We are proud to be welcoming 65 Fellows into the Class of 2013 on Thursday, May 30th at IAC HQ in New York City. Jeff Weiner, CEO of LinkedIn, and Arianna Huffington will be the featured speakers. Please visit www.ventureforamerica.org if you'd like to attend this event or find out more about VFA.
And if you'd like more detail regarding the above stats, "Smart People Should Build Things - Where our Talent is Going and How We Can Change It" will be published by Harper Collins next January.
Our young people desperately want the chance to participate in and lead our nation's economic and cultural revival. They're up for the challenges that they're going to inherit. It only remains for us to present the path to address them.