Elvis Presley had a twin brother that was stillborn 35 minutes after Elvis' arrival onto the scene. Chew on that. Not the baby. The INFORMATION.
Apropos of this tragedy, there's a comedy show next weekend that poses the questions, 'What if Elvis' twin had lived? What if there were TWO Elvises?'
There are. TWO. In Denver.
Unrelated Fraternal Twin Comedy Elvii.
Not E-V-I-L. E-L-V-I-I: multiple Elvis units. Like rods and hectares but sexier. The fraternal element signifies that they don't look like each other and the unrelated part means they're not twins at all. I don't want to explain all the jokes. I am crazy busy right now.
What I'm trying to say is in the Memphis of current comedy known as Denver, we're brewing some surefire, full term pregnancy, potentially iconic baby geniuses that have grown into adults (by age and legally) and they are FUNNY AS HELL.
I'm talking about Denver-based comedians Andrew Orvedahl and Adam Cayton-Holland.*
Adam Cayton-Holland and Andrew Orvedahl are two thirds of Denver's own hyper-literate comedy Triclops** The Grawlix (with Ben Roy) and one half of the comedy show The Grapes of Rad (also with Ben Roy and little old ME.)
In addition to being one of Comedyworks biggest local draws, Cayton-Holland, an alumnus of East High School, has ascended into comedy's essential hipster-sphere with acclaim ranging from the prestigious New Faces portion of the Montreal Just For Laughs Comedy Festival to a recent opening gig at Carnegie Hall in NYC.
Orvedahl, The Grawlix buffoonster general, touts a Masters Degree in idiocy from the fixed gear bike ridden streets. He's spent parts of recent months touring with TJ Miller, performing with The Grawlix at the newly minted L.A. Riot Comedy Festival and he curates The Narrators, a monthly storytelling show that features tales from local comics, actors, authors and anyone else Andrew meets at one of thre minimalist coffee shops Andrew frequents on his bicycle.
I had the chance, like I do probably 2.5 out of seven days a week when we're just sitting around or out at shows, to pick these Denver dynamo's brains. So, while this Q and A is basically a casual hang out, let's gnaw on the gluten-free, farm-raised meaty questions together.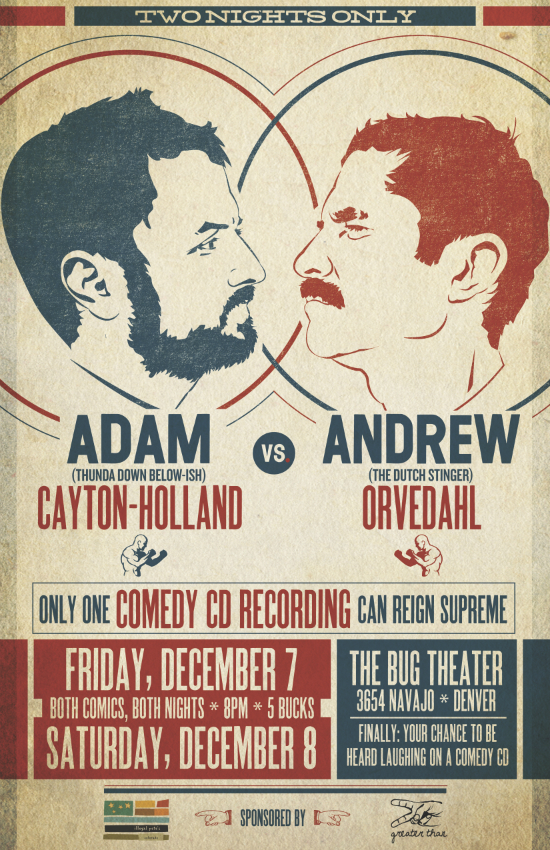 Q: Gentlemen, one of you is a smug bulldog and the other is a man who just goes through life making noises. It's just jowels and vowels all day for you. Tell me about that.
Orvedahl: Andy Juett and his infamous 'mescaline interviews.' I can only infer that I am the man making noises. It's pretty great. Well, just for kid's birthday parties.
ACH: If I were a dog, I wouldn't be a bulldog. I'd be a purebred Chesapeake Bay Retriever. They're just the first uniquely American dog. NO BIG DEAL.

Q: How brave is it for you, this deep in your comedy careers to not have recorded an album?
Orvedahl: We both actually have recorded albums before, they were just very low-budget, 'amateurish' affairs, and by that I mean they were both full of ugly people having terrible sex on handheld video.
ACH: I recorded a live comedy DVD after only four years of doing comedy. Nobody should record anything after only four years of doing comedy. But that's what makes young comics so darn loveable, their hubris.

Q: Why record at The Bug Theatre?
Orvedahl: The Bug Theater has been awesome for our show The Grawlix, so it was a natural choice to take our album recording to 'home base' if you will. Alex has always been so supportive and flexible. He's like the dad I never knew I could have wanted.
ACH: Alex has been recording all of our Grawlix shows. After each show he gives us a CD - maybe we'll compile them into a download or something some day - and I always liked the quality of the sound. And that's just with very minimal effort. With a professional recording guy coming into do the shows, I'm sure they're really going to sound great.

Q: If Bobcat Goldthwaite, Dan Marino and Kanye West made a record...would you guys like to come over and play ping pong in my basement? I also have air hockey. And Pop-A-Shot. Like a land developer from 1998.
Orvedahl: Is this your house in Parker? Of course you have all that shit, you're set up for the apocalypse. When the apocalypse goes down I'm going straight to Case Del Juett for some air hockey and neighbor-killing.
ACH: I don't go to the suburbs. They're depressing and everyone tries to serve you processed ham.

Q: You are two of my favorite comics and two of my favorite people for different reasons. Why aren't we in Rotary together?
Orvedahl: What is Rotary, that new gay club down on Leetsdale? Let's go.
ACH: I tore my rotator cuff when I was 15 and that's literally the only reason I'm not pitching for the Yankees right now. Is that what this questions meant?

Q: 'Dabbling in drugs.' What's the deal?
Orvedahl: I don't do any drugs unless you count Advil and alcohol drugs in which case I do so many drugs.
ACH: Used to do a lot of drugs. Now I don't really do any drugs. But I drink a lot. But alcohol is not a drug. That's why you can't get addicted to it.

Q: If I were to just leave a TV/VCR combo, maybe a beta, at your house with some cool old shows me and my brother made when we were 13 and 9 on a camcorder, would you consider putting up some marketing money to help it go straight up viral?
Orvedahl: The Juett, always on the hunt for scrilla. Next time number your questions, I'm losing my place in your maze of weirdness.
ACH: Seriously. This is your attempt to get a column with HuffPo? Hope they have a lot of paranoid schizophrenic readers.

Q: Orvedahl, I'm comin' at you next. Sit tight. Adam, you have an immovable beard. Charmer Armor of the first degree. Do you worry that you're cutting out a whole chunk of girls by keeping the beard or do you sort of justify it by knowing diehard beard chasers are so intense that you're really right in your wheelhouse when the scruff dragon comes to nest on beard mountain?
Orvedahl: I'm sorry, that was brusque. I know that was Adam's question but I just wanted to apologize.
ACH: I actually trimmed my beard the other day. I like to let it get near-feral, then shave it down to George Michael "Faith" length. Hollywood stubble. Very Mark Sanchez. Back when he had any potential as a QB. Then myself and society watch it grow again and we all sit back and wonder when, when will he shave it next. Do women like it? I hadn't noticed. Too busy digging out from underneath this MOUNTAIN OF PUSSY. (Coughs, allows single tear to roll down cheek, goes back to watching the Food Network, alone).

Q: Andrew, you are a walking 80/20 rule. '80' being the rest of you and '20' being the mustache. You've never looked healthier. Does 'post-divorce and 94 pounds' feel as good as it looks?
Orvedahl: Hahaha. This one made me laugh. I guess I can take your jabs in stride, considering I'm the walking, f*ckable embodiment of 'Quigley Down Under'.
ACH: I'd f*ck him.

Q: Adam, you're so smart. You're in the middle of working on a pilot from a burgeoning studio with some great people. Your tweets are concision incarnate. We see it. How is Andrew Orvedahl on this bill with you? How does he hang with your stuff?
Orvedahl: Ask Adam who has more followers and why he can't overcome me despite being on network television and performing at Montreal, JUETT.
ACH: I was going to praise Orvedahl hear but after hearing his answer, I'll guess I'll just tell him to have his people talk to my people. Oh wait, he doesn't have any people. BOOM.

Q: Andrew, what is your idea of a perfect spa day? Start to finish. Details.
Orvedahl: I go straight to the mud bath and pass out with a snorkel on until Felipe, my favorite attendant, comes to wake me to tell me that my towncar has been idling too long out front.
Q: If Fonzi were a comic, you'd be saying "Ayyyyy," a lot. No question actually. I just wanted to tell you your like Fonzi.
Orvedahl: Thanks, I'll take your no question to tell you how weird all the other f*cking questions are. Can I cuss in here?
Q: Andy, you cry in public. Brave. When does it get better for you?
Orvedahl: I actually have cried a couple times at my Narrators show but I don't know if that's what you're referencing. Now things are awkward...
Q: Andrew has kids. Adam doesn't. If the technology exists in the future, Andrew, would you considered donating one of your testicles to Adam if he cannot reproduce? Jury's still out on his swimmers.
Orvedahl: I've actually just cut out the middle man and I've taken to having unprotected sex with everyone Adam has had sex with. I already have two kids, both named AIDS who aren't even kids!
ACH: Sorry, I was asleep. What did I miss?!

Q: What is your favorite thing about each other?
Orvedahl: Until this AIDS thing? Adam's bloodstream. But if I can sniff serious for a sext, Adam has always been one of my favorite comics in Denver. When I left for Los Angeles, I drunkenly pulled him aside and told him he was my favorite. Sorry, everybody else.
ACH: Andy is a joke machine. Constantly has new material. It's amazing and impressive. He's very comfortable in his own skin and is exactly himself on stage. That's all too rare. One of my absolute favorites.

Q: If you could make each other read one book, what would it be? Elaborate.
Orvedahl: I have lent and recommended books to Adam and he has enjoyed them. To date he has YET to return the favors. But if I could make him read one more book it would be 'How To Share Books With Your Friends,' by Conway P. Jinnillnick.
ACH: Andrew, read Sometimes A Great Notion, by Ken Kesey. It's phenomenal.

Q: When your album comes out, will I be thanked in the liner notes?
Orvedahl: Yes.
ACH: No.

Q: Tennis and blues. Are they dead?
Orvedahl: May as well be to me! BADMINTON/METAL 4 LIFE
ACH: Not after America gets a load of my new hit single, "Tennis Blues."
*NOTE: The OCD in Cayton-Holland is so thick, that when he reads Orvedahl's name first in the Huffington Post article about the fact that they're recording their first album together Friday, December 7 and Saturday, December 8th at The Bug Theatre in the Highlands he'll bristle because that is out of alphabetical order. He won't be mad that Orvedahl was mentioned first. He's not a dick.
** Triclops from He-Man specifically.
Adam Cayton-Holland and Andrew Orvedahl are recording their respective first live albums this Friday and Saturday (December 7th and 8th) at The Bug Theatre at 8 p.m. both nights. Each show will feature both comics. Tickets are $5 at the door and patrons are encouraged to arrive early.
Follow Adam Cayton-Holland on Twitter @caytonholland and follow Andrew Orvedahl on Twitters @theorvedahl.