There's an extraordinary amount of richly conceived theater available currently at some of the city's institutional theaters, particularly the newly reopened Atlantic Theater (now very comfortable and sporting a terrific lower-level lounge) and Playwrights Horizons. The shows are by some people whose names are pretty familiar to theatergoers, including Oscar-winner John Patrick Shanley and Academy Award nominee Kenneth Lonergan, and some whose names are not, like Gina Gionfriddo (although diehard Law and Order fans may recognize her name from that show's credits).
To help you sort out what's what, here are some brief thoughts on a trio of recently opened shows, starting with Gionfriddo's Rapture, Blister, Burn at Playwrights Horizons. The show's title may sound as if it's an extension of one of the plots that she might have developed for television's long-running franchise, but it's anything but. Gionfriddo's play transports audiences to a college town in New England, specifically the hometown of bestselling author Catherine (Amy Brenneman), who has returned to be with her elderly, but hardly frail, mom, Alice (Beth Dixon).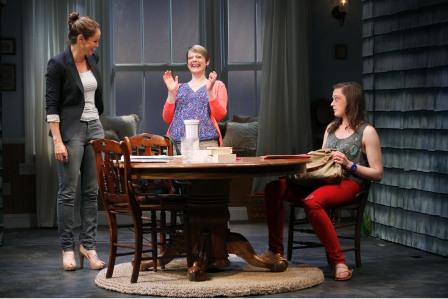 Amy Brenneman, Kellie Overbey and Virginia Kull
in Rapture, Blister, Burn
(Photo: Carol Rosegg)
Catherine's return rekindles an old romance with Don (Lee Tergesen), who's gotten her a job at the school where he also works and who's very unhappily married to Gwen (Kellie Overbey), the woman who "stole" Don from Catherine during their days in school together. Gwen's not entirely displeased about Catherine's return; during a late night conversation with a drunk Catherine, the two women even joked about trading places. Stay-at-home mom Gwen wouldn't mind having some of the freedom that Catherine enjoys while Catherine, in her early 40s, is beginning to wonder if the choices she's made for career over family have all been the right ones. And as debates surge about Betty Friedan's and Phyllis Schlafly's legacies, the women attempt to sort out their respective conundrums, both with regard to their lives and their relationship with Don.
Gionfriddo's script is equal parts zinging humor and academic discourse about feminism, both historical and contemporary, and it proves to be an exceedingly funny, thought-provoking, and moving show, impeccably directed by Peter DuBois and boasting a quintet -- the production also features Virginia Kull, who plays the 21-year-old who's both on the sidelines and in the middle of the action -- of pitch-perfect performances.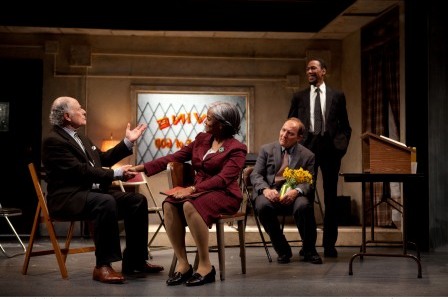 Bob Dishy, Tonya Pinkins, Zach Grenier
and Ron Cephas Jones in Storefront Church.
(Photo: Kevin Thomas Garcia)
You'll find an equally stunning cast on stage at the Atlantic, where Shanley's Storefront Church is playing. This one's the third play in his series that examines the relationship of church and state, which began with the Pulitzer Prize-winning Doubt, and this one centers on the fallout from a decision that Jessie Cortez (sublimely played by Tonya Pinkins) made to take a second mortgage on her home in the Bronx: a loan that allowed an itinerant preacher (imbued with tortured self-doubt by Ron Cephas Jones) to convert her first floor into the space where he would conduct services.
His inability (or perhaps refusal) to open up his self-built sanctuary, though, has meant that collection baskets haven't been passed, and she's gotten no rent on the space, leaving her home in foreclosure. This crisis ends up involving not only the steely loan officer (amusingly rendered by Zach Grenier), who stalwartly refuses to grant Jessie any sort of extension, despite the pleas of Jessie's husband (Bob Dishy, in fine comic form), but also the Bronx Borough president (Giancarlo Esposito in a remarkably fierce turn), and the smarmy CEO (Jordan Lage) of the bank itself.
Shanley's not only looking at the collision of faith and government in this one, but also a host of other issues, that range from private development of public spaces to responsibilities of gift-giving, both in the literal and metaphorical sense. The play even manages to humorously invoke the medieval notion of sanctuary, particularly as epitomized by Victor Hugo's classic The Hunchback of Notre Dame for damaged souls.
It's a rich mix of ideas, but ultimately, Shanley's ambitions for the piece -- which also includes a pair of silently performed interludes -- prove more than a little unwieldy, particularly given the relative slightness of the play's central conflict. But thanks to the fine ensemble, theatergoers may find themselves forgiving the piece for some of its transgressions.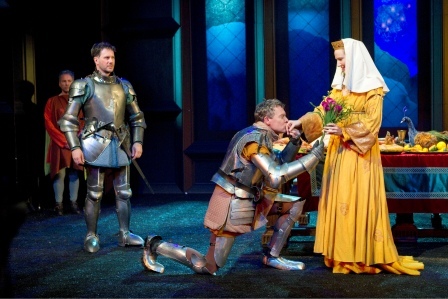 Josh Hamilton, Tate Donovan, and Halley Feiffer
in Medieval Play
(Photo: Joan Marcus)
No one probably ever really wondered what might have happened if Bertolt Brecht has tried his hand at writing a Monty Python-like comedy set in the Middle Ages, but should anyone have ever pondered the question, Lonergan's rambunctious Medieval Play provides a spirited answer, charting the bumbling exploits of a pair of knights (played with utter goofiness and conviction by Josh Hamilton and Tate Donovan), who are buffeted by the 100 Years War, Papal politics, and their own crises of faith.
Longeran's backward-looking tapestry (that, thanks to the gorgeous work of scenic designer Walt Spangler and costume designer Michael Krass, looks a bit like a bit of antiquity that's sprung to life) actually has a lot in common with our own time, and that's part of the fun of the whole enterprise. You never really know when a bit of sheer lunacy will slap you in the face with keen insight (watching dueling Popes, both of whom theoretically have their flock's best interests at heart, certainly reminds theatergoers of warring Democrats and Republicans). Unfortunately, there are also long sections of the show where Lonergan stretches his comedy to not just the point of breaking, but the point of annoyance, such as a dinner party in which the hostess attempts to tutor her guests in the then-standard rules of etiquette.
Hamilton and Donovan are admirably supported by the work of their castmates, particularly Heather Burns, who makes the patron saint of Italy, Catherine of Siena, one of the most wickedly snarky creatures you're likely to encounter on stage for a long time to come.