A fish-out-of-water literature professor finds himself among a quartet of curious women in Sam Shepard's frustratingly enigmatic and yet, fascinatingly dense new play Heartless, playing at the Pershing Square Center. Boasting a top-notch cast that tears into the work with utter fearlessness, this show, directed by Daniel Aukin, echoes everything from Greek myth to Tennessee Williams' loopier plays. And while it takes some patience to journey with Shepard into this dyspeptically toxic home overlooking the San Fernando Valley, there are many rewards to be had from your forbearance.
Scenic designer Eugene Lee's spare scenic design -- visible as soon as you walk into the Signature's Irene Diamond Theatre -- sets the bleak tone for the piece. A black ramp -- jagged at the top that stretches from the center of the stage to almost its back wall -- is flanked by two palm trees that seem to have simply wilted in the sun. The only other items on stage are two mismatched unmade beds and a patio table and chairs that, like the trees, seem to have seen better days.
And, after a bloodcurdling offstage scream, audiences meet Roscoe (Gary Cole), a 65-year-old Cervantes scholar, who's just ditched his wife and adult children. He's taken up with Sally (Julianne Nicholson), and she's brought him to her familial home, which is also inhabited by her embittered sister, Lucy (Jenny Bacon), and their wheelchair-bound mother, Mabel (Lois Smith), as well as Elizabeth (Betsy Gilpin), the fastidiously kept -- and ostensibly mute -- nurse who tends to her.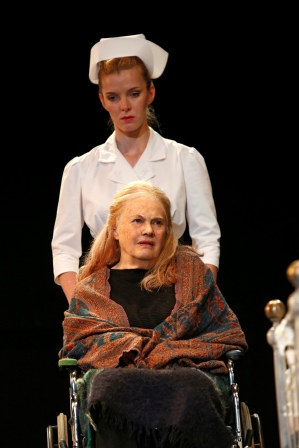 Betsy Gilipin and Lois Smith in Heartless
(Photo © Joan Marcus)
And Roscoe, who's hoping to run away from his demons in Sally's arms, he finds that he's simply stumbled into a situation where the troubles are as great -- if not greater -- than anything he might be dealing with himself.
Sally, for instance, is haunted by the knowledge that she was revived from the dead after a heart transplant she received as a child. But, the scar the surgery left isn't the only mark the incident has left on her. She's equally bedeviled by the knowledge that she's living because she received the heart of a brutally murdered preteen.
As for Mabel, her condition stems from an accident years ago, as well. After being abandoned by her husband, she found herself wandering in the woods near a drive-in movie, and as she became intoxicated by the images of James Dean (with whom Smith appeared as Anne in the classic East of Eden) that she saw from the vantage of the top a of tree, the branch on which she was perched gave way, crippling her.
And as for nurse Elizabeth, well, her problems are not just the fact that she's belittled and badgered by Mabel. As the play progresses, audiences begin to sense that she's not just there to tend to her charge -- if she's there at all. Shepard hints at the fact that she might be a representation of the adult into which the murdered child who proved to be Sally's salvation might have grown.
What's troubling about this is the rapidity with which Roscoe's sucked into the delusion suffered by Sally, Mabel and Lucy. It's a little difficult to reconcile the interpretation that Elizabeth's not real when the second act opens with Roscoe and Elizabeth going at it in one of the beds center stage.
And yet, in this skewed universe, maybe such things could happen. Everything else is so heightened -- from the oblique references to the myths of Iphigenia and Medea that pepper the script to the bizarre song that Sally and Elizabeth croon to the way in which Sally consumes an entire jelly donut in one bite rather than allowing her sister to enjoy it.
Given how quickly the play twists from a kind of heightened naturalism into something that's theatrically surreal, the performers' work becomes even more impressive. When Nicholson shoves the donut into her mouth with utter spite, one feels that this is the sort of battle that Sally and Lucy have been having since childhood. Similarly, when Smith's steely (and yet somehow warm) Mabel has at either of her daughters, there's a similar sense of a firmly grounded family history at play.
Oddly, the sense that these three have been living like this for decades only keeps theatergoers -- and Gary Cole's deftly inept and superlatively robust Roscoe, and Gilpin's specter-like Elizabeth -- more off-kilter, making Heartless the sort of theatergoing experience that exasperates and then lingers in the days following the final curtain.