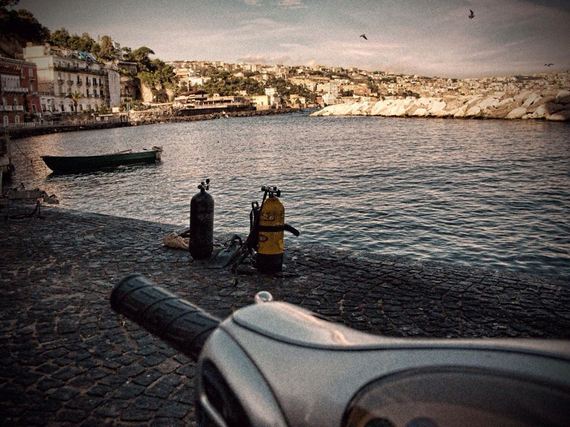 photo courtesy of Gianluca Cecere
A few days ago, I was listening to an Italian friend of mine who was talking about one of his projects and, every now and then, he kept saying "if". If this happens, if I will do that, if things work out: a long dissertation where the "if" word was like a refrain. At one point, I stopped him and I said: "Why don't you start saying when instead of if?" There was a silence. He was not talking and I was waiting. Sometimes we need to shut up, to let things take shape and meaning. "Wow - he eventually said - that is something powerful. Saying "when" instead of "if" changes completely the vision and the feeling that you have towards your dreams and expectations". I smiled.

When I arrived in New York my life had only room for "if" and "I can't". One day my dear friend Ginny gave me a serious look and, with her endless patience, said "you have to stop being so Italian, you are in New York now, try to learn from the city". It was like I had my bat Mitzvah, right there and then. I felt grown up and mature all of a sudden, ready to face that feeling that was holding me back and knocking me down every time I was trying to thrive.

Being Italian is beautiful. You grow up in the middle of history, culture, philosophy, good food, tradition and - being even luckier - I spent my years back there, between Salerno, a precious city just one step away from the magnificent Amalfi coast, and Naples, a city that each human being should "live" in once in a life time. Naples is "one of a kind" and it was the place where my soul was shaped, my eyes started to "see" and my ears to "hear". Sometimes, when I miss it, I close my eyes and I can still feel the breeze on my face while driving my Vespa from Posillipo to Riviera di Chiaja or while having breakfast, all year long, on my balcony facing Capri. And I can still feel, deep inside, the peaceful joy and the endless inspiration that the Chiostro of Santa Chiara gave to me. Naples was my lover, my youth lover, before to find the partner of my life: New York.

But being Italian means also to grow up in a country broken and hopeless, where corruption and a total lack of meritocracy, together with one of the worst bureaucratic system in the whole world, kill aspirations, dreams and projects. We have 43 percent of unemployment among young people and 52.9 percent of under 25 has a precarious job that in Italy basically means working underpaid with no protections or respect of the law. The situation is almost out of control and the fact that we changed, in the last six years, four times the Prime Minister while here, in the United States, there was the same President helps to understand the gigantic crisis we are living in. Last week in Detroit, the Italian Prime Minister, Matteo Renzi, visited Chrysler's factory, an example of successful "rescue" due to the quick and bold intervention of President Obama, to the vision of the CEO, Sergio Marchionne and also, not less important, to the brave and fierce attitude of the 15,000 workers who accepted to work for much less money but with the same competence. During the Q/A with the press, I asked to my Prime Minister why he doesn't put meritocracy in his agenda as a necessary "tool" to give back hope to young people and to make sure that the best "brains" get to the top positions, something that now doesn't happen. Matteo Renzi was pretty unhappy with my question and blamed me because "living so far away doesn't allow me to know what he does". A lame objection, I guess.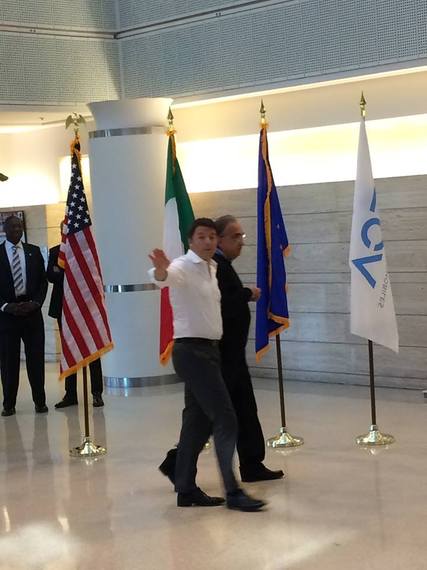 photo Angela Vitaliano
How hard it can it be to understand that if people are hopeless the country is hopeless as well? How hard can it be to understand that, when you have a dream, a project, a plan, an idea and nobody believes in you, nobody is there to listen to you, nobody is willing to invest in that dream, people just stop dreaming? How hard is to understand that if someone who studies hard, plays by the rules and is smart, intelligent and honest will always have less chances if he/she doesn't know "someone important", people will stop studying, learning and putting their heart in their activities? And let me add this: another big issue is that people just blame the government, but they rarely roll up their sleeves to try and change the situation. Yes, we had for too many years Silvio Berlusconi as our Prime Minister and we will have to "pay" the consequences still for a long time but who did elect him? We did. Someway, Matteo Renzi, even if he was not appointed after an election, represents the wish of that part of the country to still fight and react. But he is losing ground and not only because there are "mean journalists" around, that is really the lamest excuse that a political leader can use. Mostly because he lost very quickly his capability to make Italian people dream and believe.

Living in NY, I learnt to use "when' instead of "if" and every time my fellow Americans tell me "here is the same", I smile. You are generous and too spoiled at the same time, because you don't have a clue of how bad it is in Italy. You taught me how to think in a "when" tense and I will be forever grateful to you.