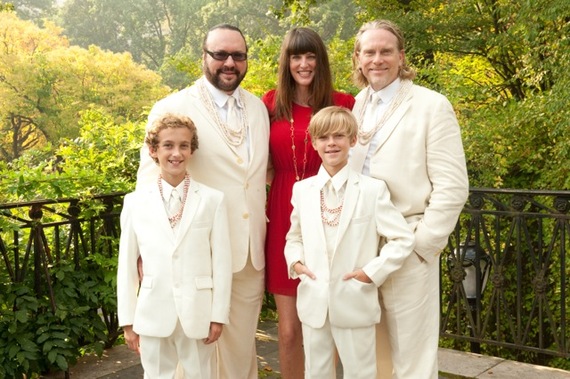 Desmond, Angela, Curtis, Roman (front left) and Nyro (front right) at Central Park Wedding in October 2013
On a meditation retreat 13 years ago with Deepak Chopra and 500 other people in India, I hung out with two amazing gay men, Curtis Shaw and his partner -- legendary songwriter Desmond Child. I had met Curtis in Nashville previously but was meeting Desmond for the first time. We spent just about every waking moment together during our adventure there. One night over hot chai teas, they shared their desire to start a family and one day eventually get married.
That very night I had a dream, which came through like a vision, that I was pregnant with their baby. It all seemed so real. I was dressed all in white and I kept saying over and over again, "I'll carry your baby, I'll carry your baby." I awoke in a cold sweat frantically reaching for my stomach for proof of my condition. I was not pregnant with their child, but 13 months later I would be... with twin boys, in fact. I felt honored to be able to help my friends create the family they had so longed for.
When Roman and Nyro were six months old, their fathers threw a huge, over-the-top blessing ceremony for the boys, and family and friends from all over the world attended. Curtis and Desmond decided to surprise everyone and exchange vows. It was a beautiful ceremony, very moving and emotional. However, it would be just that... a private celebration and recognition... because in the eyes of the government, they could not legally marry. The legal privileges and rights that straight couples benefit from through marriage would not be theirs.
Then in 2004, when Roman and Nyro were two, there was a window of opportunity for gays and lesbians to get married legally in San Francisco. Desmond and Curtis drove from Los Angeles to San Francisco with the twins to make their relationship "legal." After arriving at the courthouse, the guys were notified that they could no longer apply for a marriage license and couldn't get married after all. Through a friend, Desmond, Curtis and the boys were able to meet with the Mayor himself. He apologized and said that due to political pressures, San Francisco officials could no longer perform marriages for gay and lesbian people. My friends were devastated; they had traveled all that way with their young family in hopes of getting married and had been turned away.
And then in 2008, there was that Prop 8 effort here in California, a law nicknamed "Prop Hate." The Proposition (which passed) and the associated State Constitutional Amendment were another attempt to keep gay and lesbian people from getting married, and it was completely based on fear and falsities.
In sharp contrast, since 2001, I've had a front row seat in watching these two courageous men embrace parenthood and redefine what it means to be a loving family. Roman and Nyro, our twins, are growing up with so much love in their lives from their dads, grandparents, god-parents and circle of family and friends who adore them. The Childs were even given the "Family of the Year Award" from the American Fertility Association in 2011. So why oh why should they be denied one of the most basic human rights of all, to freely love the one you love and marry that person if you so desire? What's the BIG DEAL?
Fortunately, our fight for marriage equality has not been in vain. In June 2013, the U.S. Supreme Court passed its ruling, and the Defense of Marriage Act (DOMA) was overturned. California's Prop 8 also fell, with the Court's decision on a technicality. Hallalelujiah! With these rulings, the "on again-off again" pendulum was now swinging back to "on-again." Desmond and Curtis decided to seize the moment and within weeks planned an incredible wedding. Under a beautiful blue sky on a warm October morning in Central Park, they were legally married... finally. Their twin boys, now young men, were their best men and family and friends from all over the world attended, just as they had all done the first time around.
You know that famous old saying, "Three times is a charm"? Well, in this case, it most definitely was. As I look back at 2013, the marriage of Desmond and Curtis is definitely a major milestone to celebrate.
As a surrogate mother for Desmond Child and his partner Curtis, Angela Whittaker gave birth to twin boys, Roman and Nyro, in 2002. Over the years, she has been an active part in the lives of the boys and their fathers. The journey of fatherhood for Desmond and Curtis, and the extraordinary connection they've made with Angela are the subjects of the award-winning documentary, TWO: The Story of Roman and Nyro (www.twothedocumentary.com). The film was just awarded "Best of the Fest" at the 2014 Palm Springs International Film Festival. Angela is one of the Executive Producers of this touching film, which is presently touring the film festival circuit. She is currently at work on a unique memoir about her life-changing surrogacy experience, and the book is titled Angela's Diary: The Journey of a Surrogate Mother.