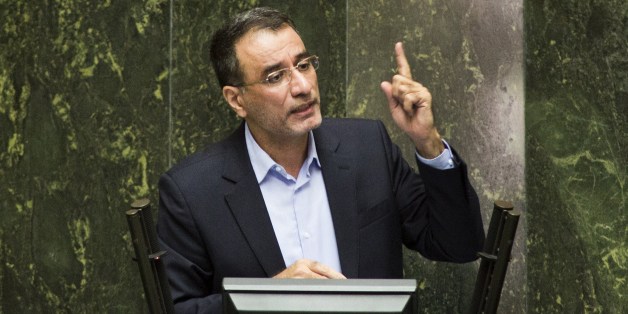 The impeachment of Iranian Minister of Science Reza Faraji Dana by the conservative-dominated Iranian Parliament on August 20 has been a key event for both sides -- a slip in the political tectonics that could yield seismic waves throughout the country's political landscape. On the one hand, it united conservatives. On the other, it reminded supporters of moderate President Hassan Rohani to heed the obstacles he faces in bringing change, and set the scene for them to rally behind him, despite lingering disenchantment with his hitherto lackluster performance as the chief executive. Whether Rohani can successfully meet the challenges posed by conservative hard-liners will determine his political future, and possibly affect a nuclear deal with the West.
Faraji Dana, a reformist with a doctorate in electrical engineering from the University of Waterloo in Canada, was dismissed by parliament for several actions that upset a good majority of conservatives. He revealed his predecessor's abuse of power, reinstated students expelled from universities for political activism, introduced a democratic method for electing university presidents, and granted high-ranking positions to those allegedly affiliated with the opposition.
The success of the impeachment prompted sonorous chants of Allah Akbar -- God is great -- that resonated across the legislative chamber as an expression of lawmakers' delight. It provoked protest all over social media, however, where Iranian youth vented their frustration and praised Rohani and Faraji Dana for taking the aforementioned measures to stand up to blatant hypocrisy and injustice. By and large, the impeachment of a pro-reform cabinet member unified Rohani's supporters, including those who had criticized him earlier for failing to deliver on his promises as a candidate. It reminded those who cast their ballots for Rohani that, realistically, change is not easily achieved after eight years of conservative grip on the economy and politics.
The MPs behind the impeachment motion came from a broad spectrum of conservative factions. These ranged from supporters of the hardline cleric Ayatollah Mesbah Yazdi, who openly opposes democratic institutions as un-Islamic, to center-right forces including Revolutionary Guards veterans and those close to the Supreme Leader Ayatollah Ali Khamenei, who wields the final say over all state policies. The broad base of the vote in parliament against Rohani's Science Minister demonstrates the scale of the threat his government is perceived to pose against the entire spectrum of the conservative bloc. In fact, the risk of potential reemergence of moderate and pro-reform political forces in Iran's power dynamics that Rohani government entails has united conservatives in action, regardless of however divided they may seem from the outside.
Rohani, elected president of Iran on the basis of "prudence and hope," assumed the executive office after eight years of repressed political dissent, economic downturn, and increasing international isolation under Ahmadinejad. Rohani's predecessor facilitated the emergence of a new conservative political elite who replaced pragmatic and pro-reform forces within the political establishment. While Ahmadinejad is gone and his comeback to politics is unlikely due to his polarizing personality, this new elite still wields considerable power in the legislature, judiciary, and armed forces, which translates into enough influence over the executive branch to hinder reform.
While Rohani has put the lion's share of his efforts into fixing a broken economy and forging a diplomatic detente with the West over the country's nuclear program, his conservative rivals are geared up to escalate pressure on his administration in an effort to tighten their grip on their entrenched economic and political interests. As of yet, the mounting pressure has not evoked a reaction from Supreme Leader Khamenei, who has, however, been looking askance at Rohani's government for the past year.
Earlier in July, Khamenei admonished the government for the supposedly liberal atmosphere in higher education and warned that universities should not become a platform for political activism. In a more significant development in August, Khamenei openly expressed concern over bilateral talks with the United States and reminded Rohani's diplomatic team, led by Foreign Minister Javad Zarif, that negotiating with America could harm the regime. In this context, the dismissal of the Minister of Science was unsurprising, and should be seen as the latest in a sequence of blocking maneuvers on the Rohani government.
As the rift between Rohani and Khamenei bubbles to the surface, Rohani's conservative rivals grow bolder in chastising him, and the pressure increases on his cabinet. As a pragmatic politician with a penchant for making centrist decisions, Rohani could potentially refrain from pushing for even the slightest of social reforms due to this mounting pressure. This, however, bears a strong resemblance to the events that determined the fate of former reformist president Mohammad Khatami, whose soft stance on his conservative opponents ultimately emasculated his administration and alienated his constituency.
One positive sign in the recent events is the appointment of the liberal-minded Mohammad Ali Najafi as the acting science minister, but Rohani's propensity to stand in the center could ultimately lead to a more conservative choice for the permanent successor to the position. For this reason, the next three months could serve as litmus test for Rohani: as he introduces the next minister of science to the parliament for a vote of confidence, a bow to conservative demands could precipitate a weakened administration, jeopardizing public support for his reelection bid as well as Ayatollah Khamenei's support for a nuclear deal with the United States.