1. Wrack Lariat, by Heller Levinson (Black Widow Press).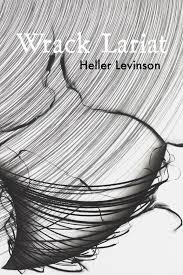 From the preeminent publisher of classical and contemporary surrealist writing comes a new collection by one of the most daring poets operating today. Congratulations are in order for avant-garde publishers Joe Phillips and Susan Wood--also the owners of enchanting stores offering rare and antiquarian books, including Commonwealth Books in Boston, A. Parker's Books in Sarasota, Florida, and Crescent City Books in New Orleans--on reaching 60 books on their list and counting, extending their project to ever-new territory. Levinson's Hinge Theory is a radical way of refracting the material of poetry into a tempting yet fatal substance: "Wrack Lariat further emboldens Hinge pioneering by launching four new modules and offering Fusionistic Intercoursing with visual artists past and present [Van Gogh, Cezanne, Picasso, and others]. These Intercourses further cement the Robustness that is Hinge, the sheer 'Hygiene' of the Charged Magnetically Explorative."
Consider this from "Regard":
The regard is the look strapped with the interrogative.
The look propelled by a relentless gaze-into.
The gaze that calls forth. That lariats the subject.
[Are we initializing raw data?]
[Are we tying the 'beast' of appearance to a hitching post.
Subordination for inspection?]
Going back to his earlier books from stone this running, Smelling Mary, and Toxicity: Poems of the Coconut Vulva feels essential.
Heller Levinson reads at Poets House, NYC
2. Empire of Self: A Life of Gore Vidal, by Jay Parini (Doubleday)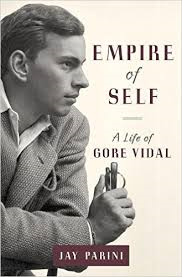 I have been full of anticipation for this essential biography of one of the most colorful men of letters of the second half of the twentieth century: Vidal lived the kind of explosive, interconnected, indispensable literary life--without which the shape of American letters would have been different--that feels altogether extinct now. Parini, Vidal's close friend, has constructed this important book from thirty years of conversation and intimate knowledge of his subject. Vidal was one of my own deepest influences at the start of my career, especially with his acerbic, hard-hitting essays. He was truly a radical, not a namby-pamby by any means, and I hope to learn more about how his life illuminated his letters and vice versa from this biography.
Gore Vidal talks to Jay Parini at the 2009 Key West Literary Seminar
During dinner, Gore drinks a bottle of wine by himself [in the company of Norman Mailer and Susan Sontag], and Mailer is annoyed, ordering a third bottle for the rest of us. He is paying the bill, and doesn't like doing so. He orders light: a salad with chicken. The rest of us go for larger items. As ever, Gore orders a lot but eats very little, preferring to absorb his calories from booze....
A pained expression crosses Gore's face [when Sontag asks him about her novel The Volcano Lover] as he reaches across the table and takes Sontag's hands into his own, then says, "I've read it, Susan. But you must make a promise to me. That you will never, ever try your hand again at fiction."
3. Bright Scythe: Selected Poems, by Tomas Tranströmer, translated by Patty Crane (Sarabande)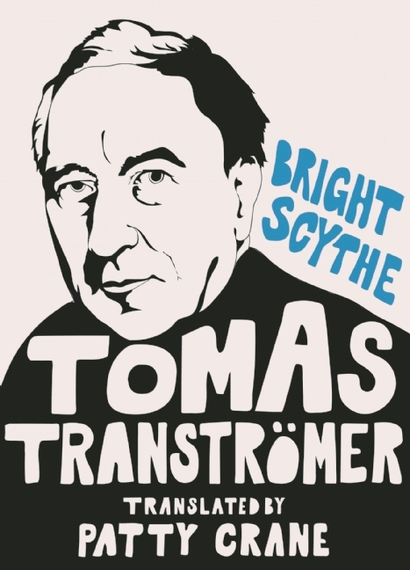 This bilingual collection by Tranströmer, recipient of the Nobel Prize in 2011 and widely considered Sweden's most important poet, offers poems from 1954 through 2004. Patty Crane, first-time translator, went through her translations carefully with Tranströmer at his home, to ensure fidelity to the original. David Wojahn writes in his introduction that Tranströmer "is a poet almost helplessly drawn to enter and inhabit those in-between states that form the borderlines between waking and sleeping, the conscious and the unconscious, ecstasy and terror, the public self and the interior self"--the kind of poetry that most appeals to me.
The Tree and the Sky

There's a tree walking around in the rain,
hurrying past us in the pouring gray.
It has an errand. It's gathering life out of the rain
like a blackbird in an orchard.

When the rain lets up, the tree stops.
Catch a straight glimpse of it, still on clear nights
waiting like us for the moment
when snowflakes leaf-out in space.
.
A short documentary about the life of 2011 Nobel Prize winner Tomas Tranströmer
4. Bad New Days: Art, Criticism, Emergency by Hal Foster (Verso)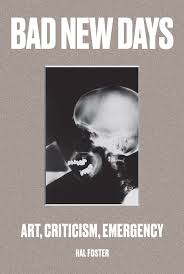 Hal Foster--an important contemporary critic who has edited The Anti-Aesthetic and written Design and Crime and The Art-Architecture Complex--defines and investigates the terms abject, archival, mimetic, precarious, and post-critical when it comes to the relation of post-1989 art with the "general condition of emergency instilled by neoliberalism and the war on terror." Foster wants to demonstrate "the ways in which art has anticipated this condition, at times resisting the collapse of the social contract or gesturing toward its repair, at other ties burlesquing it."
The second approach, which can be called neo-Situationist, urges artists to take up images that agglomerate in image flows and information networks in ways that give them enhanced publicity and power--publicity and power that might be redirected if these images are reformatted effectively by artists. In this "epistemology of the search," as David Joselit calls it, such flows and networks might also be diagrammed in such a manner that "meaningful patterns" become apparent. This visualization is very important, but such pattern recognition might be either too much or too little to expect of the viewer: too much in the sense that these flows and networks exceed the capacity of individuals to map them, and too little in the sense that contemporary art-viewing is often mere pattern-seeking as it is.
Conversation with Hal Foster, Princeton University professor of art, hosted by The Clark in 2011.
5. At the Heart of the State: The Moral World of Institutions, edited by Didier Fassin, translated by Patrick Brown and Didier Fassin (PlutoPress).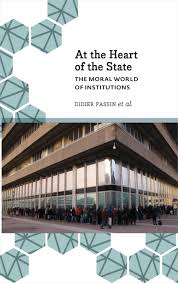 Using an ethnographic/anthropological perspective, the ten scholars included in this collection take a stab at defining the state not as a neutral bureaucratic entity but through the concrete actions of its agents, investigating the police, the courts, prisons, social services, and mental health facilities as the arenas of moral agency. Institutions, these scholars argue, are not just impartial arbiters of laws and rules but reflect the morality of the state by mobilizing values and judgments.
Locating the origins of and transformations in the profession of prison counselor within the context of public policy can help to clarify the evolution that has taken place in the penal system and, more broadly, the action of the state. Heir to prison social work, this profession as it is officially defined also signals a break with a certain vision of assistance and intervention which favors partnerships and contractual logic. It is through the normative acts which govern the work of counselors that one aspect of the transformations in the welfare state can be grasped: being the product of a charitable activity that was gradually institutionalized within the prison socio-educational service, the production and reentry service as it was set up in 1999 assumes a more judicial function aimed at individualizing the sentence.
Didier Fassin lecturing at the Institute for Advanced Study in 2014
Anis Shivani is the author of several critically acclaimed books of fiction, poetry, and criticism, the most recent of which is the novel Karachi Raj (HarperCollins/Fourth Estate), released this summer.