It seems that there is a plethora of avenues these days for writers and artists to get their work out in the public: bookstores and art galleries, museums and exhibition spaces, reading series and conferences. But something seems to be missing when it comes to the existence and proliferation of a vital public sphere creating exciting dialogue across the arts.
Often the locations where writers and artists get their work heard or displayed are passive venues, with the artist not even present, or the writer going through the motions of a pro forma reading with the usual rote questions one expects at such gatherings. The flow of authority seems one-directional and authoritarian (with the reader or viewer expected to play his or her passive role), the possibilities for surprising and unpredictable intellectual exchange few and far between. Either the occasions are too somnolent (museums and bookstores) or too inclined to levity (as when graduate writing students congregate in bars).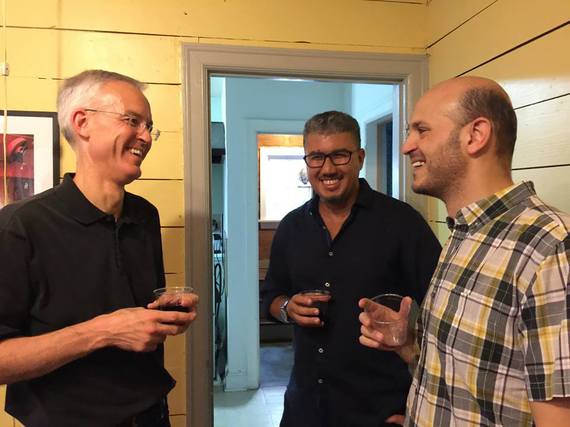 Harvey Hix (H. L. Hix) on the left, Fady Joudah on the right, Latif Adnane in the middle.
We want not just to be passive recipients but to understand what goes into the making of a piece of writing or work of art, to have free dialogue about motives and influences and effects, and to have many people participate in the discourse rather than be limited to solitary contextless interactions. We want places that let us understand art and writing from within, not just view it from the outside.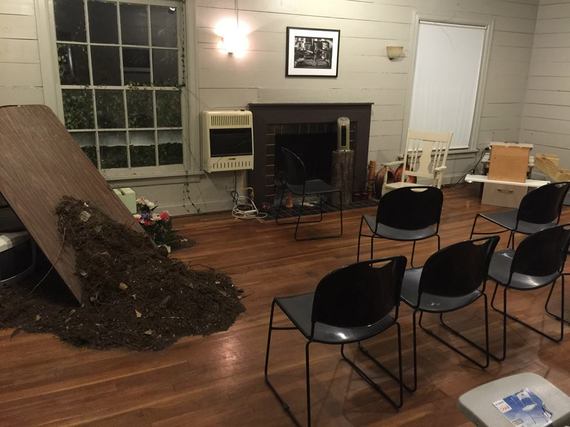 Betsy Huete's installations "Harbor" on the left and "Bees" on the right, with Rashed Haq's photography above the fireplace.

Although increasing numbers of people are taking themselves more seriously as writers or artists, there simply do not seem enough opportunities for established artists to meet with aspiring ones in settings free of competition, hype, enervation, or excessive formality and reserve. Then there is the false bonhomie of social media (which is highly conditional on adherence to clique norms and can be withdrawn at a moment's notice should the participant deviate), which seems to me the antithesis of a vital public sphere.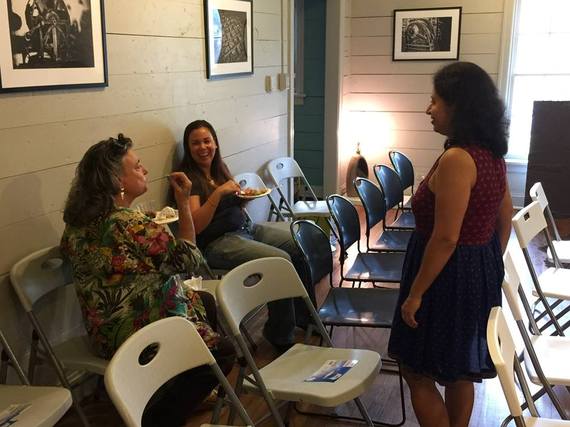 Mehnaaz Momen with Betsy Huete on the right and Fran Sanders of Public Poetry on the left; Rashed Haq's photography on the walls.
The literary or artistic salon of the eighteenth century was a formative component in the constitution of a liberal discourse. Although there was an aristocratic element to it, it was also feminist in a sense far ahead of its time, democratic in the radical meaning of the term, and an ideal setting for the meeting of emerging spheres of thought that had not yet made themselves widely visible.
The salonniere's job was to bring together different constituencies in arts and literature that might otherwise not meet, and to facilitate the flow of ideas and guide percolating enthusiasms to realization. It was a safe, joyous, celebratory, free-for-all habitat for the early dissemination of new ideas and for trial and error to test the worth of individual efforts. It was a testing ground without the tribulation of immediate public censure.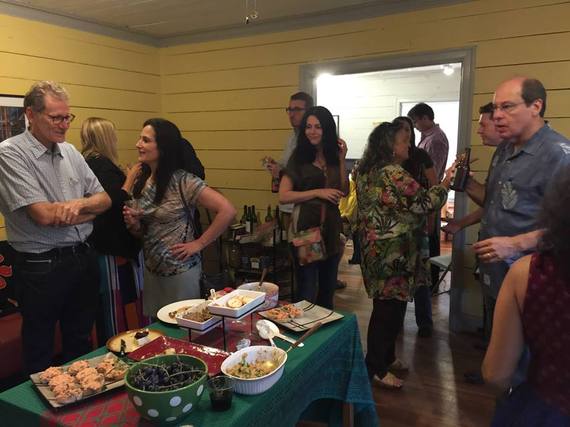 Dom Zuccone, Kelly Ann Ellis, Vanessa Zimmer-Powell, Erika Jo Brown, B. J. Love, Elina Petrova, Fran Sanders, Betsy Huete, Dean Liscum, Chris Wise, Winston Derden, and Mehnaaz Momen.
The big old charming house where I am fortunate enough to now live, in the heart of Houston's bohemian Montrose district, seemed to me to hold the promise of a salon along the principles of the classic ones, a comfortable meeting place for writers and artists and musicians and practitioners in the other arts, along with journalists, activists, and educators, to come together and hear some of the most challenging voices of our day, and to experience true camaraderie and fellowship (as my friends Mike Alexander and Dom Zuccone like to put it) in the company of those equally energized by the artistic life.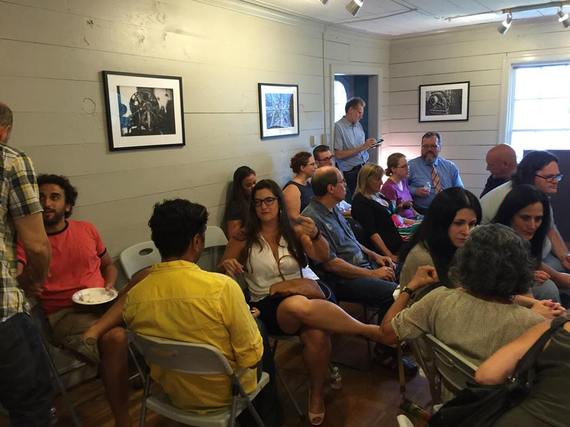 In addition to the above-mentioned, in this picture are also Harbeer Singh, Ana Laurel, Chuck and Mary Wemple, Michael Woodson, Dustin Pickering, and Varsha Saraiya-Shah, all activists on the local arts scene.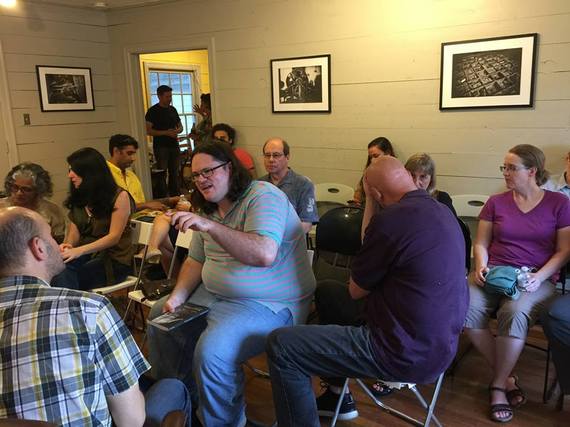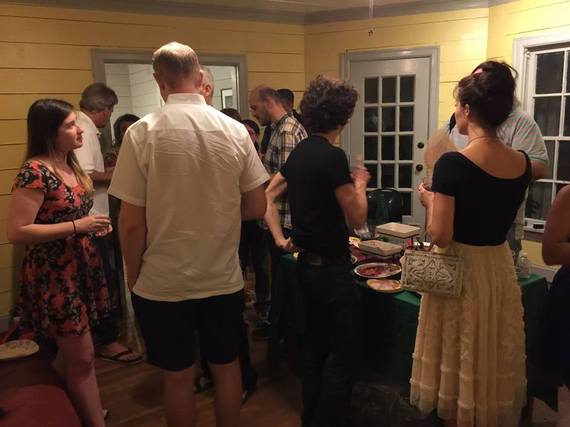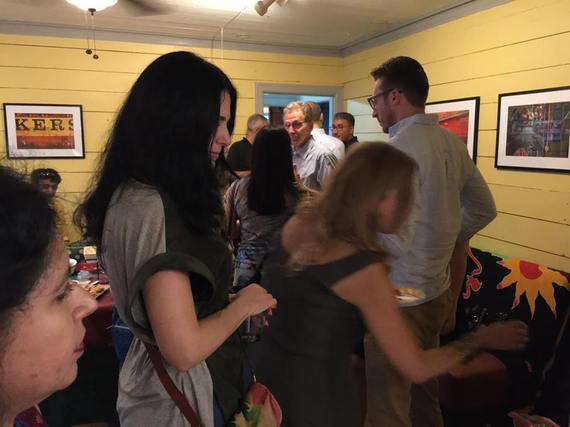 Yes, the exposure of younger artists and thinkers to those farther along on the path to artistic achievement is an important aspect of the salon as I envision it, and yes, the democratization of art and writing, by removing the creator from a pedestal and putting him on her on an equal footing of interrogation and argumentation with the audience is also a central component as I see it.
The launching of Monsoon Art Space took place last Wednesday with a bang! Although it happened on a day of near-record heat (the one poet who didn't come was the one supposed to bring the portable air conditioner!), everyone was in high spirits due to the occasion.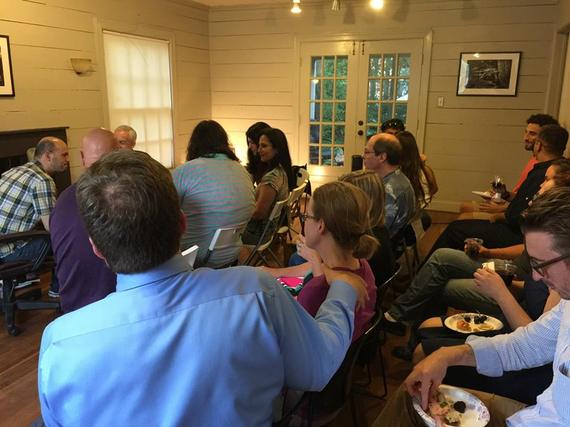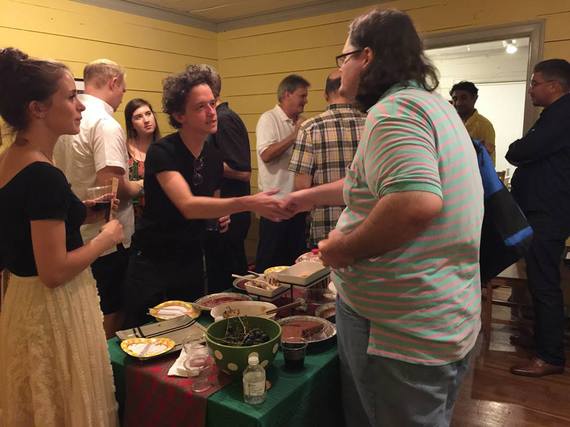 Also present here are Michael Hardy, Ashley MacLean, and James Adams.
Harvey Hix, whom I consider one of the country's most consistently enterprising poets, flew in from Wyoming for this event, and I put him in conversation with renowned Houston poet Fady Joudah, a physician and winner of the Yale Younger Series and Griffin International Poetry prizes. The author of many books of poetry and criticism, Hix was a finalist for the National Book Award in 2006 for Chromatic, and wrote what I consider one of the most revealing poetry books about the Bush administration, God Bless: A Political/Poetic Discourse. Harvey is also a well-known translator of Estonian poetry, while Fady is famous for his translations of Palestinian poets Mahmoud Darwish and Ghassan Zhaqtan.
Both poets have eclectic interests in many fields of thought: Fady has his pulse on advanced literary theory as well as developments in information theory and the sciences in general, while Harvey was trained as a philosopher and still teaches philosophy along with writing at the University of Wyoming in Laramie, where he has led the creative writing program for the last decade after stints at art institutes in Kansas City and Cleveland. In short, I couldn't have imagined a better pairing for the inaugural edition of Monsoon.
The idea was to put these two highly intellectual poets in colloquy and let the audience overhear them, as it were. This is what transpired:
The above clip is only the first short segment. To get the full flavor of the discussion, please watch Part II, Part III, Part IV, Part V, Part VI, and Part VII.
As for the art, Betsy Huete put up her installations "Harbor" and "Bees"--now that the madcap activity has subsided, my cat Fu has entered into a relationship of total friendliness with the "Harbor" installation, fascinated by the dirt we dug up from our yard, compared to his fearful obsession of last week. I first met Betsy at Paul Middendorf's wonderful galleryHomeland in Houston's revitalizing East End, and was intrigued by the fact that she builds her art around poems she has first composed, which is true of these installations as well.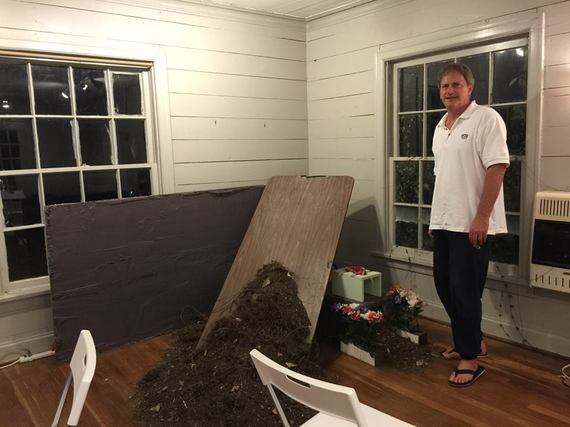 Poet-physician James Adams contemplating Betsy Huete's "Harbor" one last time before heading off the next day on one of his medical missions to Africa.
We were also honored to have Rashed Haq's photography on display. I have always been intrigued by photographers who take the base material of industrial and urban settings and make poetry out of them, and Rashed is really good at it. I first met him at his Silver Street studio, where I saw many photographs of Houston's majestic (though endangered) trees. Lately, he has been investigating the lost arts and crafts of Houston's old neighborhoods (illustrated in some of the pictures that were on display at Monsoon), and has also been spending time at the Houston ship channel. It is difficult to believe that the intriguing colors in the harbor pictures are real and not manipulated, but he assures me that this is indeed the case.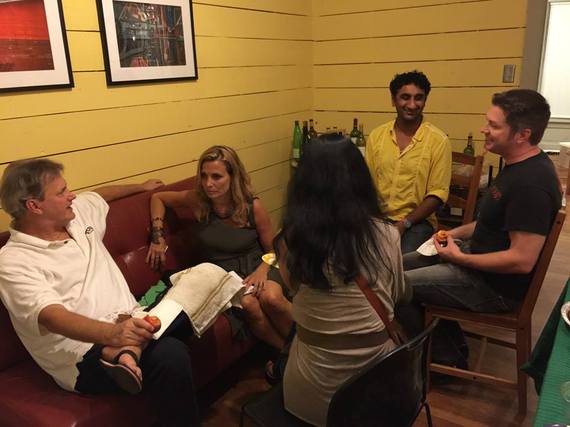 James Adams, Carrie Kornacki, Elina Petrova, Harbeer Singh, and Chris Wise; Rashed Haq's photography on the wall.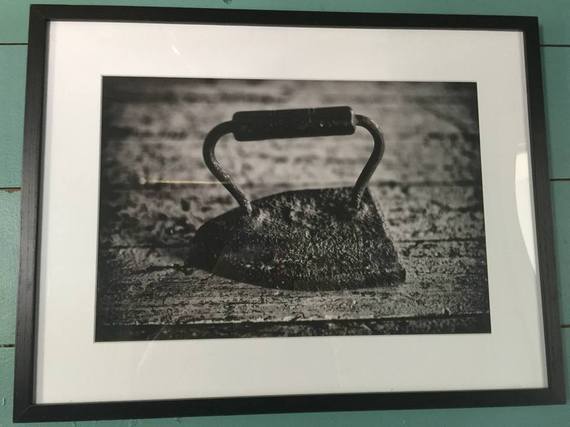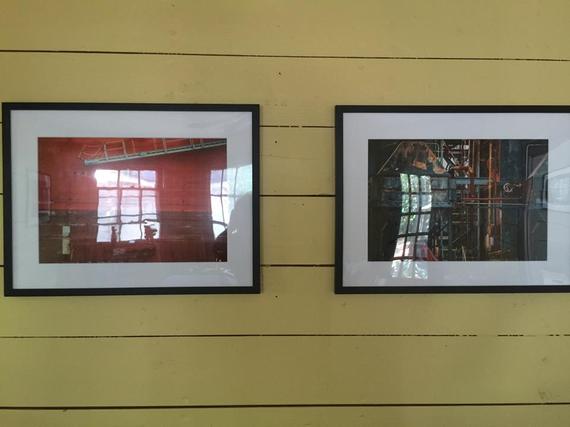 The possibilities for an informal salon of this type are endless.
There are many Houston artists (and this is true of any region) that don't get enough exposure in the commercial galleries, because they may be too innovative or politically challenging. The activist community (working on immigration, civil liberties, affordable housing, and health care) needs to have stronger links with artists and writers through informal venues such as this, where new friendships may develop. Likewise, journalists need to nestle with the innovative thinkers of our time to include them in conversation and introduce unconventional interpretations (no harm in delving into Foucault and Barthes on radio, is there?). Writers in different camps (for example, the poets on the highly active Houston slam circuit, of which there are several manifestations) need to come into sustained contact with writers of a different bent (in this case more formal or academic poets). Art and writing and music need to find places of expression free from pressure and competition, up close with practitioners of other disciplines.
Listen here to Michael Woodson interviewing Harvey Hix the day after on Houston's Pacifica Radio for his long-running Living Art show; it's the August 13 show.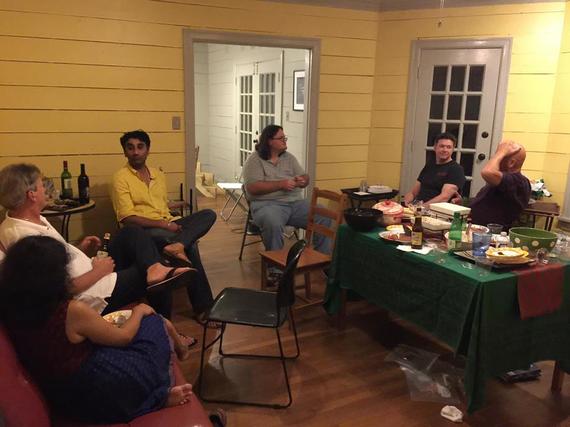 I don't think any of the traditional venues I mentioned at the start can realize informal interaction and working across disciplines in quite the manner I have suggested here, hence the need for alternative art spaces based in homes. For me, this is an experiment in knowing the bounds of what's possible when it comes to integration of art and writing, to see if the kinds of open-ended, large-hearted, unpredictable discussions--in a setting of great informality--that we used to have in college are possible to reconstitute, at a higher level of seriousness, now that we are adults and well on our way to professional success.
Harvey Hix talks about his Monsoon experience and his current and future projects.
We will keep going--with the best food in the world, the most curious cat that ever was, and the enthusiasm of lovers of art--as long as we can! Something changes when people meet at a lovely home dedicated to art, and there's great food and drink in the mix, and a sense of freedom from expectations. And I hope that this is a model for reconstituting some of our lost public sphere that others elsewhere can follow and copy, based on the needs of their own communities.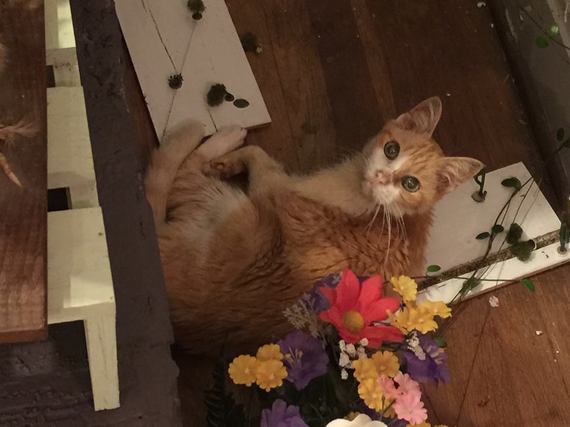 Fu in a state of total reconciliation with the installation: safe harbor for an anxious cat at last!

Anis Shivani is the author of numerous books of poetry, fiction, and criticism, the most recent of which is the novel Karachi Raj (HarperCollins/Fourth Estate), released this summer.