September 1, 2011 will mark the irrevocable altering of the athletic sportswear pantheon as Newton Running launches its latest running shoe: The MV2 Speed Racer, engineered to be the lightest and most efficient Natural Running shoe ever produced. The Olympus sun sets and emblems of winged victory fade as a new era of enlightenment bursts onto the track in a blaze of irreverent, neon orange. A zero-drop racing flat coming in at 5.5 ounces with the sole purpose of inspiring speed while encouraging proper form. The goddess of speed, after all, never provided mankind with the foundation for mechanics, gravitation, and motion. Nike may have been fast, but Newtonian empiricism can explain why. . .and could have perhaps given her a few pointers on how she could have been faster. Energy equal mass times velocity squared. . . and Newton is off and running.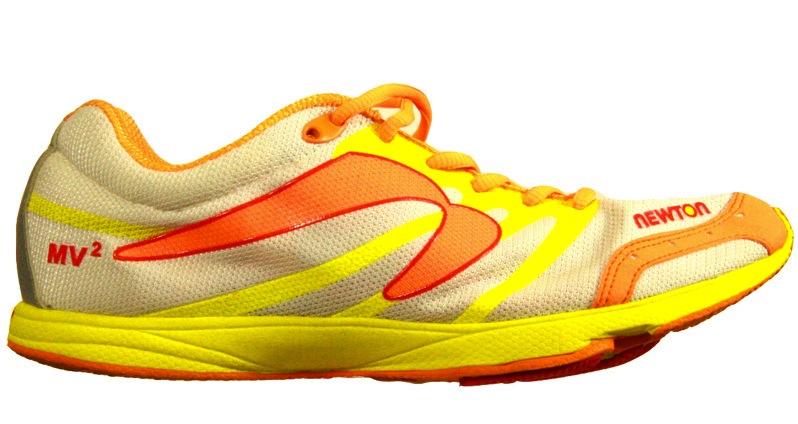 Co-founded by Danny Abshire and Jerry Lee, the Boulder, Colorado-based Newton Running, is a rookie star growing at a rate of 100 percent a year. A patented science based on Sir Isaac Newton's Third Law of Motion makes their running shoes the first choice for star Ironman triathletes such as Michelle Jones (who was also an Olympic Silver Medalist) and Craig Alexander, as well as IronKids ambassador Winter Vinecki. In addition to encouraging correct form and the way humans are meant to run, the shoes absorb 43% of the impact that normally felt in muscles and tendons. They are designed to make you run better, faster, and longer. Last year, the company was awarded "Best Innovative Product of 2010" from Triathlon America.
But perhaps no buzz parallels Paul Fireman's recent investment in Newton Running. When the man renowned for taking a few hand-sewn sneakers at a trade fair in Chicago and transforming his family business into Reebok International - which he ultimately sold to Adidas in 2006 for the staggering sum of 3.8 billion dollars - decides to go back into the athletic shoe business, people take notice. Speculation reaches a fevered pitch. Fireman Capital, whose portfolio includes Hudson Jeans, Evolution Fresh, Serena and Lily, Idea Paint and Pilla now has an approximate 30 percent stake in Newton Running. The fact that founding partner Dan Fireman thinks Newton Running is "a brand that is disruptive in the marketplace, authentic and driven by technology" propels the company to the forefront of brands on the brink of absolute domination. The potential is palpable.
CEO Jerry Lee, by contrast, is the embodiment of calm and greets me warmly. JBCStyle CEO Bryan Zaslow has put us in touch because as a runner he believes "the product is unbelievable, and Jerry's story is an inspiration." Jerry inquires politely if I would like to hear the story from when Newton Running was launched. Considering The Boston Globe cites Newton Running as "the industry's biggest innovation in decades," Fireman's recent investment, and the impending MV2 Racer launch, I'm not sure when I may have Jerry's undivided attention again.
"When you were born," I edit hopefully.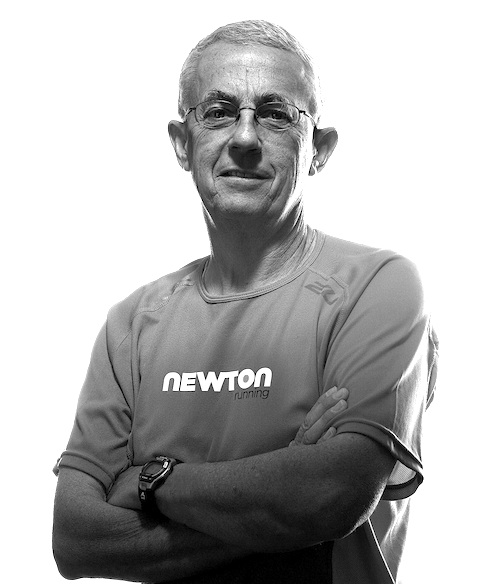 Jerry laughs. Ironically the man poised to revolutionize speed in the running world seems utterly unconcerned with it in his personal life. Newton Running may be rooted in the science of fast, but Jerry's mastery of slow rings divine. "I was born in Illinois, the eldest son of fifteen children. We definitely had the town's attention. Whatever sport we chose to play, we were already a team" Lee reminisces with warmth, and proudly shares that his mother Lorene waited to earn her college degree when her youngest son graduated from high school. At age 60, she pursued a degree in social work and became a probation officer upon graduation. "The big joke in the family was that we had already provided ample training for that job," Jerry chuckles, then adds quietly, "When there are fifteen kids, there's not a lot to go around. My father held three jobs to support us. . ." A weighty silence, and then Lee's adds pensively, "But we all took care of each other."
Sneakers could not have been further from Lee's mindset as he accepted an accounting position with W.W. Reynolds Real Estate Development and moved with his wife to Boulder, Colorado. Self-effacing and soft spoken, Lee omits that he was named company president in 1983 and only mentions his regard for his boss, William Reynolds: "He's a mentor, and a friend. Bill and I have been together now for 33 years."
There's still no mention of running or sneakers.
"We're getting to the running part now," Jerry assures gamely. "One of my tenants (Danny Abshire) ran an orthopedic shop and had a design submitted by an inventor named John Russell for a shoe which helped runners strike with their midfoot, and not the heel like all the other running shoes out there. I thought it was a great idea. We patented the technology, and tried to sell it to the larger shoe companies. We began making weekend trips to Portland, Oregon - Nike. Adidas. That's where all the big guns were based. Nobody was interested." A belief in the technology held Jerry steadfast; 9 patents later they were still "basically cobbling because the shoes were difficult to manufacture. . . so on top of being new, we came out of the gate with a $175 shoe. That was $45 more than anything else on the market. And I was a real-estate guy who knew nothing about the industry."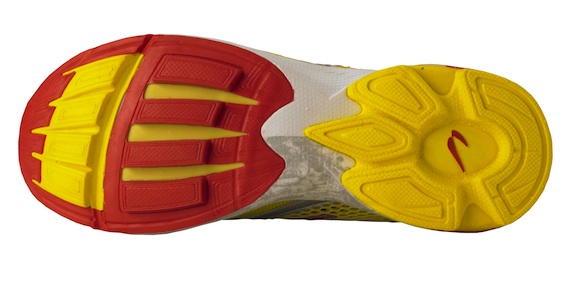 "Danny and I both knew we had a product that could change the running world. Most great inventions in this world don't come from corporate America. They aren't constrained. They come out of some anonymous kid from some college dorm. I wanted to fund the company because I liked the product." The simple statement resounds with Jerry's advice for new runners: "The key with running is pacing. Most people quit because they go too far too fast. You have to get hooked on the gradual progression, and have the patience for it."
His soundtrack?
"Silence. I don't listen to music when I run. Here in Boulder there are probably about 300 miles of trail I can get to about a mile away from my office. I like to clear my mind. Let nature take over."
It was with complete clarity of vision Lee remembers deciding to launch Newton Running. The name was the brainchild of Thomas Dooley, founder of local branding shop TDA. Sir Isaac Newton's Third Law resonated because it involves the fundamental physics of motion: For every action, there is an equal and opposite reaction. "From a marketing standpoint, we wanted our product's name to highlight the scientific technology behind the design. For branding purposes, we also made a conscious decision to go bold with color. I figured even the most conservative business man will wear a flashy tie. Maybe it's the same with sneakers. We went neon crazy. We wanted them to pop." Not like those dorky, white Reeboks I suggest. Jerry laughs and relents, "Well yes, they did look a bit dorky when you first got them, didn't they? No - we wanted Newton Running shoes to be distinct. Now all the companies are playing with funky colors, but back then we were alone in how bold we chose to go."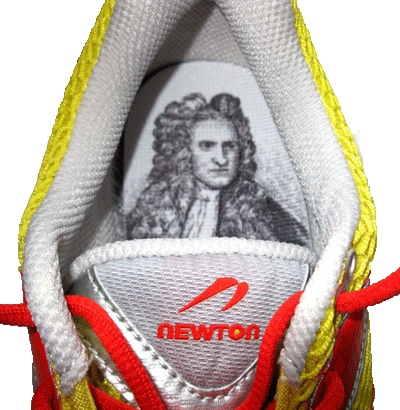 The shoes quickly became a cult following amongst the Iron Man Triathlon athletes, which Jerry considers a boon. "The Iron Man community has very definitive traits: high-education, high-income, and quick to adapt. They travel a lot. They were amongst the first on the internet so that was great for buzz. When winners two years in a row wore Newton Running, it gave us credibility. It kept on growing from there. We were never looking to dominate the industry. We just wanted to make the best running shoes we could, and all the letters and testimonials that kept coming in from people who said what a dramatic difference they made in their lives propelled us."
Jerry's telling the tale of a sneaker, but it's also a quintessentially American tale, inspired by innovation, rooted in steadfast resolve, and sprinkled with the courage to navigate brave new worlds despite early setbacks. This is still the land of dreams, but Enlightenment principles frame our laws, create our landscape, and define our education. An unexpected opportunity by Fireman Capital to become the next leader in athletic footwear paints a suggestive path of gold, but a sincere belief in the technology and a genuine appreciation for the mental and physical health benefits afforded by running and complimented by the product exist at the company's core.
"I always wanted to create something," Jerry muses thoughtfully. "But also be a leader in affirming a corporation's role in social responsibility."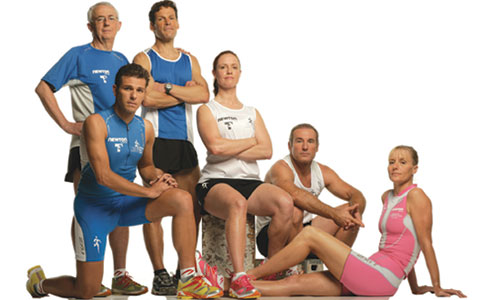 Tri4Japan, Athletes For a Cure, Trickle Up, and One World Running are organizations prominently featured on the company's website and as important to Jerry as the shoes; Newton Running's significant contributions to all are noteworthy and inspirational stories on the company's detailed blog provided an added dimension to the brand. "We have a St. Bernard who comes to the office every day," Jerry adds. Newton Running believes dogs should attend office. It's impossible not to smile as I anticipate Jerry's closing statement:
"His name is Isaac."